Established in 2021, AKEK is a new company to the pack scene. When it comes to packs, there is a plethora of companies to choose from, and it can be hard to make a decision on a company and then a pack.  Since we try to get and keep the gear conversations going here at Rokslide, when AKEK released their Alpha 3200 Hunting Pack, I wanted to give it a try.  It would satisfy my own curiosity and help others decide if it's a pack worth their hard-earned dollars.
Who is AKEK?
The company is formed of a group of Utah and Montana hunters and outdoor enthusiasts obsessed with great outdoor gear. As experienced consumers, they knew much of the gear on the market was good -– but they had irresistible ideas for improvement.
AKEK is a USA-based company.  AKEK products are researched, developed, designed, and field-tested here in the USA. They do some assembly here in the USA, though much of the parts production and assembly is currently done overseas. For late 2022, their frame is now USA made.  Their office is in the Bitterroot Valley of Montana, and all products are shipped to customers from Utah.  Creating quality products for outdoor adventures is their mission. Making you a happy customer is their commitment. This is why they are confident in offering a lifetime warranty on all their products.
My Experience
First, I do not have an extreme track record of pack experience under my belt or on my back. I grew up using old external pack frames from the '80s and transitioned into using Tenzing packs when they first came out. We all know that these mentioned packs are not the most user-friendly or comfortable packs that are on the market, but they have done the job for me on many long backcountry hunts. I was sent many to use and still haven't worn them all out yet! So why spend money if I don't need to, right?! Even if I could use a better option that is more comfortable? So as you can imagine, I was super excited to be given a chance to try a pack that would surely be of higher quality than I am used to!
AKEK Alpha 3200
Robby, Rokslide's Editor, first contacted me to field test an AKEK Alpha 3200 back in early 2022, and I was excited to give it a try. More info here
*Editors Note: The pack tested for this review was the Generation 1 (Gen). The Gen-2 is now available and has been improved based on feedback from the author and other users.  Gen-2 features a stronger (USA made) frame and beefed-up lower seams, and redesigned load lifters. More info below.
This pack uses an external carbon frame to keep the rigidity needed for heavy packing. Carbon frame included, this pack weighs in at 5 lb 11 oz. And I would consider this pack best suited for 1-3 day type hunts as I do not feel I can fit all I need with me on extended style hunts into the backcountry as I like to do. But for many of my weekend hunts, it will suffice.
Here are the features of the pack.
Cordura 500D Nylon: ultra-strong, durable, water-resistant – lightweight and machine washable
Carbon Fiber Frame, 25 inches tall, rated for 150 pounds; strong enough to secure and stabilize large hauls, compact enough to ergonomically pack small.
Unique large waterproof YKK zippers: keep your gear dry.
3200 cubic Inch capacity: 26 x 15 x 8 in
AKEK belt system: wide padded waist belt
Cushioned Shoulder Straps, adjustable in 4 directions: cinch to snug the backpack close to your core and fit your torso size.
7 zippered compartments & 2 side elastic snap compartments
2 separate water bladder storage holder pockets
Ammo holder, inside front pocket
Ammo holder inside front pocket
Hands-free weapon carry system with Innovative Quick Release Pull: for rifle or bow: takes just seconds to be aiming.
Two (2) separate shelves: quickly transform your Alpha 3200 to a meat hauler.
Removable daypack or stalking pack
AKEK Alpha 3200 First Look
Initial inspection of the pack impressed me as all seams and stitching are put together really well and as durable as the eye can see, but extended use of the pack would reveal how things will hold up over time.
Everything is well thought out and in good places. The YKK zippers are sure to be durable with their track record, and I liked to see that cheap zippers are not used on the pack.

Removable Day Pack
The AKEK Alpha 3200 includes a removable day pack. While a convenient option, it is simplistic and a bit too minimalist, in my opinion. Quick disconnect buckles hold this small pack to the main compartment of the big pack.  It incorporates one large zipped access panel with a mesh pouch and zippered pocket on the inside.
The day pack would work well to carry a select few items like my knives, tags and a few snacks, and perhaps a water bottle. It does have the capability to use a hydration bladder in this, but it will take up most of your room. The access point for the hose is located top center.
Main Bag
The main compartment has two large openings with full zippers that extend nearly all the way down the pack to allow for full access within the pack's openings. The first compartment on the outside has two zippered mesh pockets, and the large compartment has an area for a hydration bladder to be added.
Once the draw straps are loosened up, these compartments are large enough to fit many necessities. There is also a longer side pocket that would work well for some spotting scopes, but it's not large enough for my Vortex Razor 85mm spotter that I like to carry on my shorter hunts.
There is also one quick-access pocket on the outside front that is nice to use. The longer straps at the bottom of the pack are nice to have for attaching a sleeping mat or extra gear as needed.
Carbon Fiber Frame
The carbon fiber frame offers many anchor points to be adjustable for you to get the correct fit that you are looking for. The nice thing about it is that the frame isn't just a flat piece of carbon. It is curved not to fit the natural contour of your back but curved to put pressure against your back and hips. This leaves a gap in the small of your back to help with breathing and air movement.
Editor's Note: The original carbon fiber frame made in China cracked in Sam Weaver's cliff test, (along with a failed bag seam).  Due to feedback from that test and many other users, AKEK moved frame production to the USA. The new frame is thicker and stronger. With this move, AKEK also made improvements in the Gen-2 bag to address the failed seam. More on that below.
Harness
Shoulder straps can be adjusted and positioned easily, allowing a large selection to fit nearly every size torso. The padding on the shoulder straps are adequate and not thin material. The hip belt is fully adjustable and incorporates two pockets that are not removable.
I would prefer them to be removable, which has been addressed on the newer versions of this pack (see below) but not on this early model.
The load lifters seemed to be legit, but I noted some improvements needed below once I hauled meat. These changes have been incorporated into the current bag.
The meat shelf seems to really be a great feature, and I look forward to using this on a future elk hunt. I will likely load the entire deer inside the main compartment.
Another cool feature of this pack is the hands-free weapon carry system with the Quick Release Pull. At first, I am unsure of the durability of this feature and how reliable it may be.
Use in the Field
At just short of 6 pounds empty, it isn't a crazy light pack, but there are tradeoffs to having a tough and durable pack. Unfortunately, I didn't draw any elk tags this year to really be able to test out this pack to its fullest capabilities, but I hope that may happen in 2023.
I was able to use it on an antelope hunt and a couple of deer hunts. This gave me the confidence to use the AKEK Alpha 3200 on future extended backcountry hunts where I'll need a larger pack.
Adjustability And Comfort
While on archery hunts with a fair amount of gear packed into the pack and estimated at around 25 lbs, it did a great job and was comfortable to wear. It took some trial and error to get the shoulder straps adjusted correctly.
The pack does have a wide variety of adjustments on the shoulder straps and is easily adjustable for many types of body shapes and sizes.
The same can be said about the hip belt. Lots of adjustments. This pack was easy to adjust for my use as well as for my wife. This was a true test of that. Now she wants to take it from me to use!
I found I could pack an entire deer or antelope in the main compartment and not use the meat shelf option.
The curve of the carbon fiber frame kept pressure right where needed and allowed airflow to my back, which was nice when sweating. Adjustability was good, and I got it to fit just how I liked it and worked well for the deer pack out.  The waist belt is padded nicely and was comfortable enough. I estimate these pack outs were at 85-90 lbs.
However, after the pack outs, I concluded that the load lifters needed redesigned.  There was not enough adjustability to pick the load up from the pack to place it higher on the shoulder straps, and transfer weight from the hip belt.
Also, I did have a bit of a squeak on the pack and couldn't locate where it was coming from, but by making minor adjustments, I finally got it to go away with the wide range of adjustments in the shoulder straps.
Weapon Carry System
While on rifle hunts, the quick-release pull was a joy to use, but I still had trouble trusting it fully. There were no fails, I just need some more time on the pack to build full confidence.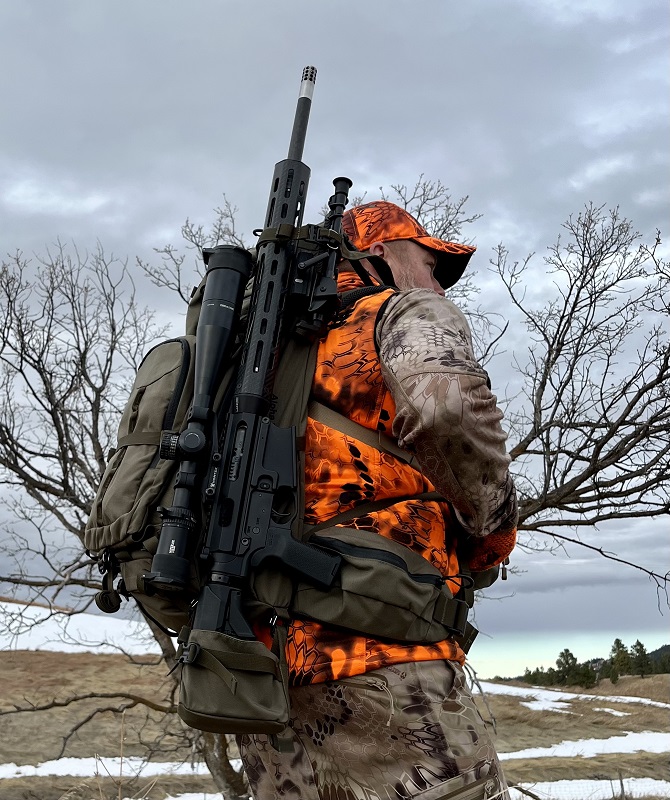 With many packs, I have had issues with the best way to carry a rifle that would still allow for easy access and quick retrieval. This pack addressed that without having to buy additional parts.
You can also remove the butt holster from the side of the pack and position it on the lower back of the pack to allow you to carry your rifle or bow directly behind you if you are not in a hurry to retrieve the weapon. I prefer this when the hunt is over, and I am focused on the pack out. The additional straps allow you to secure your weapon safely and durably.
There are many options to carry your bow, and I often liked to tuck it behind the small day pack and cinch it down.
GEN-2 Improvements
As mentioned, my test pack was the Gen-1 3200. The Gen-2 has now been released with a lot of improvements. As with any company that introduces packs, there are improvements that surely can be made. I submitted mine and have heard back from AKEK that many of the suggestions were implemented.
Gen-2 includes redesigned load lifters, a rain cover, a hip belt that can be adjusted behind the lumbar padding, and allows user to add or remove lumbar padding.
The squeaking issue has been addressed by adding soft padding in these high-stress areas. Lock buckles were added to the meat shelf to increase effectiveness and load-carrying capability.
Last but not least, the removable smaller pack has detachable shoulder straps if you don't need them for a particular hunt.
I'm anxiously awaiting my Gen-2 AKEK 3200 and will continue this review at the forum link below.  Sam Weaver will also be cliff testing the Gen-2, and we'll link that in the forum review.
Final Thoughts
It has been refreshing to give a new pack a try. I can see myself using the AKEK Alpha 3200 Pack for many more years to come.
I hope to give the newer version of the pack a try to see if all of my shortcomings have been answered.  That is one really great thing about this company. Since introducing the AKEK Alpha 3200 Pack, they have been listening to end users and making necessary improvements along the way. That is a true testament to a company that cares about its gear and wants to advance along the way.
This pack is worth every penny at a price point of $399.00—I don't think you would be disappointed. I look forward to other packs they may produce in the future! Perhaps a larger pack for my longer backcountry hunts?! Order yours here.
Comment on this review or ask Jared questions here.
Read more Rokslide pack reviews here.