I had recently heard of FORLOH and the equipment they offer but had not acquired any of their products.  When Rokslide reached out to me for a review, the timing was right. I was set to review the men's AllClima Stretch Woven Pant here and AllClima Softshell Jacket here starting with my November deer hunt.
Forloh AllClima
I found out that FORLOH stands for "For the Love Of Hunting". The company aligns itself with land/water conservation, public access, wild-sourced game, growing participation in our sport, and supporting our military veterans.  FORLOH is based out of Whitefish Montana, and they are 100% designed, sourced, and manufactured in the USA. A lifetime warranty backs their gear, they offer free returns, and their customer service is 100% US based.
Sizing Considerations
As I worked with FORLOH for my order, I learned that the pants are noted to be an athletic fit.  If you are between sizes, they suggest sizing up.  I was between a size 34 and 36 and did as instructed, sizing up. The 36 regular fit appropriately.
The jacket size chart noted I should wear a Large, and as with the pants, this was the proper size.  I tend to wear medium/large pants and large jackets so this did track with most other companies.  My height is 5'7," and I weigh 162 pounds.
Modern Hunting Clothing
I started hunting in the 70s and early 80s when there were no technical or innovative products designed specifically for hunters. Everything was heavy and tended to be bulky.  Wow, how times have changed! As I did this review, I thought about what categories were important to today's hunters when deciding on hunting clothing purchases. I came up with the following:
Comfort
Durability
Performance
Fit
Function
Features
Aesthetics
Price
I considered each category as I put the FORLOH AllClima Jacket and Pant through my testing
Comfort
One of the first things you notice about the AllClima Pants is the soft feel they have.  The pants are on the warmer side, very well made, and have a very good stretch to them. Which helps them to move with you while active.  The zippers on the front pockets are a little tight: I find my hand rubbing on the zipper as I access the pocket.  Not a concern, but if you have larger hands, it may be something you notice.  The AllClima Jacket fits well all the way around and does not feel bulky or restrictive.
Durability
Since I acquired the gear in late October 2022, I have been wearing the pants as my daily hiking pant and on my deer hunt, which was 11 days in various late-season conditions.
To date, there are no tears or wear spots.  The jacket has not seen as much use but did go through the gauntlet on the mountain with zero issues. Both will be used extensively through my winter and spring shed seasons and I will give an update on long-term durability on the forum link at the end of this article.
Performance
Mother Nature cooperated 110% on the hunt, offering everything you could ask for to test gear: 60 mph winds, heavy rain, snow up high, and everything in between.
The AllClima Jacket shines in the rain, sleet, and snow, keeping my core and upper body dry in some very tough conditions.  At the end of the day, I did find it had wetted out in a few places, but that was not something of concern, nor was it unexpected in the sustained all-day rain, snow, and sleet.
The pants offer some very large hip venting that allows you to dump substantial heat on long climbs. There is a web material behind the zips that did catch a few times on first use but later was not an issue when using the zips.  I found the pants to be highly breathable, very quiet, and very water-resistant/waterproof.  As with the jacket at the end of the day, the areas that took the brunt of the rain, which was the front of my legs on the pants, did get wet.
One further item of note, most of my days would start around 32 degrees and end 2000 feet higher on the mountain in the mid-teens and lower in several feet of snow. The pants would eventually dry out my sweat from wicking, but I did get a clammy feeling due to the breathability, temperature change, and sweat collection for several hours until I had stopped climbing.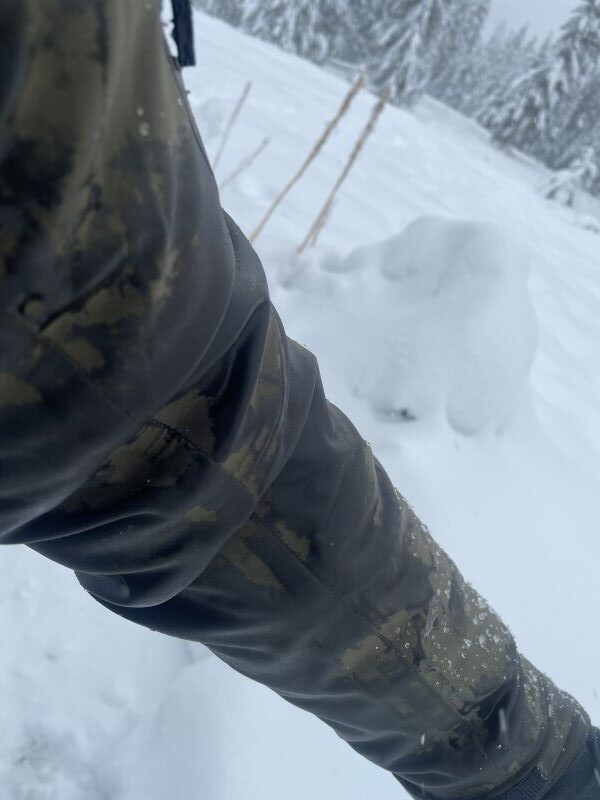 Fit
I have found both the jacket and pants to be very comfortable. The pants have become like my favorite pair of sweats, having worn them every day for two months.  The jacket is what I would call a very slim/athletic fit.  If you are looking to add several layers under the coat, you will likely want to size up.
Function
Both pieces were found to be highly functional.  The jacket is not what I would call light, coming in at 28 ounces. But when worn or while handling, it has a light feel to it.  The jacket provides solid wind and rain protection and, if wanted, can be your go-to jacket for all conditions.
The pants have a substantial feel to them, coming in at 29 ounces.  Like the jacket, not heavy but well-built and give you the impression and appearance of a pant that will perform in many conditions and take a beating on the mountain and in the brush without failing.
Features
The AllClima Jacket provides pit zips to dump heat, an ample zippered chest pocket, a small zippered arm pocket, two zippered pockets for your hands that have venting holes inside the jacket to release further moisture buildup, YKK Aqua Guard Zippers, and Cuff Hoods that provide added protection and warmth for your hands.   There is also an articulated hood with Recco reflecting capability, and articulated elbows with Synthetic Suede Elbow pads for added durability.  The hem adjustment and hood adjustment are both one-handed cord pulls.  One feature I have not seen on other jackets is what is called a Cuff Hood, which is an asymmetrical extension on the sleeve (see below). This provided added warmth and protection to my hands which I found very beneficial.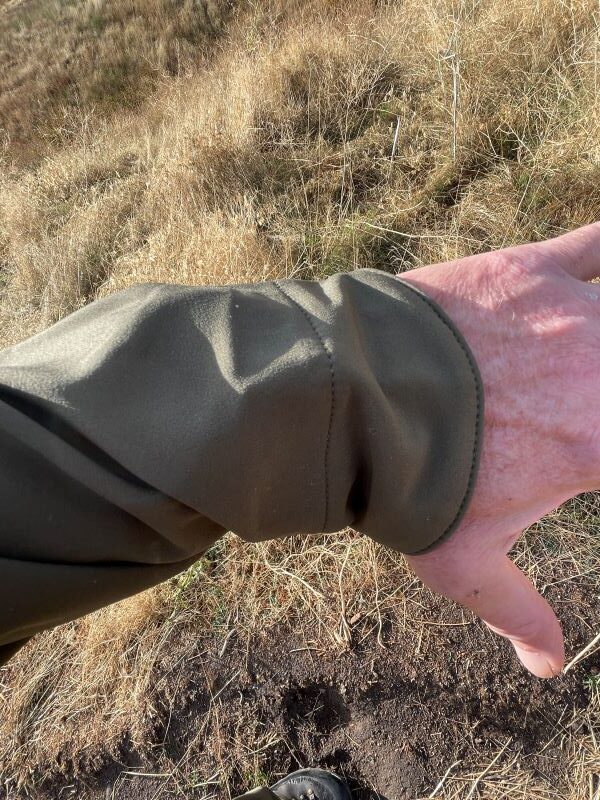 The AllClima Stretch Woven Pants provide a DWR treated water resistant twill, suede bonded and water-resistant knee pads, quiet YKK zippers, mesh-backed hip ventilation zippers, six zippered pockets, and an internal waistline with silicone gripper to help keep the pants in place.  Additionally, the pants are reinforced in high-wear areas on the seat, knees, and side panels to provide added durability.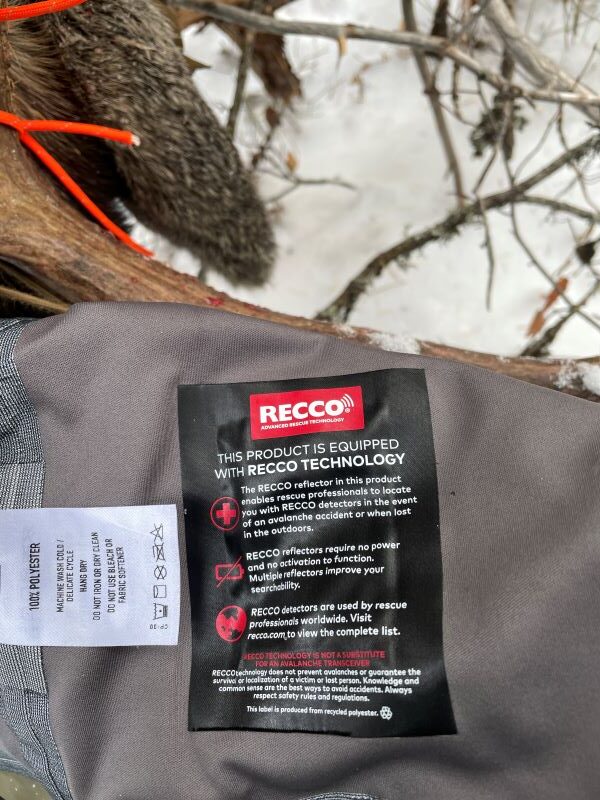 Aesthetics
To sell hunting gear and all products in today's world, the product has to both perform as advertised and be pleasing to the eyes.  When you first look at the FORLOH product and touch the material and observe the quality, you can see and feel the thought that went into designing these offerings.  These products have the feel and fit of high quality and are offered in several color options; Magnet/Grey, Deep Cover/Forest Camo, FORLOH Green, Exposed/Open Country Camo, Black and Snowfall.
Price
The Men's AllClima Stretch Woven Pant sells for $249.00
The Men's AllClima SoftShell Jacket sells for $449.00

Gut Feeling and Final Evaluation
In my opinion, FORLOH has done an exceptional job in designing and providing a Jacket and Pant combination that will fit the needs of many hunters in inclement conditions and mountain hunting.  The AllClima Pants are very quiet and would be best for later-season hunting when the temperatures fall.  The AllClima Jacket, though not as quiet, offers excellent protection from the elements.  Both pieces look extremely durable and should be around for many years of hard use.  If you are looking for 100% USA-made products, add FORLOH to your hunting and mountain clothing search. Available here.
Comment or ask Ross questions here.
You may also like our other clothing reviews.