Joined

Sep 2, 2018
Messages

40
Location
I have 2 Colt 22 caliber single action revolvers for trade.
First one is a 1975 Colt New Frontier Buntline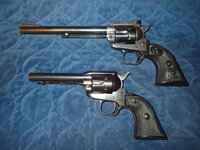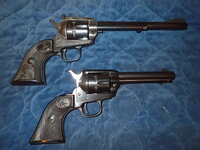 .
Second one is a 1961 Colt Frontier Scout.
Both are in very good condition.
Not collector quality they have been shot.
I'm looking to trade for any of the following:
pre 64 Winchester model 70
Browning BAR
Colt series 70
Colt/Remington-Rand/Ithaca 1911s
May consider other vintage handguns, or rifles.
Can add cash for the right deal.
Would prefer to do a FTF in Minnesota.
You would need to produce a permit to purchase or have a conceal and carry permit to trade with me.
More pics. and info to interested traders.
Jim