Joined

Feb 15, 2012
Messages

551
Location
Before I get started with the story - I want to acknowledge some people so it doesn't get lost at the bottom or in my rambling. Most of us here on this site are DIY (Do it Yourself) hunters. And many times, myself included, we take great pride in the "Y" part - yourself. However, what I've learned over the past year in preparing and executing this hunt is that no matter how solo you may think you are, there is always a big support team behind you -- whether it's your spouse, best frineds, hunting partners, family, strangers that are generous with their experience and information, and on and on. I have grown to be appreciative and thankful of those people that have entered my lives due to this great pursuit we all love. It's been an amazing and enriching experience. And to my wife -- who has never said "no" when it comes to taking on a new challenge even when it comes immediately after what was supposed to be "the last one for a while".
So thank you, thank you, thank you:
Aron Snyder - Dude, you are one of the most generous people I know, period. I'm honored to call you a friend. This season from mule deer, to elk, to mtn goats has been a blast. I'm looking forward to the next one!
Weber - we've been friends and on many adventures forever. Nothing else to say, thank you. You climb mountains like a billy goat. I'm always impressed.
Justin Davis - thanks brutha. Your photos are awesome and you should race Weber up a mountain. Not sure who would win. Looking forward to more hunting adventures together.
Sanchomas (Dan W.) - Great having you there on that first day. Thanks for coming man.
So with that out of the way - here's my story:
I started planning for this hunt about a year ago. I had made a decision, after many years of saving up points, to apply for a nanny only tag. Colorado has a very healthy goat population and the genetics of some of the nanny's are pretty amazing. Right from the beginning Aron Snyder and I started mapping out possible units and we had identifed one that had a couple LARGE nanny's - we estimated them to be at 10 inches on the conservative side. The thought process around the nanny tag was simple - I could probably draw now or wait for a billy unit and draw 15 years from now. I figured to live in the present v.s. the future and if I'm going to be old when I draw a billy what's another 5 yrs added on to the wait time for a total of 20 years. Besides, the average person can't tell the difference between a large nanny and billy anyway as they are so similliar AND I've met so many other hunters who had a billy tag but ended up taking a nanny either because they couldn't tell the difference or they couldn't reach the billies. So, with all that to consider, that was the logic in applying for the nanny only tag.
We debated which season to apply for and after much back and forth came to the conlusion that a later season had the advantage of better hair on goats but that the weather could get "squirley". When the hunt is 8 months away, it's easy to shrug your shoulders on squirley weather so that's what I did. Cue the ominous foreshadowing music....
I applied and like everyone else stated pinging the CO backdoor hourly as soon as reports of preference points missing popped up on the forums. When I saw that my mountain goat points went to zero I was shocked. I knew I had pretty good odds of drawing but there were only 2 tags in my unit so it was no slam dunk. I just stared at the screen in disbelief, took pictures of the screen, and started calling buddies like Aron and Weber. I called the DOW and they told me nothing was official yet and so for the next week I was checking the official results every ten minutes, trying to find books on goat hunting (there aren't many really) and just keeping my fingers crossed that this was for real. Finally the offical results posted and confirmed that I was going goat hunting. The feelings were a blend of excitement, disbelief, and "now what"? I hadn't known anyone to draw a goat tag so it was all new. Also when I started applying many years ago, I had always imagined my turn to chase a CO mountain goat would be some time in the distant future. But I had drawn the tag and re-architected my mindset. I was a goat hunter. I made my kids address me as "goat hunter" to reinforce the mindset. I was going to be ready.
Waiting for the snow to receed from the mountains I kept up my normal physical fitness routine. I'm in what I consider good shape - play hockey a couple of times a week, hit the gym at least 3 days a week in addition. I felt prepared on the physical front. We had a very light year for snow this year in CO so I was able to get out and scout in mid-June. Right where we had predicted, there were goats and they were high! While I glassed at 12,400 feet my wife read 50 Shades of Grey.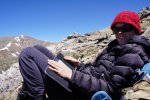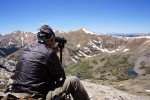 The rest of my summer was pretty hectic and I was out of Colorado for most of it. In addition, the CO archery season opened the weekend before Labor Day. I was able to get in one other scout trip for goats but the rest of my time was spent scouting elk areas and hunting. Aron and I went on a mule deer hunt and then it was a week chasing elk. I had a small break in action for a couple of weeks and spent some time at home with the family.
I also had some WY antelope tags. The WY season opened the week before my goat hunt and due to some other obligations I wasn't sure when I could get out. So I headed up there on a Wednesday night, got a small buck on Thursday morning, hunted with Weber (he got a doe) on Friday and drove home Friday night to coach my daughter's soccer game on Saturday, do some wash, drop the antelope at the processor, and get some rest. I was to pick up Aron early on Sunday morning.
I didn't sleep much Sunday. The vision of the upcoming hunt was bouncing all around my head. It was a fairytale of a vision. We had set a plan of hiking up a ball buster of slope - about 2000 vertical feet, straight up to get to approximaely 12,500 ft (the ridgeline would vary a couple hundred feet either way depending on location) locate a large band of 60 or so goats who would be sitting on a high but grassy slope (this had been the experience of other hunters so not totally unrealistic). We would then spend time pouring over them in the spotter, debating which one was the best and upon choosing our giant nanny we would formulate a plan for an archery stalk. We were to bivy out on the ridge sitting on our goat and in the morning I would make the stalk and there would be high fives all around by 9am MT. We would then dress and cape out the goat in the bright sunlight on a fairly flat part of the mountain. We had 5 guys so the pack out would be super easy and I'd buy everyone dinner in town on the way home. That was the vision.
Here's what actually happened.
I picked up Aron at his house and we were pumped and ready to go. He had just gotten back from hunting with Bearhunter and helping him take a record worthy billy in WA. Our spirits were high. We met Weber at a gas station along the way. Before heading to our planned camp we took a detour and drove up a 4WD road looking for goats with the spotter. It was a classic Colorado fall day. Sunny but cold. The wind was picking up and weather was blowing in. We spotted a couple of small goats in the cliffs but nothing worth getting excited about. There had been some snowfall and the snow dappled mountains made spotting goats much more difficult than during my scouting missions. With no snow they just POP out of the mountains. With snow, we were probably passing over several goats at every glassing session.
We drove out and made our way to base camp. We set up the 12 man tipi and large stove. The wind started to kick up and it was getting really cold.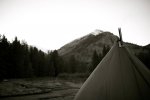 photo by Justin Davis
With the weather picking up I made the decision (at the urging of my companions) to abort the bivy plan. We were running out of daylight and the basin we had targeted was not the type of place you just ran up for a couple of hours -- it was a commitment. Justin and Sanchomas arrived and we got to chopping fireword, stoking the stove, telling stories, and dreaming about the hunt on opening morning.
We set ground rules with Aron that he could NOT wake us up before 4:00am. If you've ever been in the field with Aron you know that an alarm clock is not necessary. If you've ever been in a tipi with a stove with Aron you also know that you'll be awoken early but warm as he always gets a nice fire going in the stove. I didn't sleep all that well as I was so excited and just as I felt I was falling asleep I was awoken but the rustling of what sounded like a large rodent. It turned out to be the elkreaper stoking the stove and so it was hunt on!
Here's theElkReaper taking his position as Grand Pubah at the front of the stove.