Our hunt from last year. Planning on heading back next month, sans my partner.
She's a bit out of sheep shape, because she's making a new sheep hunter.
38 days till wheels up!
To start the trip, we left home two days before sheep season opened. The plan was to fly in early to beat the "locals" and spend a day scouting the area looking for legal rams.
We would be flown into sheep country in a small 2-seater Super Cub, one at a time with essential gear. The round trip between town and the bush strip was about 2.5-3 hours. The flight in was pleasant with many moose spotted from the air along the way and countless caribou sheds. Our destination would be a large glacial delta fan smooth enough for the tundra tires to touch down safely. I flew in first, and set up base camp and awaited my bride to show some time later. After a couple hours, no plane had shown, I was starting to wonder, but wasn't worried. The weather was overcast with low clouds, I assumed that maybe fog or low clouds had rolled in on the other side of the ridge which I couldn't see, and they were grounded for a while, and possibly until the following day. I was prepared, and had all the gear I needed to stay.
Roughly 4 hours later, I heard a plane in the distance, as it approached I realized it was a different plane, but recognized it. Turns out the first plane had minor mechanical problems, and they returned to home base after getting about half way to camp.
During the time I was waiting, I prepared camp, and surveyed the area, comparing maps to my surroundings. I made a quick stalk on an unsuspecting caribou bull, got to within about 30 yards, all while wearing "loud" rain gear. I probably could have saddled him up and rode him into sheep country if I was wearing Sitka gear…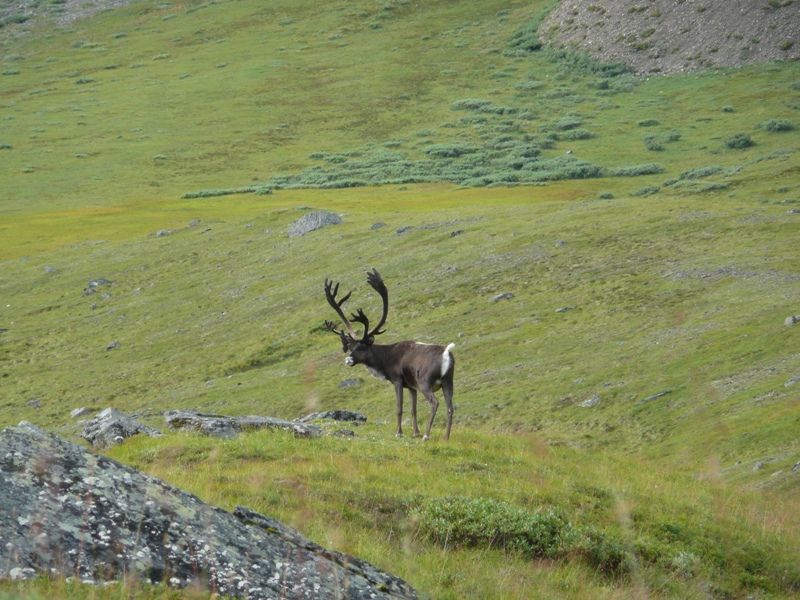 I set up camp on an old gravel bar; taking care to make sure it wasn't an active channel. Later we realized that it must have been cool for the last week or so before we were there, and the glaciers were not active and melting, upon return to the strip, water was running all across the delta, luckily camp was still dry. The area we would be hunting was a large glacial drainage, with more drainages than we could hunt in a week of walking. We planned to hunt close to the strip and work our way out from there until we found rams.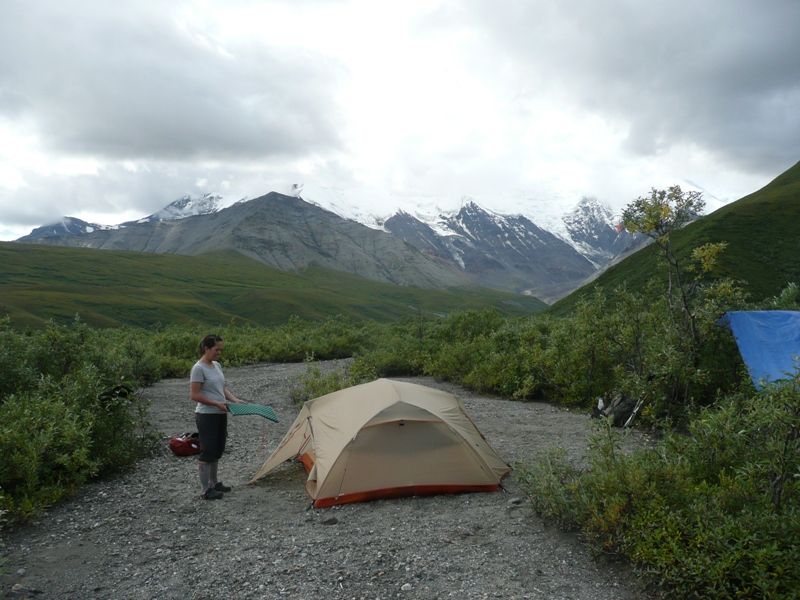 The day before the season opened, we hiked up the small drainage where we had landed, hopefully to find a legal ram or two. I'd never been to this drainage, and had only looked at it on maps. Maps are great, but it's hard to see exactly what the terrain (crags/cliffs) and vegetation looks like without ground-truthing it. To make matters worse, the clouds and fog were low, obscuring most of the mountain where the sheep would hang. We made our way up as far as we dare without walking into what we figured was their bedroom. We spotted a few rams and ewes on our side and another possible shooter across the canyon, but he was in the clouds and difficult to judge. We spent most of the day in the rain and fog, formulating a plan for opening day. No full curl rams were found that day, but we were hopeful, given the amount of sheep we'd seen that we'd turn one up.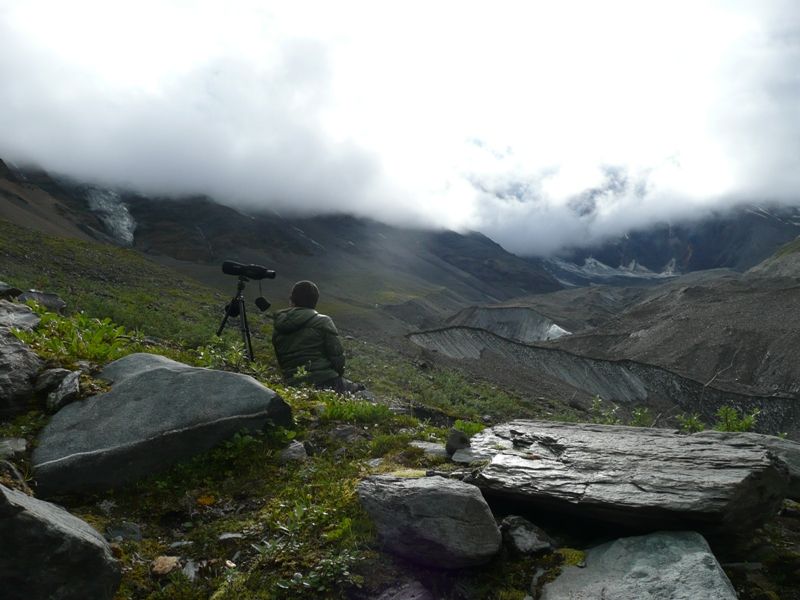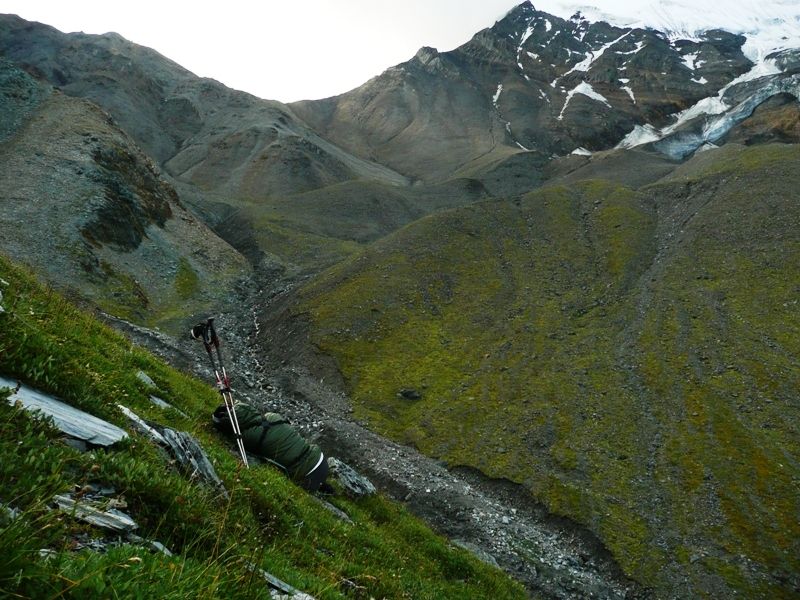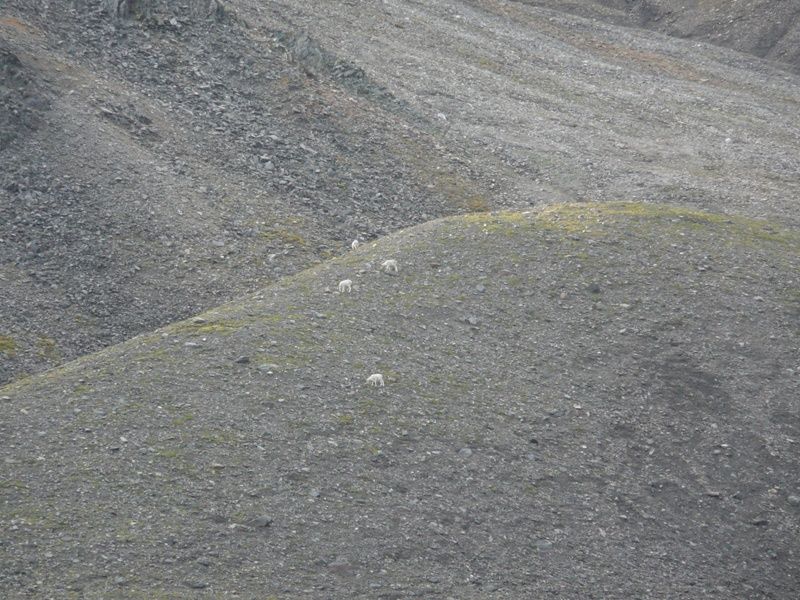 Opening day we made our way up the same drainage. The clouds and fog had lifted and revealed most of the mountain. The view was breathtaking, the mountains absolutely towered overhead, with the valley floor at 5000, and peaks reaching 10,000+' in some instances at a sheer cliffs 1000's of feet high! We got to the sheep haunt early that morning, and stayed all day. We were able to maneuver around and see pretty much every nook and cranny a ram could hide. All we could turn up was a dozen sub-legal rams and a band of ewes and lambs.