My son Kyle had DB237 Aliulik peninsula on Kodiak bear tag, he drew this same tag 12 years ago in 2005 when he was 14 years old. We flew out on the 12th with Keller Wadum (Deckload Aviation) great guy and pilot which I highly recommend! Keller flew us over Kiavak Bay, thru the pass into Jap Bay and then thru the pass down the steam which goes into Kaguyak Bay, we were thinking about camping in Kaguyak Bay, as that's where we camped in 2005. Keller flew us all the way down to Russian Harbor and then back up the coast to Kaguyak Bay checking out the "Brown Bear highway" this is a bear trail which follows the coast from Kaguyak to Russian Harbor, its impressive!
Kyle's bear from 2005….
Because it was a colder than normal spring, Kyle decided to camp in Kaguyak, hoping that most bears were just coming out of the mountains and starting down the brown bear highway! We were dropped off around 5:00pm, we set up camp and got anything squared away, around 7:00 (bear thirty) with not a cloud in the sky, I said lets walk down the beach a ways and glass up on the mountains behind camp, so we started down the beach like ya do, glassing and beach combing.
About a 1/8 from camp we find a big pile of fresh grass & drift wood, I said to Kyle s**t a bear has something dead buried here!...he said look behind you, I looked and could see a big groove/drag marks in the sand where a bear dragged some 40 feet up to the high tide mark and buried it!
About then I saw a huge boar coming off the hill about 100 yds., away heading our way, and we were standing at his dinner plate, things happened very fast….not good!
We backed up the beach toward camp, and were about 50 yds from when he got to the buried pile, the wind was blowing his way and I knew it would be only seconds before he winded us and blew out!...yup he winded us, turned and look our way and burned at full speed for the high country….last time we saw him was a mile away heading over a pass! (For those who don't know, Alaska has a cannot shoot on same day airborne law).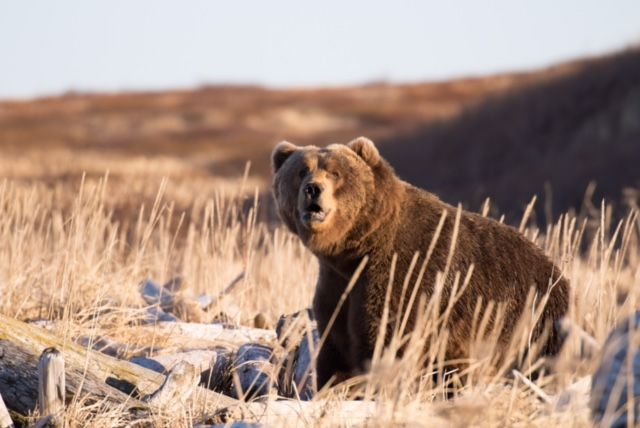 We headed back to camp, I just had to laugh, that was worth the whole trip right there!....got some awesome pics of an awesome bear at 50yds! We'd been there two hours and had a 10 footer on a dead something, we haven't even started hunting yet and 10 days to go!!!
That night I tried to convince my shelf that white claws would be back, but I really knew he wouldn't, bears don't get to that calibre by being dumb!
The next morning we glassed the buried pile to find that a bear was lying on top of it!...is this white claws?? We gathered up our packs and all the things needed to kill a bear! We went up a hill behind camp about an100 feet high and made our way along the bluff overlooking the beach and bay. We got to about 500 yds. from the bear and found a good place out of the wind to set and watch him. We could see he was not white claws, he was not as dark as white claws, but looked to be a good bear, after an hour the bear got up from lying on the pile and dung around and ate a little, then laid back on the pile. We could see he wasn't as big as white claws and figured him to be a 9 foot class bear! We sat where for about 5 hours watching as the bear slept, dung, and ate. The bear finally decided to walk down the beach toward us to get a drink out of a small stream, which was a 100 yds. below us. The wind was blowing from the north out of the mountains and from the bluff we were on out into the bay, however….the bluff caused the wind to vortex and swirl around, letting the bear get a sniff of us although we were a 100 feet higher than him…..off up the beach he went and over the hills!...we really need care, as we had no plans of shooting him any way!