Sharing a short story of my first bird hunt of the 2020/2021 season. A little back story. I live in New York, about an hour north of NYC. Up until March 11th I commutes into the city 5 days a week. On March 11th, I took 3 of my colleagues on a pheasant hunt for all of their first hunting experiences. We started the day at Mid Hudson's Sporting Clays to give some of the guys a little experience using shotguns, then lunch, then to Judson Farm Preserve in Wingdale, NY for an afternoon of pheasants. We had a blast and everybody was successful. Photo of myself (right) and one of my colleagues just before the hunt started.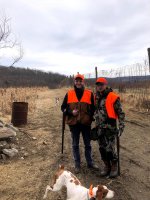 We didn't know it that morning, but the following day our office was shut down and as of this writing, none of us have been back in the city or together since that day.
Fast forward to the second week of October , and I had just gotten back from my first mule deer and antelope hunt in WY (link here if you want to check out that story:
https://www.rokslide.com/forums/threads/my-first-wy-hunting-trip.190907/
My dads birthday had come and gone in August and for his bday I gave him two gifts. The first was his second grandchild, my daughter who was born the day after his birthday. The second gift was his first ever bird hunt (for that matter his first any kind of hunt). We decided we would hunt chukkar and booked for October 10th. I unfortunately do not have my own bird dogs, so I hunt with a local guide who has become a friend over the last couple of years.
On the morning of the 10th, my dad and I loaded into his Jeep and drove the hour or so from his house to Judson Farm. There we met Tom and three of his awesome dogs (we rotated them through and only had one in the field at any given time).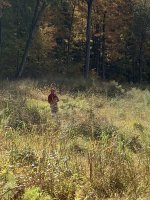 I was hunting with my break action over under Beretta 686 Silver Pigeon II - 12 gauge. My dad in a 12-gauge pump action mossberg he had just purchased. Side note, on Friday the 9th we were giving him some practice racking rounds with snap caps and jammed up the action really badly. Took us a while but were able to get them out finally after sweating it out for a a bit.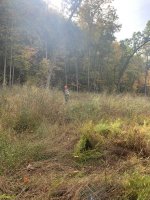 All in all we had a great day. We were in the field for about 2.5 hours, put up a bunch of birds and successfully put down 5 of them. My pops hit the first bird he shot at - which was perfect. He placed a nice shot on the bird as it was flying up and away at about 30 yards.
When we got home I dressed the birds, breasted them out, soaked the breasts for a few hours in milk and melted butter, patted them dry and then applied a dry rub of garlic powder, seasoned salt and black pepper, before grilling them up and tossing them into our salad for dinner.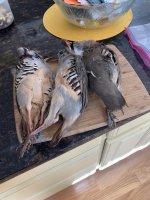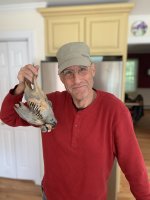 Seems like my old man may have caught a little bit of the hunting bug. We are currently planning our opening day white tail hunt on his property and hopefully one more trip into the field with him for more birds this season.
Until next time....
Last edited: