I've always wanted a pre64 Winchester M70. I read a lot of Jack O'Connor as a kid. Couldn't afford one when I was younger, and when I could, I couldn't find the right one. They were all either in terrible condition, or too nice. I wanted one that was nice enough to be proud of, but not too nice to use. Finally stumbled into one that fit that description a couple months ago.
First thing I did was remove the nice factory original stock. I put it in a sleeve in the back of the safe to preserve it it. Then I deliberated on what stock to put on it to actually shoot and hunt with. While sensible, I just couldn't bring myself to drop it into a synthetic stock. So I went on the hunt for an OEM wood stock that had been modified and no longer valuable. Found one for a song. Had an old hardened recoil pad and a bad finish job.
So I got to stripping the old finish off and sanding and sanding. What I found was good and bad. Absolutely beautiful grain in the wood, but also a crack in the forend.
So that was job one. I fixed the crack by injecting epoxy from the inside and clamping. Can't even see it now. Then I bedded the action, and the hogged out line of the crack inside the barrel channel, with Acraglass. The new stock needed some inletting adjustment to make the bottom metal fit stress free. I admittedly got a little carried away with the dremel so that required bedding the bottom metal too. Then multiple coats of hand rubbed oil finish and finally fitted it with a classy red Pachmayr Old English grind to fit recoil pad. That was a first for me. Messy job! Then I adjusted the trigger to a nice 2.75ish lbs and buttoned her all back up.
Last touch was to install a period correct Lyman 48wjs steel peep sight.
I'm now quite proud of my Diamond In the Rough and can't wait to hopefully shoot something with her this fall.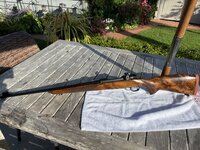 Last edited: