Joined

Feb 24, 2012
Messages

3,992
Location
My wife Katy talked me into having a baby. haha Well she didn't have to convince me, because I have always had a love for babies and kids. The only thing I requested was that " We Couldn't have a baby during hunting season.." haha. Thats actually a pretty small window considering there is something to hunt almost year round..
Fast forward to December 29, 2013. My wife, pregant with a little girl. The due date was December 31st. The baby could come any day, and Katy looked like she could pop!!
We just got a snow, and a friend of mine texted me asking me if I wanted to go with him to look for lion tracks in the morning. I kinda felt like I should be home just in case. I asked Katy about what I should do. Katy said, "you should go. I don't want you to waste your day waiting around for what could be nothing."
I woke up early December 30th. I had a weird gut feeling that morning when I woke that this was the day Ruby might come. Being the responsible husband and father I am...I headed out to go look for tracks. lol
Within a short time of our search we found lion tracks. 3 sets. 2 females and a big tom. The big tom headed off lone in the direction of a giant boulder field. The track was semi fresh but not smoking hot. It looked like it had been made 12 hours prior. The cat could be miles from out location. Knowing rocks can make it tough for dogs to catch cats. We weren't sure how it would turn out. We released two dogs onto the track and they headed out. The dogs went 150 yards and started barking "treed." They were in the rock pile and going nuts. I looked at my buddy and said, "That would be sweet if it was right there...I highly doubt it thou." Our guess based on the distance was the dogs were mixed up in the rocks. They sure sounded like they had a cat bayed up thou.
We started hiking up. I got up to the dogs and saw that they were both barking and looking down under some rocks. There was a crevice under a couple of piled up boulders. I popped up onto a ledge near the crevice and saw an angry looking cat a mere 2 ft from my ankle. I yelled to my buddy that we had it!!
I hurried to strap on my wrist release and grab my bow from inside my Kifaru Longhunter. The cat was under the rocks and wanting to escape. You could see him from two sides. Growling very loud. One side (the open side) you could see just the tail and butt of the cat. On the other side you could see the chest and head. The only problem with that side was there was only a 3 inch slit in the rocks to try to get the arrow through. I tried to snap some video, but It was freezing out and my camera battery was reading "dead."
My buddy said, "if you can get the shot with your bow go for it." It was an extremely tough shot but I thought I could get it. Teadering on some snowy rocks I drew my bow back. I was so close and the gap in the rocks so small that I couldn't aim with my sight. Instead I had to hold the bow in a really akward position and try to look down the arrow. Couple that with the akward stance on the unstable rock I was on and it made things very interesting. In hindsight I should have just used a pistol.
With the arrow pointed at the cats chest and looking like it should make it through the gap. I released the arrow. The only thing I saw after the shot was sparks from the broadhead hitting rocks.
The growling ceased and we were unable to see the cat. Maybe I missed..or Maybe it was dead. I got a flashlight and started peering around into the crevice. I could not locate the cat. I saw the pink wrap and fletching of my arrow and blood on rocks. That was a good sign. But no cat.
Just then the dogs went down the hill below us and headed out around the side. So we started around the mountain after the dogs. It didn't take me long to figure out that my arrow obviously was not a lethal shot. Damn I was pissed. Just messed up a great oppurtunity. I topped over a hill and could hear the dogs again. This time up against a rock wall. I made it to the rock and noticed a cave.. The dogs were barking all over and I couldn't tell if the cat had gone up and over the wall and left the dogs at the bottom or if the cat went into the cave.
I crawled up into the entrance of the cave and I swear I could her a growl coming from within. One of the dogs managed to find a way up and disappeared into the cave. So far back I couldn't see him and hardly hear him. I knew the cat was in there. The dog went in and out of the cave barking a couple times. So lets think. A wounded cat hole up in a narrow cave...hmmm. My buddy arrived at the rock and I told him I thought the cat was in there. There was definitly no way to use the bow. He handed me his pistol and said, "How bad do you want it."
We got the dog out of the cave and I went in. The opening became very narrow. To the point my body could barely fit through. I belly crawled further and all the while could hear the low rumble of the cat growling from somewhere inside. The cave eventually came to a "T." The cat was either left or right or above me. I was face down belly crawling and couldn't tell which direction the growl was coming from. At the "T" the cave opened up a little. Mentally thinking I would get bit on the head at any moment haha I shined the light to the right. And then to the left. There was the cat!
It's kinda a blur from there but I remember thinking I need to make a good shot because my body is blocking the entrance so if the cat wants to escape it will be going through me.
I pulled the trigger and the cat died instantly. A good shot to the head! In the mean time my buddy heard a muffled shot and was yelling at me to make sure I was ok. We couldn't hear each other.
Next I had to figure out how the heck to get it out. I crawled up and had to drag the cat a few inches. Then scoot my body a little bit and reach up and drag the cat. Continuing this process until I was all the way out. When I got out I had lion blood all over my face and arms. Haha
We drug the cat back to the atv's and I checked my phone. We hardly had any service, but I had a text from Katy that read, "if you don't find any tracks maybe you can come home." I texted back, "We killed one already!!"
What Katy didn't mention was that she was having really bad contractions!
I told her I would be home in a few hours. When I got back to my buddy's house a few hours later. Katy texted again and said, " I need you"
I was wondering ..Like for comfort or is the baby coming... Little did I know, it was about to be go time. Katy is just so calm I couldn't tell over text.
I headed home. When I got home I could tell from the look on Katy's face that she was in pain and something was much different than before..the baby was coming.She immediatly went to the car and I ran in and changed my clothes as quick as I could. We headed down to the city (40 minutes away.) I still had blood on my face and hands from the cat (which i washed at the birthing center haha). We rushed down to the city and two hours later little Ruby Evangeline was born! Katy was a champ and so amazingly tough! Did it with no medication or aid. She is a glutton for pain!
Wow what an action packed day!! Two trophies in one day especially precious Ruby!
haha
I am very lucky in hindsight. The timing was crazy. Thankful I didn't miss it! Anyone who knows cat hunting knows cat hunts normally don't happen this quick. Had it been a normal hunt I wouldn't have made it back that quick. And very lucky to have an amazing wife who lets me go hunting!
A pic of the entrance to the cave.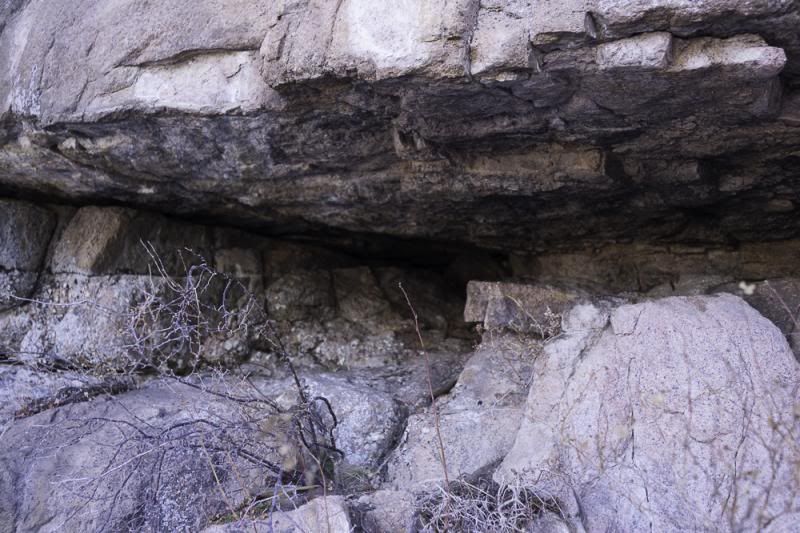 Last edited: