Joined

Aug 22, 2014
Messages

174
Location
I recently got frustrated with the lack of any 3 degree left helical fletching jig, so I made this set of adapters for my Bitzenberger Straight jig that enables perfectly accurate fletching at any specific degree of right or left angle, from 3 degree helical to completely straight. The set pictured below is for Blazer vanes on shafts with a 0.3 inch diameter (I use Gold Tip Hunters), but adapters for any common fletch / arrow combination at any angle (even decimals such as 0.3 degree right offset) can be made pretty easily once designed. More details below, but bottom line, my son and I would be happy to make some of these for you if you're interested...
$5 per single adapter
$25 for a set of seven (Straight*, plus 1, 2, and 3 degree angles in both right and left directions)
You pay shipping, typically a couple bucks, but happy to expedite if you want.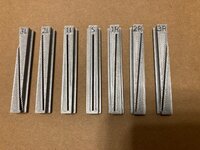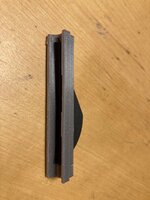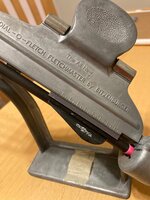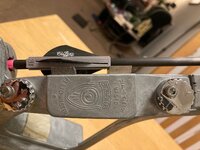 For those of you that care to tune your bows and your arrows as well as you can, you may have noticed that there is currently no device that allows you to fletch an exact 3 degree left helical. The bitz helical clamps only provide full surface contact between the fletch and the shaft at a specific angle that depends entirely on the diameter of the arrow, which is why they never claim or report any specific degree of helical can be achieved. Bohning only offers their 3 degree helical fletching jigs for Blazers in RIGHT helical (why I have no idea). Having "clocked" dozens of arrows from different bows, most of my bows spin the nock left (counter-clockwise), which I've read is primarily a function of the string twist direction, but who knows. Regardless, a left nock spin leaving the bow means arrows are going to perform best with a left helical or offset fletch, mainly because less of the arrow's energy is spent to getting the arrow to spin in the direction of the fletch, leaving more energy as speed.
Since I wanted to at least try shooting arrows with the reported "perfect" 3 degree helical for my Blazers, I first made the exact 3 degree left helical adapter for my Bitzenberger straight clamp. This adapter is made specific for the diameter of the arrow, so it provides perfectly flush contact along the whole length of the vane as the vane curves around the arrow from front to back. And because the vane is inserted into the adapter, all of the force required to "twist" the vane for a helical fletch is applied by the adapter, leaving no tendency for the vane to pull away from the shaft while the glue is setting up for those first 20 seconds or so.
Honestly, I was amazed at how well this worked. Super clean glue lines, perfectly angled vanes, full contact between shaft and full length of vane, and easily reproducible. Once I realized how great this works to apply 3 degree left helical fletching, I made versions for all my different vane angles so I never have to adjust my Bitz again. * I had to make a straight adapter as well, because you have to adjust the Bitzenberger stand to a specific setting in order to use these adapters, but once setup that way, you can swap out adapters to get any angle of helical or offset fletching you want without any further adjustments to the Bitzenberger stand. And if I ever want to use the Bitz the way it was intended, I can just a dial back to the marks I used to use to set the fletch, no permanent changes to the stand at all.
Anyway, figured this might be useful to some of you other guys and gals that are looking for specific fletch angles on a Bitz. Some of the PITA areas of note with this setup...1) The glue is very clean along the vane, and the job looks better than what most pro shops will do, but glue does accumulate at the front and back of the slot in the adapter. It's important not to use too much glue on the vane, less is more. In addition, I take a needle file or folded piece of sand paper and clean out the glue at the back of the slot every three vanes or so. I used to have to clean glue off of the Bitz clamp at the same interval, so no biggie here. 2) As with any helical fletch, added pressure on vane to shaft helps when gluing the vane on for the first 20 seconds or so. The Bohning Blazer Helix jig that gives a 3 degree right helical is designed to apply extra pressure, but the Bitz jig isn't, so I usually apply a bit of downward pressure on the clamp for those 20 seconds of letting the glue set.
That's it. The design work for is done for any degree of angle, on all shaft diameters from nano to standard (0.190"-0.300" outer diameter). This is a project my 11 year old son and I are doing together. He's going to track orders, prep shipping, and do the 3D printing, and I'm doing the the 3D designs for new shaft / vane combinations if there are any requests. Send me a PM if you want more info.
Last edited: