Joined

Jan 30, 2017
Messages

831
Location
Just got my new airsoft rifle to run off nuisance animals, and I tell you this thing is awe sum !
Select a screw you mode semi single, semi 3 round burst and full auto. the range is just about the full length of my back yard, installed my red dot halo sight, 240 round mags and hours on a battery.
talk about fun and accurate, got some thing stubborn like a possum and want to put the hurt on them 3 round burst works magic. multiple targets ? full auto and spray 240 rounds, not sure how many per sec or minute but it is adequate and 360 to 400 FPS, it is not the sound barrier like my whisper cat air rifle but then again I don't have to shovel them up and dispose of them like I do with the whisper cat.
just wondering anyone else in a city confides that is taking advantage of airsoft ?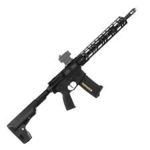 Last edited: