Joined

May 6, 2018
Messages

6,729
Location
I think you hit the nail on the head. I'm looking for the most reliable head on the market that flies true to my field points assuming i have done my part in tuning.

that being said about as many people that complained about poor flight there were that many people who stated it flies perfect. So my question is, those of you who didn't like the flight did you broadhead tune the IW?

Money isn't my problem here, i simply want a broadhead that will do what i expect for the price i pay without having to buy 5 different broadheads to find 1 good head that flies true and will perform deadly kills.
They will tune. Here is 55 yards. IW Solid, and fp. Same result with wide.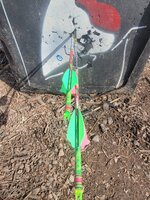 That's out of a shooting machine. After I got to that point I started shooting singles and just marking impact.
To be fair I find most broadheads will tune, I feel confident that if someone isn't getting them to fly with FP's out to at least 50 yards if not further (drag results in a drop at some point, my experience is it's normally out there a ways like 70+) it's a result of not being tuned. That might be the bow, or it might be a spine issue that doesn't really creep in til using broadheads.