Joined

Feb 26, 2013
Messages

35
Location
Hey fella's
Been a lurker for a while. Was ref here by my buddy Austin. Lurked for a while too.
Born and raised in SWPA chasing whitetails. When i graduated HS i knew i wanted to 'come out west to hunt elk' Joined the AF and after a few years of bouncing around wound up in Albuquerque NM. I cant go back to the east and hunt now. The west is where i belong. Pack on back and glasses on my neck DIY on public land.
Been fortunate enough to draw some good tags here..
Here's a Ewe Big horn with a flintlock (PA style with a roundball)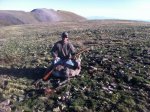 And here's my first Muley with the same gun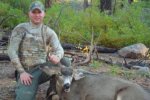 Looking forward to the draw next week to start planning my fall. Hoping for a Couse hunt this year.
Keep the wind at your back
Jon