Joined

Jan 16, 2014
Messages

460
Disclaimer - I am an amateur, probably slightly below average hunter. I am NOT Robby, Ryan, etc. No one pays me for reviews of anything, and would probably pay me not to.
I've done extensive reading, both here and a couple of specific alpha bino reviews, likely the same ones everyone else has read. It's important to state (which sometimes I think gets left out) intended purpose and use. My purchase is for elk hunting. Anything else (whitetail) makes almost any purchase above Vortex Diamondback's overkill. Which I'm fine with having. I don't normally mule deer hunt, I'm not a guide, and if possible I prefer "any elk" tags so scoring isn't really my thing. I also don't change gear often. I used the same bow for 7 years, don't switch camo or brands, and am still running a Kifaru bikini frame and high camp bag. Change even one of those factors, the whole calculus changes.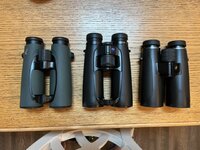 I have had (all 10x42) Swaro EL, Zeiss Victory SF, and GPO Passion HD for about 10-12 days. I've attempted to use them at all times of day, lighting conditions, free hand/braced/tripod mounted and in different settings. I claim nothing scientific, but tried to vary conditions as much as reasonably possible (and still be able to return the optic.) Here's what I noticed, and found. Which I find to be two different things. Also, here's some bias confession because it's impossible not to have some. There was no doubt in my mind Swaro were the best glass I had to look through. At least my expectation.
Appearance/quality impression:
Swaro. Next. (Kidding, kinda. While holding no objective value, they just look like expensive optics. The others do as well, but plain black doesn't stand out.)
Ergonomics/weight/hand feel:
My hands felt the most "cramped" with the Swaro. The texture is phenomenally comfy, but I felt like I was trying to find the right place to put my hands. The Zeiss are lighter and felt even more so when viewing. Regardless of how I picked them up, or had them blindly handed to me, I naturally had a finger resting on the focus knob and they felt more balanced. The GPO's were very close to the same as the Zeiss, but had a very weird trait. They felt far heavier held vertically, but are very well balanced holding to view almost like they lost weight. Edge to Zeiss, then GPO, then Swaro.
Optics part 1:
While viewing at the house, and my lovely bride was nearby, I would have her hand me a pair blindly and just start looking. This was after diopter set, adjustments made, etc. I began by looking for the rollerball effect of the Swaro. So much so that I tried for a bit, and was convinced I could find it. Then checked and I didn't even have the Swaro's in my hand. Not to discredit those that see it at all, but absolutely not a factor for me. (Talk about expectation bias.) At this point I was convinced that Swaro woild run away with it. I also expected the Zeiss to have some sort of "tint," and the Swaro's to be clearer/brighter or however you'd like to phrase it. But, I never saw this either. There were times I'd think I picked up color differential more with the Swaro, but then switched and saw it just fine with both the Zeiss and GPO. The Zeiss seemed almost "smoother." Not the right word, but it's the best I have. I think this is purely subjective to individual eyes, maybe due to lens coatings? Dunno, but during normal daylight, I honestly could not distinguish a view clarity differential between the three.
Edge clarity:
This is a notice versus find discussion. I agree with all reviews I've read; he Swarovski has better edge clarity. End of story? Eh, maybe. This went unnoticed to me for a while until I remembered it was a thing. When tripod mounted, and attempting to find it, it's there. Swaro is clear to the absolute edge. I didn't *notice* it, but I could *find* it. How much? To compare to the Zeiss I had to concentrate on edge clarity and not really look at the whole image. So I'm not sure how much of a factor this is when glassing for elk. Very slightly more with the GPO's, but I still had to look for it. Again, subjective to how much this weighs in for you, but it exists and Swaro has it.
Slightly more on ergonomics:
Eye cups. This was a surprise, mostly that I noticed as much as I did. It's as subjective as it gets, but my eyes are far more comfortable with the cups on the Zeiss and GPO. They are very similar.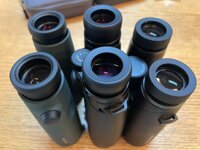 I also did not like the adjustment function of the Swaro's. They feel mushy and undefined, and I was never sure if I had both at the same point. The Zeiss were smooth but sure, and had more adjustment than the GPO. The GPO has very defined adjustment. I actually really like them, they feel locked, but have one less position available. Zeiss were the best overall. Just purely on comfort once set I couldn't tell much difference in them and the GPO.
Focus and resolution (optics 2):
While the focus wheel feel is different, I could find none that were necessarily better. They are all very, very good. No inadvertent movement, easy to use, resistance and rotation were all excellent. I found this to be a non factor for me. The only difference in getting an image to resolve was that the Swaro and Zeiss had what I would say is a wider range of focus. In other words (this is relative and has nothing to do with how much is actually required) if you had a 1/8" "window" to a clear image with the alphas, the GPO was 1/16. Just took a little more precision movement to get the same resolve. This took some finding as well, but it was there.
Low light:
Just when I was ready to box 'em up, send 'em back and go with GPO (at half the price of Swaro and a little over 1/3 of new Zeiss,) I finally got to a few evenings of an important factor for me - low light performance. Still initially surprised with the GPO. I expected this to be a definite difference, but it really wasn't. Until it was. The alphas were as expected, great image clarity and detailed transition between colors in low light. So was the GPO, surprisingly, until the very last bits of light. This was a *notice* versus a *find* even though it took a while to get there. By pure estimation, I'd say you get a solid 7-10, maybe 15 in certain conditions, more minutes of picture clarity as low light approaches flat out darkness. Is that your last chance to find a herd the night before your last day to hunt? Could be.
So, now what?
I'm not a guide, I don't need to score legal rams on a $60,000 stone sheep hunt, and I don't pass 6 point bulls because "he's not the one I'm looking for." That's not a dig at those that are/do - I wish I could say the same! That said, low light is a factor for me. Some that had the same experience as I did would say that the alpha glass isn't $1000 (or $1800, Zeiss) better than the GPO. Correct. But that's a linear answer to a nonlinear question. They are better, I just have to decide how much, for my use. I'm not convinced that's the way I'm going, but I'm leaning that way for *my* use and *my* eyes. Also, I tend to hold on to gear if it works. This diminishes the resale value factor of the equation, but not completely. There's zero chance that the alpha glass doesn't win that category. That's not subjective at all.
To my eyes, the Swaro and Zeiss are better binoculars in 10x42. The GPO's are the better value - in the true sense of the word, not meaning "cheap and available at Walmart." I have a pair of Maven B6 10x50 demos getting dropped off today. They'll get due diligence, focusing on low light. And then I guess I'll have to make a decision.
In my opinion, the phrase "just buy (brand x) and you know you have good glass" isn't just a $2,000 and up answer anymore. The GPO's are really, really good. And I suspect the Maven's will be as well.
Or, with the FOV and the fact you can actually put an adapter stud in them, if I see another pair of NL Pure's for $2,500 I might just buy them and move on with life.
Apologies in advance for length of post and probably typos. Just thought it might help someone who's asking this question. Also hope I don't get banned from Rokslide for not saying to absolutely buy Swaro
Last edited: