Bear Wild RTH $400 Package. Make an offer.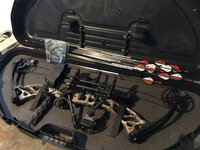 Bought new and only used one season, so it's in excellent condition. No problems or nicks that I notice, and just had it checked out at an archery pro shop. I got a different bow so don't need it sitting around.
This is the "ready to hunt" package, so it has everything you need: peep, d-loop, and trophy ridge accessories: 3 pin sight, whisker biscuit rest, stabilizer and quiver. Bow warranty is not registered.
Adjustable 24-31" draw length, 60-70lb draw weight, 85% letoff, so adjustable for just about any shooter.
Bow package + 10 carbon arrows (350 spine, 30" long $100 value) + release + 2 rage hypodermic broad heads = everything you need to get started!
$400 shipped CONUS (PP F&F/+3%). Make an offer.
Last edited: