This might be tough because I can't ship it, but I'll throw this on here in the hope someone close by might be interested. It could also be delivered at the Compton Traditional Bowhunters Rendezvous in Berrien Springs Michigan, or I could meet someone within a couple hour drive of Madison Wisconsin. I may also be headed toward Utah in late June and it's possible we could arrange a meeting somewhere along the way.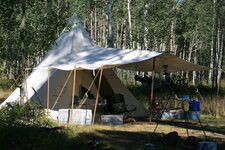 This package would be well over $2,000 if you order it new. It has seen a fair amount of use and has some dirt and pine sap stains but is in overall very good condition. This is a complete set up with everything you need for an amazingly comfortable camp in any kind of weather. There is easily room inside for the stove, three full size cots, a table, all of your gear, and still have room. I am looking to sell it for $1,150 as a complete set up if we can figure out a way to pick it up at the Compton Rendezvous. I could also meet somewhere withing a two hour or so drive of Madison Wisconsin, or if we can figure out a spot to meet in late June while I'm on my way to Utah.
Package price includes: 15x15 Panther Primitives Hunter tent with 13 oz. Sunforger fabric with flame retardant, 2 tipi doors, stove hole insert, and a ridge pole hole. It has a 12x16 fly of the same fabric that is set up using a ridge pole and side stakes. I also have a side curtain that ties on to one side for shade and/or wind & rain protection. Also included will be 38 hand forged tent stakes, a forged tent stake puller, as well as all of the poles and ropes needed to set everything up as shown. The stove included is a Cylinder Stoves Hunter model (24") with a warming tray, grate, nesting stove pipe with damper and spark arrestor.
If you have any interest please message me and I will be happy to email copies of the pages from the Panther Primitives catalog and a link to the Cylinders stove website.
Last edited: