I entered my son's picture in the Youth Photo Contest, but now that things have slowed down, I figured I would share the longer story….and it is long, so bear with me.
My son, Carter, started tagging along on some hunting trips with me when he was 4 years old. Last year (October 2020), at age 7,he was finally with me and my dad on a successful hunt. My dad shot a little forky Blacktail buck, and after that all Carter could talk about was hunting and wanting to take Hunter Education. With COVID, Washington went to 100% online Hunter Education, but with his age he would still have to do a field test. In February 2021, he successfully completed the online course/tests, but then the challenge became finding a field test so that he could get his certificate. Again, with COVID, they were doing 1x1 field tests, and not very many of them were being offered because of the WDFW staff that were authorized to do them. March 22, 2021, he passed his field test on the first try, so now the long wait for Big Game Seasons began.
We went out Bear hunting a couple times in August with no luck, so then it was on to Deer season.
We live in the land of Weyco access permits, so I made sure to buy one so we had a place to hunt that was close to home. Carter was also playing football, which meant practice 3 nights a week, and a game every Saturday. Opening weekend of Blacktail season, we hunted Saturday afternoon after football, and also on Sunday. The weather was pretty mild, and we only saw a handful of does. Just prior to deer season, we got an invite to hunt some property in Eastern Washington, but with school and football, I was struggling to find a way to make it happen (Carter was not about to miss a football game). So, after some talking with my wife, we decided to head out right after Carter's football game the next Saturday, and allow him to miss a couple days of school so that we could hunt the final 3.5 days of the Mule Deer season.
Luckily he had an early game, so me, Carter, and my dad hit the road around 11am to make the 3 hour drive East. After getting settled, we headed out for an evening hunt. About an hour before dark, we spotted a 3x4 bedded in the wide open about 600 yards away. After some quick planning, we figured out how to get closer, so we would pop up around 100-150 yards away. The plan worked perfect, except I didn't account for the grass/brush being so tall, and when Carter went to lay prone, the grass was in the way, and couldn't quite see over the rise. After trying to reposition a few times, the buck got nervous and took off and into the trees. We made our way down to where we saw him go into the trees, and just as I peeked over the little edge, there was the buck pushing his does around at 40 yards! Now, I had my tripod in my hands with the BOG Death Grip, so I hurried up and got it set and threw his rifle on it. Looking back, I probably rushed him, and he ended up missing the buck. The deer ran off, and we spent until well after dark looking for blood to be sure it was a clean miss. I honestly think I was more phased by the miss than he was. He was still in good spirits, so I made sure to not let him sense my disappointment in myself for how it played out.
The next morning we were back at it before daylight, because I wanted to go check out the same area where he missed the buck. On the way there, we encountered a different 3-point that just wouldn't stand still long enough. I was quickly realizing just how much work it is to get an 8 year old into position for a good shot. We finally made it to where we saw the buck the night before, and as soon as I started glassing into the trees I started picking up deer. We were 400-500 yards away at this point, so we made a plan to get closer. We ended up getting in VERY close, and were in the middle of 3 legal bucks, a couple spikes, and quite a few does. Bucks were pushing does, and nothing would stand still long enough for a good clean shot. The deer split up, and we stayed on one of the 3 points that had peeled off from the group, taking a couple does with him. We located him again in the trees, and as we were trying to make a game plan, one of the spikes from earlier ran by us at 20 yards and then proceeded to bed down between us and the 3 point! After an hour or so of cat and mouse games with the 3-point, we lost track of him and decided to head elsewhere.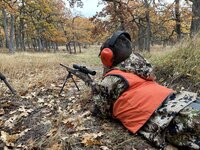 That evening found us back in the same spot looking to see if we could turn up one of the bucks again. We ended up turning up the same group of deer; a 3-point, spike, and two does. However, this time they were making their way up a ridge in the wide open. My dad decided to stay down low, and Carter and I headed up the ridge after them, trying to use every little piece of cover we could find. After about a mile, the deer finally stopped in a little bowl that we were able to put a sneak on. When we came over the little rise, the buck was down low, again to the point where going prone wasn't an option. As I tried to figure out plan B, the buck started making his way up the opposite ridge, about 150 yards away. I got Carters bipod adjusted, and he was on the gun, but just couldn't get comfortable, and told me he didn't feel comfortable with the shot. A couple minutes later, the buck came back down the hill towards us to rejoin his does, but again that put him too low in elevation for a prone shot. There was one doe that you could tell he was interested in, and when she started to side hill to our left, I knew this would be our chance. I grabbed Carter's rifle and spun it 90* to roughly aim it at the opening the doe was headed for. Now, with Carter on the gun, and me on my binos to watch for impact, I told him when the buck came into the opening, I would try and stop him, and if he felt comfortable to go ahead and take the shot (about 80 yards). Just like I thought he would, the buck came into the opening trailing the doe, and after a quick deer(ish) sound from me, the buck stopped perfectly broadside. Carter's rifle goes off, I blink, and the buck and the hot doe run off over the ridge, leaving the spike and other does still just 80 yards away. With no idea if he hit the buck, I ran down the hill 20-30 yards to see if I could see the buck from a different vantage point. As I was walking back up to Carter, the hot doe reappears going up the ridge, with no buck in tow. Thinking to myself that is a good sign, we regrouped and made our way up to where the buck was when he shot, and there was the sight everyone likes to see.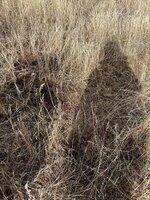 I knew which way the deer went, but I wanted Carter to follow the blood trail the whole way, and working on not leaving last blood until you find the next spot. After an easy, and relatively quick, 60-70 yard tracking job, we recovered his first big game animal. He was on cloud nine, and after a quick Facetime to mom and sister (she's 5) and some pictures, we got to work.
Getting Carter into hunting, I had a lot of self-doubt, as I don't consider myself to be a great teacher, but seeing it all come together for him was the best day of hunting I have ever had, and I can't wait until next season's adventures. It was awesome to have my dad with us to share the experience as well.