Joined

Mar 5, 2021
Messages

25
I drew a Colorado 61 cow tag that started today. As a local I'm pretty familiar with the Uncompahgre (beautiful country!)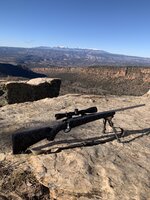 and took a cow up there last year (September tag though). I hit the spots I'm familiar with that hold elk and hoofed it over seven miles today and only saw one elk at last light and a couple sets of fresh tracks.
There is almost zero snow up there and the mule deer were plentiful (bucks and does). I guess my question is, do elk migrate down before deer? I always thought it was the other way around.
Any advice much appreciated, looking to put some meat away and have limited time in this short season.
Picture of my '06 is from this morning off Mesa Creek.