Hey all, I harvested a moose in Colorado this year and am looking for taxidermy recommendations near Denver or on the Front Range.
During the 2020 archery elk season, I stumbled upon a dead bull moose carcass with very little meat taken and the head still attached. There was a broken off arrow laying next to it. I checked the season dates and archery moose was not open yet. I took a couple pictures and marked the location. When I got back to service I called the TIP hotline and reported it. That evening near the area I ran into another hunter and asked him about the moose. He hadn't seen the carcass, but did have an interesting story about a friend of a friend hunting there earlier in the week and killing an elk, but not showing them the carcass. I ended up getting his number and when the CPW officer called I relayed the information I had plus the other guy's story and number.
Two weeks later I got a call from the CPW officer with news they had found the guy in Oklahoma and issued a hefty fine. After talking a bit, I was asked if I wanted a reward and I said I wasn't that interested until he mentioned I could get a moose tag for that unit! I honestly was in shock and he said he would help with the process. I turned in a TIP application and found out in June of this year I would be going moose hunting.
I scouted for 2 days before the season and was able to find 3 bulls, but nothing worthy of a tag. Opening morning, at first light, my buddy and I found 3 more bull moose, but again they were all too small. Later in the morning I got a tip from a friend hunting the area that he spotted a HUGE BULL the night before so we headed that way. We got to the area mid day and decided to drive around a bit and wait until the evening to try to spot the moose he saw. While driving, I caught a dark blob out of the corner of my eye and it happened to be a bull moose feeding at the edge of the timber. I pulled over and as soon as we got binoculars on him, we knew he was a shooter.
I got dropped off out of view of the moose and my buddy went back to film from the road. When I got to where the moose should be, I couldn't locate him. I decided I'd take a quick peak and see if he was still close. When I got a few steps into the woods, I looked up to see an unbelievably huge animal staring directly at me 40 yards away. Luckily he was behind quite a bit of brush and didn't spook. We had a staring contest for 10 minutes before he started to feed and move off. As soon as he started moving I tried to quickly follow, but lost him in the brush. I slowly made my way up to where he was standing and he was nowhere to be seen. I took a couple steps and luckily caught movement to my right 30 yards away. He was again staring at me, but again was behind some thick brush. He started to feed and move away and I noticed an opening for a shot. I knelt down and drew back, but he crossed the opening without stopping. This time I didn't want to let him out of sight so I followed as quietly as I could whenever he would look away or feed.
He finally stopped again and I put some really thick brush in between him and me. Right then the wind picked up and gave me the cover noise I needed to slip in to 15 yards. He was facing directly away so I slowly worked to my left out of cover in to the wide open. At this point I had to really calm my nerves and just wait for him to turn right or left and give me an easy shot. He took a step to the left and gave me a perfect quartering away shot. I drew back and when I released the arrow it hit him perfectly and disappeared into his chest cavity. He ran 30 yards and stopped, getting the wobbly legs hardly keeping his balance. I was able to get another arrow in him and he stumbled another 10 yards and toppled over.
The next 6 hours were spent quartering him up and hauling meat. The pack out was only 250 yards, but I was not remotely prepared for how big moose are or how much meat there is. I kept remarking on "what cut of meat is this" and "where is this meat coming from" as I cut off the rib, brisket and neck meat.
My freezer is now FULL and I'm looking to do a shoulder mount to commemorate a crazy story that turned out to be the hunt of a lifetime.
Any taxidermy recommendations near Denver?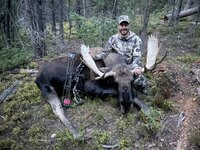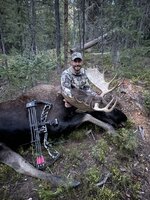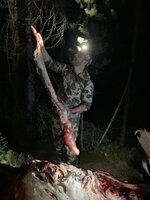 Last edited: