I have a few "sets" of hunting tops and bottoms for sale. Everything is priced individually and with a "set" price. PayPal preferred, F&F or buyer covers fees.
I am 6'2" and 200lbs. I wear 34x36 blue jeans and all of this stuff fits me like I would want it to for what it is. Some of it has been worn a time or two, the rest of it probably less than 5 or 6 times. Everything is in very good to almost new condition.
Please PM me with any questions and please indicate interest in this thread so I have a time stamp to work with. THANKS!
First up: Columbia Gallatin wool blend button-up jacket and bibs. Both size XL. Dark woodland camo. I don't know if I've worn either of these pieces more than once. I know I have had them stored for a few years. Unhemmed. Excellent condition. $75 for the jacket, Bibs are SOLD, shipped lower 48.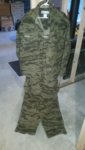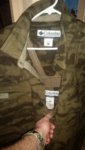 Next: Mossy Oak Treestand camo
Browning Hell's Canyon softshell jacket and Riverswest waterproof pants. Both size 2xl. The jacket was probably worn twice, the pants a few more times as cold weather cover-ups. Very good condition. $70 for the jacket, $45 for the pants or $105 for the set. Shipped.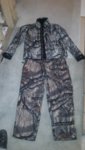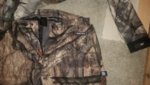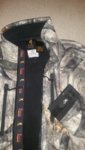 Last up: Gamehide Fleece - Max1
Fleece/softshell-ish jacket and pants from gamehide. I never ended up wearing either more than a few times. Very good condition. Jacket is 2xl, pants are XL. $35 each or the set for $65, Shipped lower 48.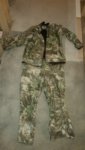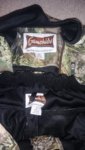 Last edited: