Joined

May 7, 2021
Messages

26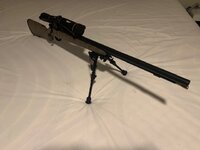 I am sure this is not a new story line…I was really lucky and drew a NM unit 15 Muzzleloader tag for the late season. I have had a 50 Cal Knight Disc Extreme that shoots 460 grn NoExcuse conical at about 1400 FPS really well. It will shoot a 2-3 inch three shot group with a Williams peep at 100 yards (limited only by my eyesight). However, the drop on that load at range is a bit extreme. It's really a 100-150 max range rifle.
When I bought the Disc Extreme, I really wanted the Ultra-Lite. The sales person at Knight actually recommended the Disc Extreme in 50 over the 50 Ultra-Lite after I explained it was being set up for Colorado hunting. Well, now that I have a NM tag I felt it was the perfect excuse to get a 45 caliber Ultra-Lite. The is obviously the Nitride finish and is topped with a Leupold VX5 2-10 scope. The rifle with the scope weight in at about 8.5 pounds total.
I am setting the rifle up for full bore sized bullets. In researching this 45 I had a hard time finding true velocities. In an effort to help out the next person…
I had my first range day today.
I tried three different bullets today. They were 300 grn Ballistic Extreme , 275 grn Arrowhead LR and 300 grn arrowhead LR.
I was shooting BH209 and CCI Mag primers.
I shot three test strings with each bullet using 78, 80.5 and 82 grns ( by weight) BH 209.
Ballistic Extreme 300
78 grns= 1929 FPS
80.5 grns= 2011 FPS
82 grns= 2050 FPS
Arrowhead 275 LR
78 grns= 1999 FPS
80.5 grns= 2084 FPS
82. grns= 2100 FPS
Arrowhead 300 LR
78. grns= 2005 FPS
80.5 grns= 2035 FPS
82. grns= 2074 FPS
The Arrowhead 300 LR with the 82 grns gave me a single ragged hole and shows real promise. However…this round does have a bit of recoil. The 275 LR were a very close 2nd with the 80.5 grns. This was just a little,bit bigger group than the 300 gr LR. Could have been shooter error.
Next range day I will be testing the Arrowhead XLD in both 275 and 300. I will also post the velocities for these rounds at muzzle and 100 to see what BC I get at these velocity.
I hope this helps somebody when they start looking to go this route.
On a side note…my son has a Colorado unit 201 cow tag and was shooting my disc extreme very well today. We have a very busy fall but will update this as we go.