I'm starting to thin out the gear room a bit.
Kifaru Duplex Hunter Frame, Coyote, Medium Belt, 26" Aluminum Stays (I will throw in ultralight arrow stays for free). I bought this off the classifieds here and only used it for a couple training hikes. In good shape if a bit dusty from spending a week in my pickup bed.
SOLD $290 Shipped in the lower 48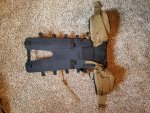 Enlightened Equipment Enigma Quilt. Regular Length, Wide. 0 degree 800 Water Repellent Downtek fill. Charcoal 10D inside fabric, Forest 10D Exterior, Steel Grey 20D weather resistant stripes.
I ordered this in October 2015. I only spent one night in it and packed it for a couple hunts where it didn't get used. In perfect shape.
SOLD. Shipped in the lower 48.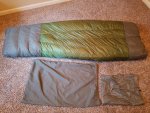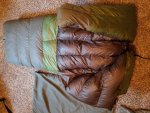 Leica Rangemaster CRF 1600-B
I got this from the Cabelas bargain cave because it was missing a lanyard so it has the typical Cabelas bargain cave silver Xs as seen in pictures. I believe I donated the carry pouch to the rental car company on my last hunt.. Leica says they'll send one for $20. Glass and body in great condition.
$400 Shipped in lower 48.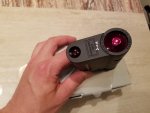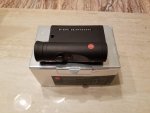 Last edited: