Up for sale:
Grim Reaper Pro Series 100gr 3-blade 1 3/8" expandable broadheads. Two packs of four heads each, one unopened, the other was opened to weigh each head but they have never been installed or shot.
One pack of replacement blades and collars for the above heads (re-builds four heads).
Three practice heads to match the Pro Series broadheads above, one was shot into a 365 foam target about 10 times, the other two are unopened.
$90>>>$75 for all of the above, including paypal fees and Priority Mail shipping in the US.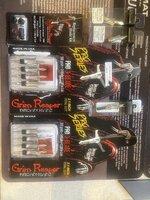 Last edited: