Joined

Sep 29, 2014
Messages

2,925
Location
I know most of the time we do this stuff in anonymity, the best blessings come from good deeds untold; but after Tanya's cool 're-intro' thread, I thought I'd toss this one out here.
In a year of so much chaos, reading of some kind deeds would be fitting and uplifting. Share if you can.
I'll start.....Last month I had the chance to help the Fed Ex guy who was broke down on our road. It was a bitter cold afternoon, but I bundled up and hopped on my Grizzly bike in the hopes of measuring my running route in miles on the odometer. I happened upon the Fed Ex guy dead in the water with a flat tire, no jack and a badly stripped out lug wrench. btw, he told me Fed Ex won't give them a jack for liability reasons! doh!
It took several runs back home for tools and etc. (10 miles on my wheeler all told, lol!) the one-ton lugs were all seized and we needed a huge breaker bar, six point socket and pipe; but finally got him up and running just before dark.
He's a great guy--the best--and I was happy to see him get back on the road. It dawned on me just how hard some of these folks work to serve us, the consumers.. He's probably on the road 12 hours a day.
I didn't expect this cool perk sent my way from Fed Ex, this sucker must weigh a couple of pounds.....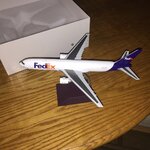 Last edited: