Joined

Nov 30, 2012
Messages

1,144
Location
Well today was the first ML Rondy shoot if the season for me. The Men and Women of the Hells Canyon Muzzleloaders Association put on a Memorial shoot each spring. Club memebers and other ML shooters gather on the edge of the Snake River just west of Clarkston, WA. In the Lewiston, ID - Clarkston, WA area the Clearwater River dumps into the Snake River just a short distance north of Hells Canyon, deepest river gorge in the US.
The Lewis-Clark expedition passed through here on the way to the west coast and returned through the same area on the way home. Hence the name of the two towns... Lewis town and Clarks town. History leasson over.
Drove down from Moscow, Id this morning and down river out of Clarkston to the shooting area. Temperature wise... it was not all that bad. Lewiston-Clarkston is considered the 'Banana Belt' of Idaho-Washington...That does not take in account of the winds that can come down the canyon and try to get up and out of the walls of the canyon. This morning the wind was really working... Head gear was blowing all over the place... The problem with full brim hats.
Can not say i shot very well, but it still was fun to meet new people and complete with other shooters in the group. Going to these round ball get togethers is always fun and enjoyable. Most of the Rondies around this area really do not get to hung up on being completely in the 'period' in the manner of dress - they just deduct points form your card but you are totally accepted to enjoy the people and the food.
Here is a composite of a few pictures taken this morning...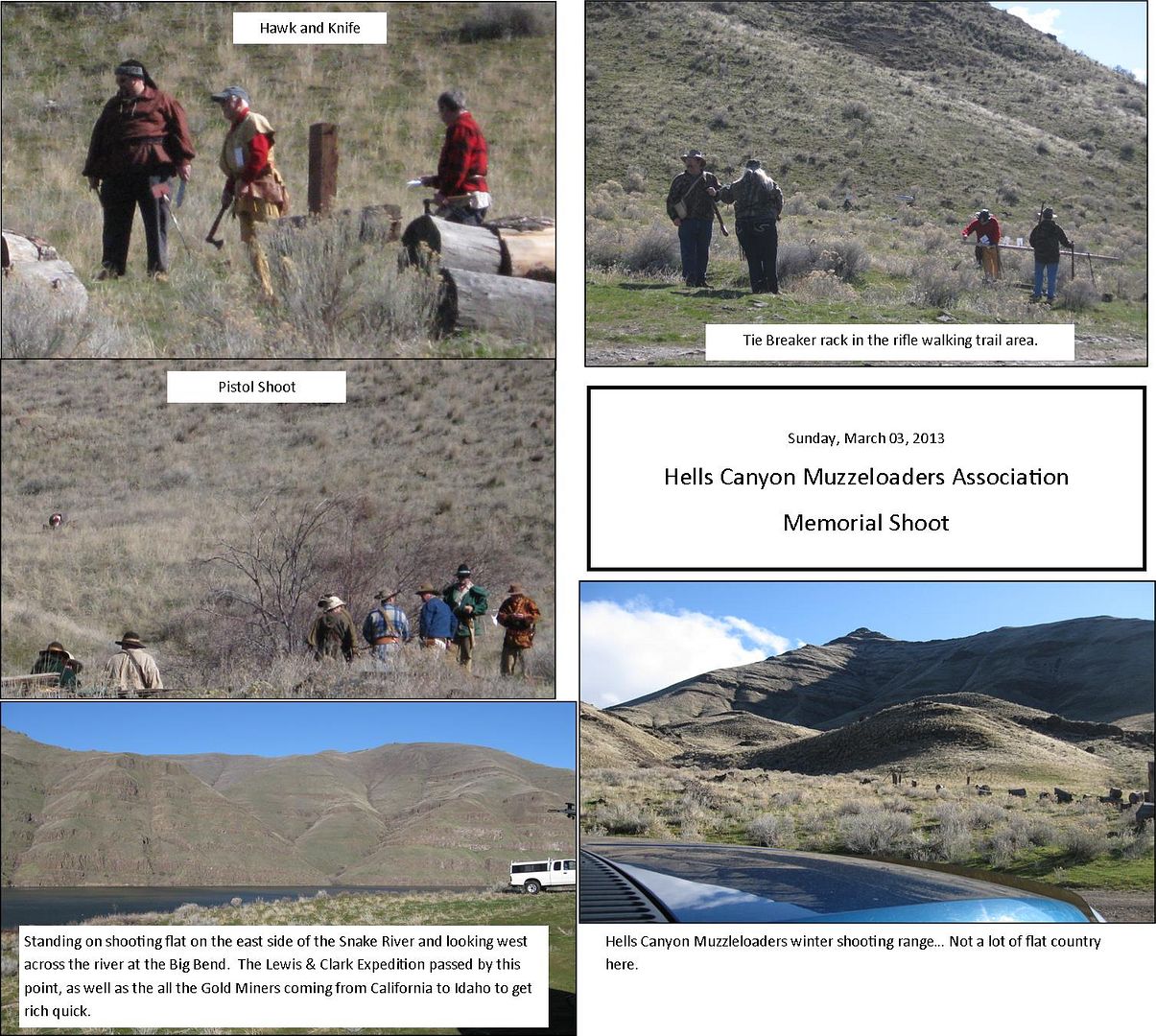 Next shoot on the schedule for me is the Lolo Trail Muzzleloaders Spring Fling north of Orofino, ID in the area that Captain E.D. Pierce and a group of people found Gold (1860) and started the population boom of the Idaho Territory.