Joined

Nov 30, 2012
Messages

1,135
Location
Is not always lost
Yesterday was the last day of ML season actually big game hunting. I actually have/had two tags (anterless) left that I have not used.
You can not believe how many deer I have bypassed through the season because it was just not the right one... then ML elk season gets here and I refuse to shoot deer while I am elk hunting, with my luck if a I popped a deer there would be elk I moved.. so deer shooting...
Elk season ended 12-9, which I did not think would be a problem because I had the 10-14 to get a deer.
Well then 10-11-12 did not produce - saw lots of elk but no deer... - no problem I still had 13 and 14 and we were suppose to get some decent crappy weather.... BUT!!! my grand duaghter calls and tells me she has a Christmas Orchestra Concert on Thursday night at school and wants to no if I am coming????
Terry and I left Thursday morning about 8 in the morning and drive to Kennewick, Washington with the intention of attending the concert then driving back early Friday morning so I could hunt Friday evening. All the best laid plans you know... We did not get out of Kennewick until mid-morning my youngest grand daughter wanted me to take here to school and when she ask's it is really hard....
Friday 12:36 we got home.... 1:03 pm I close the door on the pick-up and head to the "Hot Draw" which I hope is full of snow... Wanted to be on spot @ 2:30...
This is a picture of 'Hot Draw" without snow.... It is a saddle area that animls use to cross from one area to another...
I really never made the spot.. I was just a bit short. About 2:30 I had jst left the 'muddy road' and started up the draw. I was really cussing out the snow - it was terrible crunchy and the was not way I could really be QUIET... Got about halfway up the draw - stopped for a bit to listen and look. I did here across the way some sounds - I listened for awhile and was sure it was squirrels in the brush across the way. Could not really se over because of the brush on my side - I pushed ahead another 20 yards and got out of my brush and could not see across the way. I watched for awhile and FINALLY pick out a a doe in the brush on the other side. She was moving north and would exit her brush into an opening maybe 20 feet in front of her. She had no idea I was there and I have no idea why she had not heard me.
As I waited for her to clear the brush... a Whitetail on the other side started blowing at me - she was higher on the ridge but I could not see her at all she really blended in well. I finally found her and decided 'what the heck' - got the rifle up very slowly. She was difficult to see in the peep but got on her and took the shot. Nothing after the shot could not find her and could not see that she ran out any where. I had forgotten to take my glasses so I got the range finder out looked over there at the spot and I could not see anything. but decided I had better go look because I felt good about the shot. The other doe was gone also.
Crossed down thrugh my side over to the other side and up on to the skid road probably 40 above where I shot the first animal. When I got on the skid road and looked back south there stands another doe on the edge of the bank. I was sure it was not the one that I shot. But in my head I had already figured out... I am hunting in my elk area so I really have two tags... the original Whitetail tag and the Extra Deer tag and I was was with in a mile of private farmland. So again what the heck. Brought the rifle up got the shot and again NOTHING... by the time the smoke cleared I could not see her not could I hear her... OK I have found another good thing about BH - "less smoke" - but I am locked to T7.
Started to walk the skid road to the two deer, when I got to where the first one was suppose to be... there she lay - tucked in under a fallen snag. So I passed her and head to the second. Looked up in the brush and could not see her at all... decided I had better go in the brush and look. Got in there a few feet and could see this large rock laying a depression in the ground. I was sure it was a rock... the light was going and it was gloomy in the brush. But the odd part there was not any snow on the rock. Well you can guess the 'rest of the story'
Got my mess cleaned up and headed down the hill to get the 'tank' to get them out. My 'tank' is a Kawasaki but it reminds me of a WWII Sherman, small and underpowdered but just keeps on running. And like always it did it's job..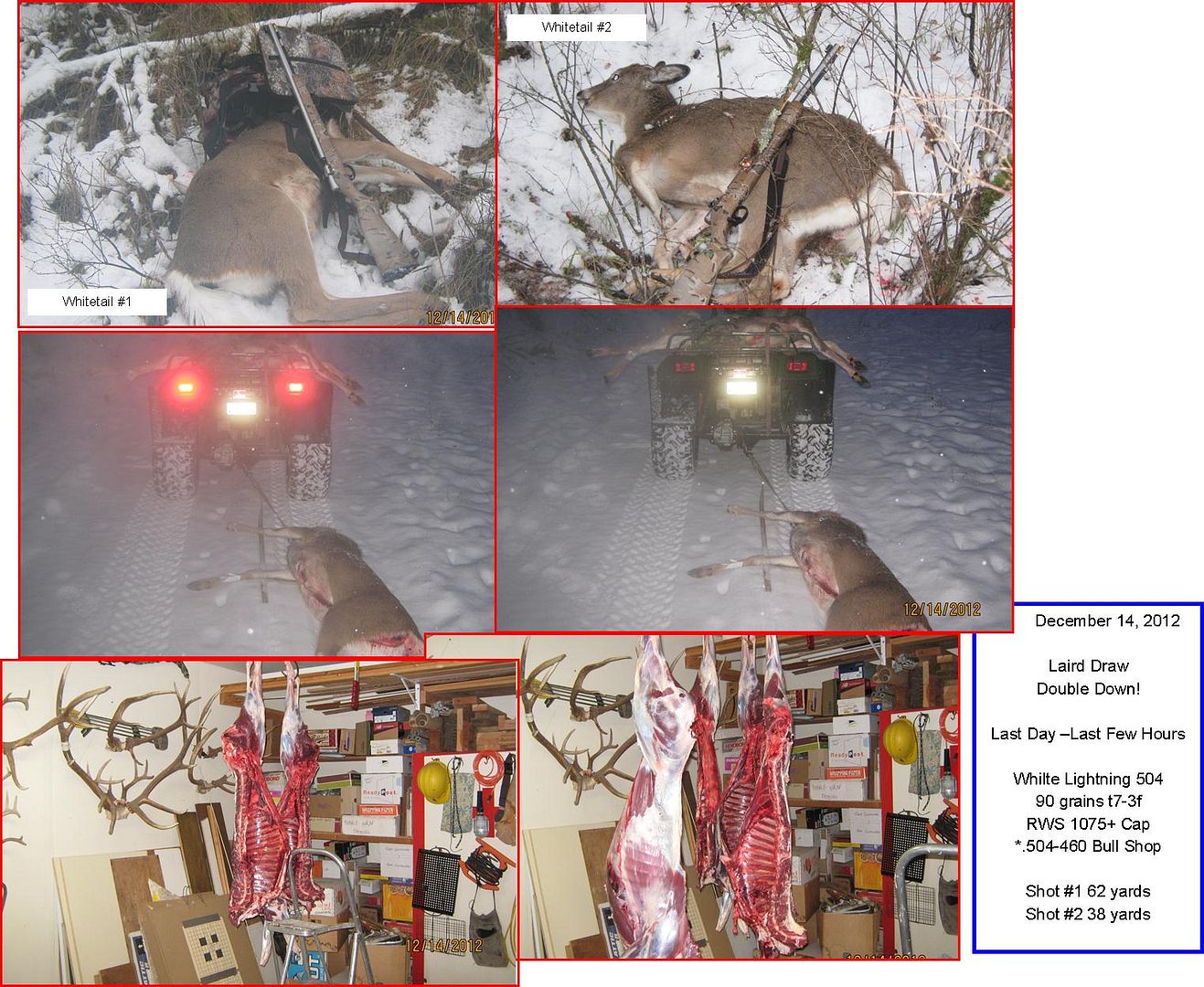 Moral - it is never to late!!! But! goshI hate putting all of this stuff away for the year....