Joined

Mar 2, 2012
Messages

5,007
Location
Kifaru E&E as a lid continued
Here are some pictures and details about the kifaru E&E as a lid that some guys were asking about
For reference this is on a T1. The E&E looks like it belongs on top of the T1, it fits perfect.
All I did was place 2 adjustable female buckles on the lid attachment straps near the stays. Once I did this I needed to replace the buckles on my vertical compression straps because Kifaru's black and colored buckles dont work together. If your wanting to do this keep that in mind. 2-4 female buckles is all it takes.
The lid snaps off and on with 4 buckles, it comes off fast, pretty quietly, and you can turn it into its backpack form in less than a minute.
The E&E itself has its own compression straps, which is good for the hunters who dont want everything banging around in thier pack while thier stalking. When its off the pack you just re-attach the buckles and its all set to go.
The suspension of the E&E is simple, but pretty comfortable for what it is. The webbing is wide and it comes with a chest strap.
The chamber on the pack that you tuck the shoulder straps into can be used to hold a water bladder, maps, whatever you want when your wearing the E&E alone. Its got a dring on the inside to hang a bladder if you desire.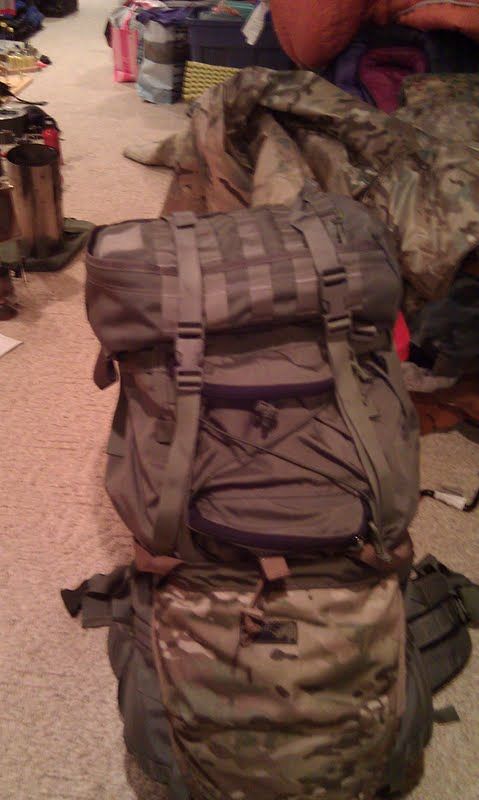 Here is a picture of it strapped on top of the T1, as you can see you get full vertical compression with the E&E on top. The straps run all the way over the pack to your back where they are anchored. It also compresses everything, so nothing in your lid is rattling around.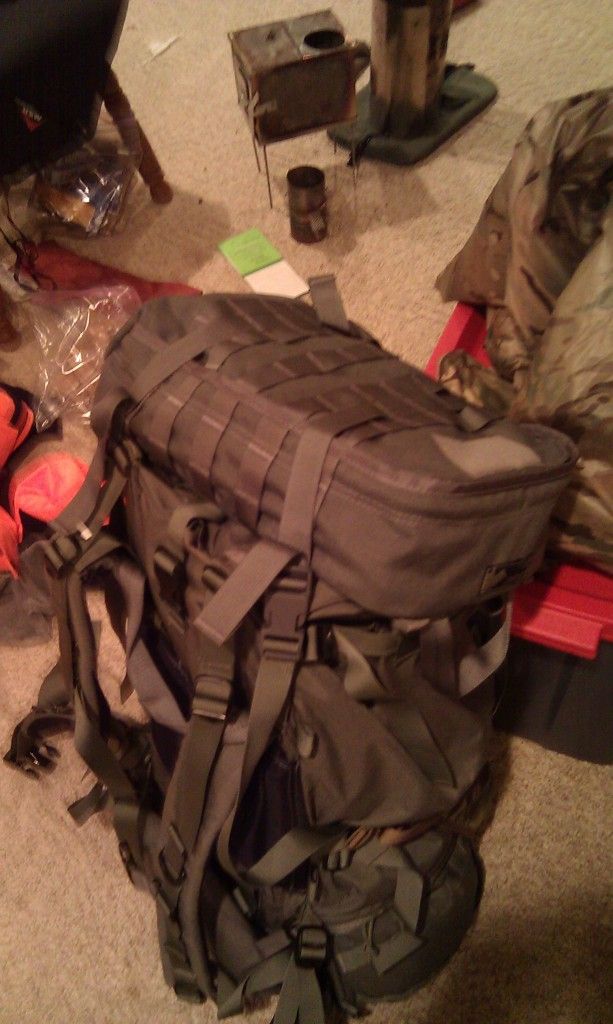 This is what it looks like from the back. You can see where it clips in. Quick on and off.
This is what it looks like full. Its much bigger than I thought it would be. Inside I have a first aid kit, KUIU 230 merino zip t (which rocks!), KUIU Guide gloves and beanie, Headlamp, first aid kit, small kifaru chamber pocket with a bunch of junk in it, and there is a good bit of room to spare. Notice though how you can open the lid all the way while its on top of the pack, front to back, no digging for those small items here. Very easy to organize.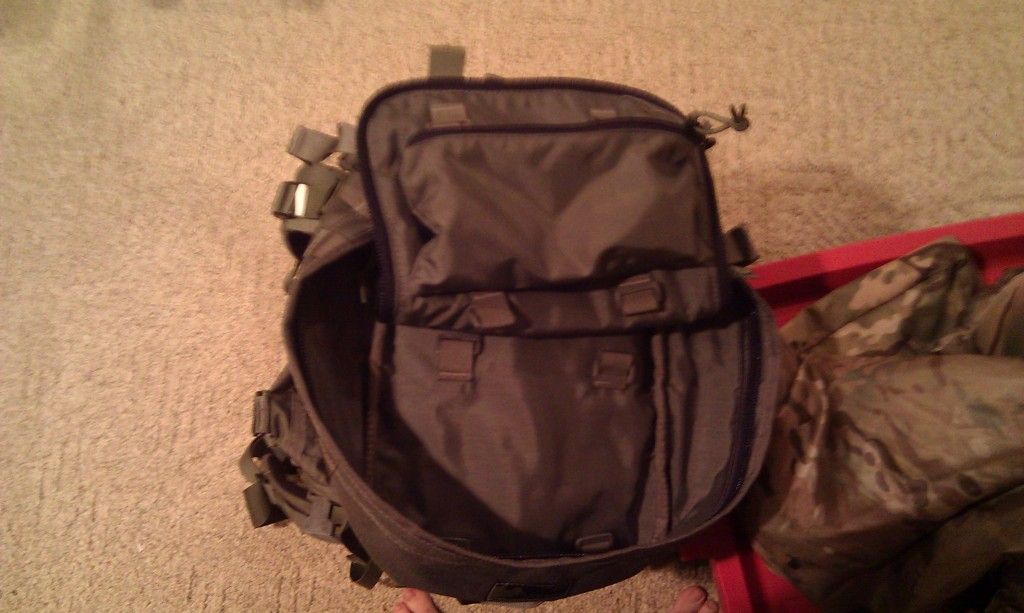 The E&E empty with the small chamber pocket attached. All the dock and lock points in this pocket allow you to put any number of kifaru's dock and lock pockets inside to create even more organization. You could fill the thing up on both sides of the interior and just rip it open to access whatever you want quickly. I will be picking up a few of the UL chamber pockets to snap inside the thing.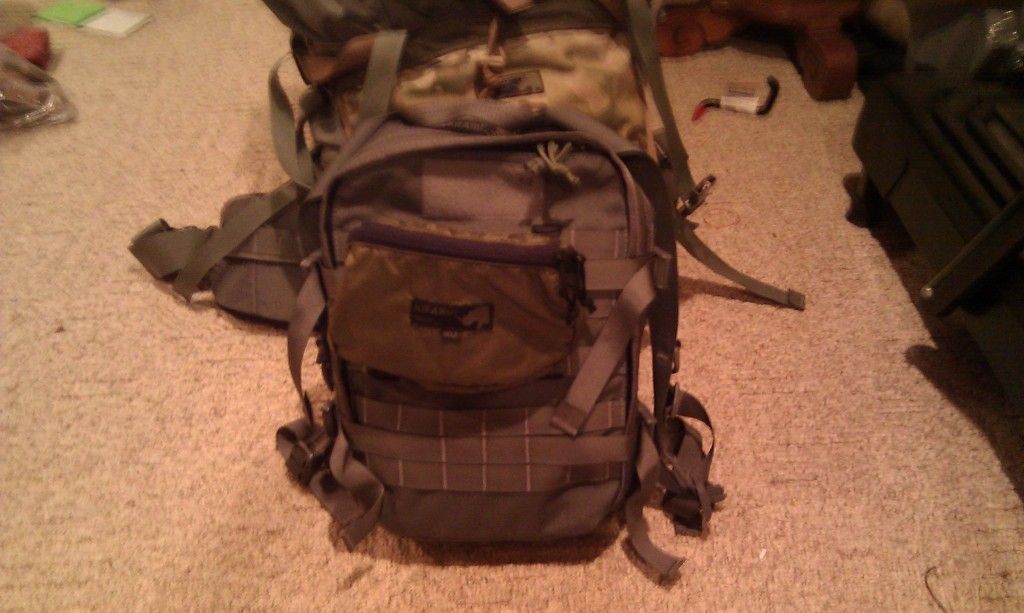 Here it is off the pack, with my belt pocket attached (KU small). The pals is nice because now if im going on a stalk, or fishing or spending a while away from camp, i can pull my belt pocket off my T1, and slap it on here, so i still have all my essentials at hand when i need them. Its also very quick to switch it over quick.
E&E off the pack again, a closer look at the belt pocket on the outside.
Overall Im very happy with getting this for a lid over the longhunter. Its a little heavier than other options out there, and the military line of Kifaru gear is really bombproof! but this gives me the organization that I want, with a fully functional and out of the way pack I can break away when I dont want to be walking around feeling like im strapped to a board. Im a light weight kind of guy, but the organization and function of this E&E as a lid is well worth the weight to me!
Any more questions ask away.
Last edited: