Joined

Mar 26, 2017
Messages

146
Location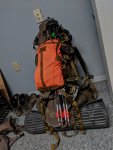 So far I love mine. I've put around 75-80lb in it for test hikes. And done some scouting with it.
Pic is 44 mag with 10 days of stuff. Kill kit, filter, and nalgene in Sherman.
SO eolus + Tyvek roll in side pockets of bag.
2l bladder in the bladder pouch
Sleeping bag and clothes in a garbage bag at bottom. Food dry bag above that.
Stove/pot, tags, map, and battery packs in the mesh inner pocket.
First aid kit, and head lamp at first top pocket. Rain gear in middle top pocket.
Bow won't be riding the back usually. Was just curious if the Sherman could grab it with this much stuff in it.
34lb without water.
You can access your bag without letting down the meatshelf compression if you set it up for that. Crazy customizable. The only compression strap I have that goes across my pack is a top one I run for extra and my Sherman straps.
Edit: included a photo without the bow.