Joined

Mar 25, 2013
Messages

219
Location
My first post may as well fit in with what this forum seems to be about and i think its time to hang here as i get older and my focus narrows on these mountain hunting gear addictions. I really dig reviews and comparos and i love giving them back. I'm from Alberta, 39 yrs old, been chasing sheep for quite a few years now, mostly on foot, been in on half dozen kills, couple rams, couple ewes, one of each were my own do it yourself, then guided a couple of the others and tagged along on couple of the others with several no blood in the pack years trying to figure the game out. I bowhunt a bunch too but mostly for local deer/elk/moose, been pretty much a rifle guy in the mountains so far. So i've been posting rifle/bow/optic reviews on a local forum for long time. Figure this place is maybe even a better fit for what i'm likely to review going forward. I have a Blaser K95 i can talk about soon also as still in the setting up stage for this year, oh and also picked up a Kifaru T2 which should hopefully see some blood this fall also i'll be able to yap about. And so here is copy paste of the kowa/swaro review i posted locally. Good data i figure for any mountain hunting gear junky forum!
The only way i was going to know forsure how the Japanes Kowa 66mm ED glass stacked up against the flagship in the class Swaro 65mm HD was to buy the Kowa and borrow the Swaro. I actually borrowed two identical Swaro's one with the 20-60x eyepiece and the other with the 25-50x wide angle eyepiece but i will focus mostly on the 20-60x models. All three scopes essentially brand spanking new condition. This is a shakedown years in the making in my head, finally got to put my eyes to them today.
The target i put them up against was a 60 km/h speed limit sign at 1885 yards (1.725 km/1725m/1.07 mile). Sun was up, 10:45 am, clear, 7 degrees C.
I paid 1320 plus tax for the Kowa 664 at Robinson Camera downtown cowtown which has always given me good prices on leica/swaro in the past. So not sure what the retail of the Swaro's are both were the STM (straight body magnesiums) but from recollection in the 2700 range from Robinson although i know one was bought for around 1800-2k as a demo or something from cameraland which is a great deal, as it came as new. But lets just say the swaro is worth twice what the Kowa is worth as retail from same store so to speak.
Having both set up, going from eye to eye, i notice a very similar quality/detail, too hard to tell difference right away. Swaro has a colder say more blue-ish hue, Kowa a warmer more yellow-ish hue...but you have to literally go back and forth to see the slight difference...its very slight difference, the both seem very spot on to the actual color of the scene but there is a difference when you look from one to the other. The many pictures i took through both spotters will not show this hue difference its that slight, my pictures give me both colder/warmer images from both depending.
The swaro has a bigger field of view (backed up by the stats below) and the outer edges stay sharp all the way out especially at 20x. I was left with a very strong initial impression from the swaro at 20x and although i don't think i can tell the resolution difference between them on the sign at 1885 yards, that larger fov with sharpness right to the edge did stand out as impressive.
At 60x, again, the larger fov is apparent from the swaro but over and over focusing on the 60 km/h speed limit sign at 1885 yards i could get a slightly better resolution from the kowa, yes some mirage present and i was expecting the swaro to out do the kowa here, and it does with its larger fov and better edge resolution but i could get the kowa to show me a better image of that 60 km/h sign! I have pics but they will be useless on the internet and mostly useless even on the computer. I will try to crop out the sign and get them on here to show what i mean.
I never noticed the field of view advantage or the edge to edge advantage of the swaro until studying the pics at home as i was so focused on that 60 km/h sign at 1885 yards. I knew something turned me on about that initial look through the swaro at 20x and it took some studying to figure out what. Zooming in on the focal point (60km/h sign) on the computer shows essentially identical resolution capability at 20x and as mentioned at 60x the edge went to the kowa over the swaro on both my eyeballs and then back at home on computer zooming on the pics....it was after studying i realized it had to be that larger fov and the edge to edge crispness i admired from the 20x image on the swaro...this advantage a lot less noticeable at 60x.
I guess one could say then the swaro has a bigger sweet spot of optical goodness but the kowa can bear down on a small object and edge out the swaro ever so slightly. At any rate, things were sooooooo close i came away smiling and confirming any research i could find was what i expected. The larger 77mm and 88mm kowas both beat out the 80mm swaro hd's lots of research to find on that and the 88mm kowa is known as the flagship of all sporting spotters period. Unsure of the new swaro's though, maybe the big 95 can whoop up on the kowa 88? I'm sure reviews will be around, but finding out more on the 66mm kowa vs the 65mm hd swaro's was much harder.
Thats all for now on the image capabilities of them. Here is the other side of story. Magnification ring on the 20-60x swaro was easily the stiffest, the kowa about 25% easier, then the 25-50x wide angle swaro another 50% easier again...it spun almost as freely as the helical focusers on the swaro's. Next and what is a bigger point for me is the focuser differences. The kowa runs a traditional focuser knob up top and the swaro's use the big helical focuser. I am used to the traditional focuser so keep in mind. I found it easier, faster, and steadier to focus the kowa. You hold it which must steady it and just run the knob with your finger. The gearing and tension seem perfect on the kowa, combined with less shake it was much easier to dial it in on a tough target at a long distance. The natural for the helical seems to be zero hand contact but just your thumb and finger (bottom and top) of the focuser ring and you can be dainty but back and forth on the same tripod i consistantly found a steadier/quicker more accurate focus...again...i'm used to that system. Sure in cold/snow/gloves the helical might be nicer? I don't mind taking a glove off for a second to focus either...moot? Anyhow, there may also be a way to grab the swaro and just run the wheel with your thumb to steady the image better while focusing. I compared my nikon ed50 to one of these swaro's awhile ago and that was a standout difference for me there also, i do not like the helical focuser at all....preference/personal thing.
Weight, all three spotters with just their factory lens caps on both ends.
Swaro 25-50x 2 lb 15 oz
Swaro 20-60x 2 lb 14 oz
Kowa 20-60x 2 lb 13.5 oz
Field of view (FOV):
Swaro 25/50x at 1000m = 42m and 27m
Swaro 20/60x at 1000m = 36m and 20m
Kowa 20/60x at 1000m = 33.2m and 17.5m
Pretty evenly matched there but one is the lightest of the bunch lol...the kowa may be 1/2" longer overall.....so pretty moot on dimensions and weight...keep in mind this is the magnesium body swaro which i think is a few oz lighter than the aluminum body swaro so the kowa is no sweat the lightweight champ. This should give anyone looking to compare these plenty of info to mull over before breaking out the moula. The kowa is a serious bang for buck piece of glass. I would still agree the king of 65mm glass is the swaro hd but definitely not the bang for the buck champ. I'd be happy with both as they are top end glass. Since i have the kowa, and i could afford the swaro, i will be keeping it happily, i do prefer the focuser knob and generally don't do alot of looking for things with a spotter, use more as a judging tool so the fov differences and around the edge crispness differences don't matter enough to me to make a switch, i gladly make the trade off for the focuser knob and i still get a top of the class resolution when i want to really have a look at something.
A note on the wide angle, its nice, but for a spotter i tend to be focusing on small singular objects to judge so the giant fov is almost a waste on me, image quality/resolution about same as 20-60x for a pure judging tool go for the 20-60x, understand from someone that for digi scoping also choose the 20-60x as the wide angle a bit more fussy on eye ball position being perfect and almost inside the fish eye or bubble if you will so getting cameras to work properly also a little trickier...just what i heard, research that yourself if you like the idea of the bigger fov, i like the 20-60x but there is nothing wrong with the wide angle either. My money would buy the 20-60x.
Here, lets see, tried to crop the two best 60x images from these spotters to the same amount of country but the reality was very similar to the images getting a better definition/less distorted view of that 60 km/h sign, remember, 1885 yards. Top image is swaro, bottom image is kowa, focused on the 60 km/h sign best i could.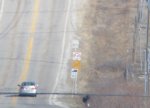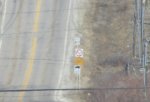 The spotters together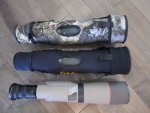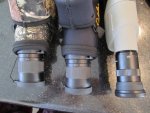 Granted also, one test, one day, head to head. Not a lot of time to compare but it was a pretty small target pretty far away and that was really my only goal, i wanted them to struggle and show me some differences.
And some other notes, i researched this showdown a ton and there isn't a lot of info/tests/comparo's to be found, there is plenty on the larger class glass and the kowa 77/88mm series seems to rank better than the swaro 80 but i needed to see the 65/66's together to satisfy and itch that just wouldn't go away.
I wish the kowa 66 was invited to this particular showdown with 36 scopes tested same time by 30 users beginner to high level users. The big kowas owned 1st and 2nd spot, then the swaro 80 and 65 owned 3rd and 4th spot. The writer/organizer (a swaro 65 owner) made this comment to be found on page 2 of the comments.
All in all, I'm not sure I'm ready to give up my 65mm Swarovski, although I'd love to see one of the smaller 66mm Kowas, which were not sent to us to review.
And i too wish it was there to play at the same time, would love to have seen how it ranked by 30 people against the swaro 65 top dog? Anyhow, i digress, here is the review, on page 4 at the end there is a pdf link you can click on for the rankings/categories etc. The were ranked overall, not just on image alone.
http://www.allaboutbirds.org/page.aspx?pid=1039#top
It appears all other comparo's and test you can find bear out similar results from the big kowas vs the big swaro so i do find some merrit to this review as the data seems to echo all over when doing research.
Hope this helps the gear junky brotherhood out!