Adding to a package deal.
Catch and release from here, would consider trade (can add funds) towards something similar in a full zip (doesn't need to be camo or have a hood, warm or insulated beanie, would also consider a base layer or a decent minimalistic blaze orange vest. Size large. Material is similar to Sitka heavy weight hoodie. Member I bought it from had the upper sleeves taken in as they were baggy. I'd say it fits fine unless you have big arms.
$40 g&s PayPal shipped in the US.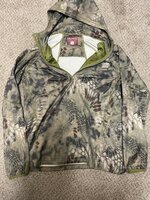 Last edited: