Joined

Dec 5, 2021
Messages

99
Location
I did some more testing today with the remote marker feature. I picked a spot where I could range a large water tank on a hill about 1400 yards away. I also made sure I had strong cell service just in case. I used both base map and google map and the markers are no where near I expected them to be. I could see the water tank on satellite view along with the markers. If I were in an unfamiliar area, these markers would get me lost. At this point they can't be trusted IMO.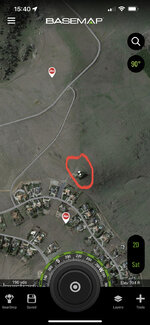 After thinking about this, I believe the error comes from the Leicas. The maps only display the coordinates they receive. The leicas somehow are not calibrated or they don't know where they are. The internal compass seems to be off from actual bearing. Sitting still and ranging the same water tank several times, I was getting markers to the left and right of the tank. There wasn't any consistency to one side. I'm done with the remote marker feature until updated. Bummer.
Previously I complained about the constant red circle and the fix was to turn the BT off. However when using the app, you want the auto off to be set on 3 or 5 minutes. 1 minute isn't long enough to go through screens on your phone. Inevitably you will have some hiccup in the screens and the bino will time out and you have to start over. When not using the app just turn the BT off.
I think the bino can only be connected to one app at a time. If you have multiple app windows open the binos don't connect reliability if at all. I had the Leica app, BaseMap, google map open and all were competing for connection. The binos didn't know which one to connect to. After closing all but one app they connected without issue.