Joined

Feb 26, 2012
Messages

892
Location
Picked up the Asolo Sasslong's from Sierra Trading Post on sale since I have heard a lot of good things about them.
My other most recent boot is the Lowa Ranger so that is what I am comparing them to.
Initial thoughts:
The Asolo show great quality right out of the box. The rubber rand over the toe looks tough and looks like it has a great seal. The tread is deep and aggressive. Once on my feet the arch support felt good for medium to high arch but the heel felt a little low (been wearing the Lowa Ranger's all day). As I started to walk it was apparent that there is a severe curve in the bottom of the shoe with the toe curved up, making it easier to walk with less fatigue trying to make the boot bend. The shank is tough, creating a very stiff sole.
The toe box is roomy, with enough room in the 11 1/2 wide to fit my 4E foot, and enough height that my hammer toes did not contact the top inside the boot.
They are also tough on the inside. Hard to describe, but they are not as "plush" as the Lowa Ranger.
With that being said, they tighten up real nice and the uppers are more flexible that the Lowa's.
Definitely a boot that will take some time to break in, and it looks like an extremely cost effective purchase at $153.00 shipped.
The Lowa Rangers;
I have had the Lowa's for a couple months now and been able to put some time in them.
I pulled them out of the box and noticed the quality and stiffness of the upper part of the boot right away.
Put them on and the felt smooth and plush. They snug to your foot and the center stud on the tongue keeps them centered. The tongue padding doesn't let you feel any seams like you do on the Asolo's. While the boot is stiff, after wearing them 3 days a week to work all day they felt pretty broken in. I did not like the original insole and went with the Superfeet green wide and they have been a great fit.
I did notice some discomfort from the Lowa across the top of my foot during break-in, by altering the lacing of the boot it relieved the pressure and restored the comfort that I expect.
I will add, that with the Lowa's I felt the toe box was wide but not very deep. I can feel the top of the toe box against my toe's and without good wool socks I am sure there would be blisters on the top of my toes.
Some pics:
Asolo on the left, Lowa on the right.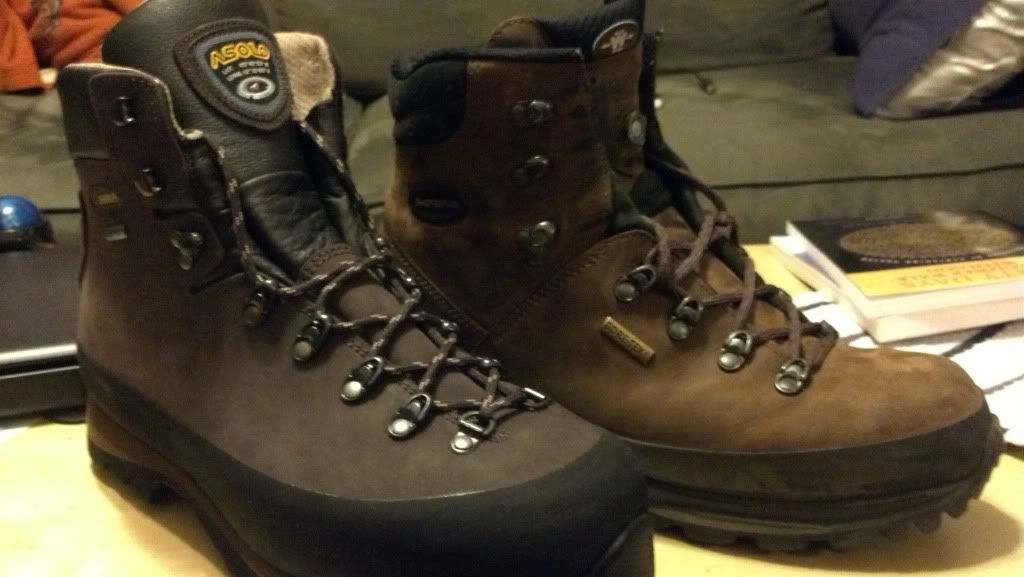 Side by side: top view
The curve in the sole:
The Lowa side view: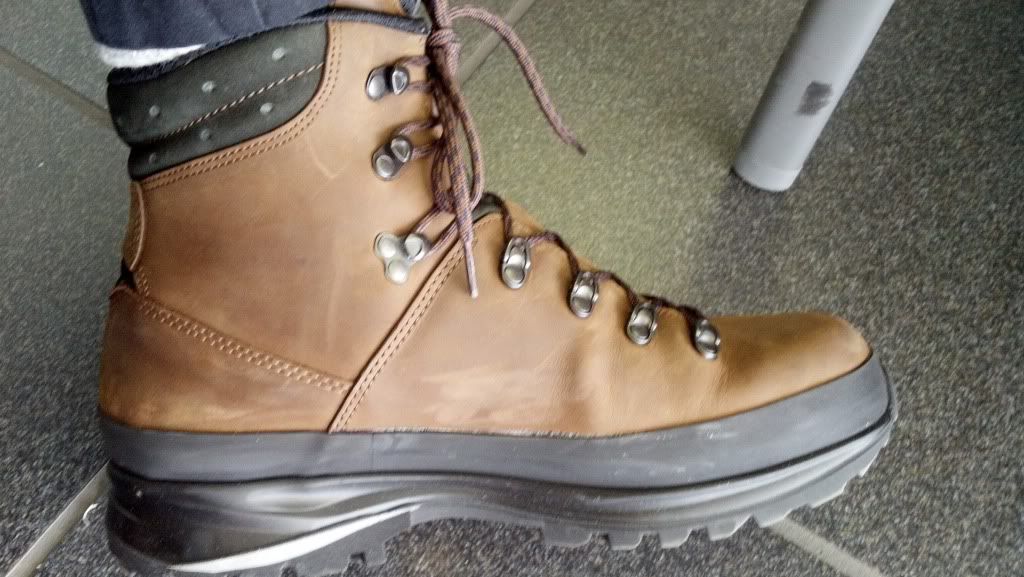 Last edited: