A load of Mil-Surp gear for your consideration.
2 notes up front. Items are used, but if your not satisfied with condition as described then I will gladly offer a refund minus shipping within 7 days of package arriving to you. Im always happy to awnser any questions you might have. Only listing 1 main pic for each item, but give me an email address and ill spam you with more detailed pics (and can take more if you want to see anything specific). I am local to Anchorage Alaska and am willing to meet up in person as able (and willing to discount if shipping is not required). Prices include shipping anywhere in the US, sorry, not able to ship these internationally.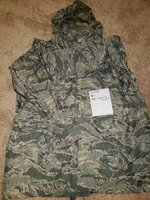 #1
- Improved Raincoat in Airmen Battle Uniform (ABU) camo.
- $45
- Size Large Regular (I am 6ft, 185 lbs, its a bit bulky on me unless wearing with multiple layers).
- (*plagiarized from the interwebz for the technical details on the material) The Improved Rain Suit (IRS) is made of SympaTex, a lightweight breathable, waterproof material made by SympaTex Technologies. SympaTex is a nylon material that is pliable and moisture-vapor semi-permeable. Like Gore-tex, the SympaTex material resists external water while allowing perspiration or other moisture to transfer from inside to outside.
- This is a single layer, uninsulated outer layer rain jacket. Designed for use in warmer climates. Not really meant for cold weather, but you could still use it over base layers, the ECWS system is just better suited in that role. That said, it is designed so you can button in a liner from the M65 field jacket for some insulation, although I'd recommend just separate base layers at that point.
-Armpits have zippers, around the bottom is a cord designed to be adjusted to your waist, wrists are velcro adjustable, hood rolls up into the collar, neck also has cords to cinch up to keep water out, reinforced elbows. Pockets on the waist are pass through only, IE, they are flaps to let you get to pockets on your shirt without unzipping.
- Will show signs of surface absorption after 30min of water pooled on surface, but after 3 hours of my testing it still shows no penetration beneath that surface level absorption (I didnt bother testing this one for longer). Some people say these are more waterproof than the ECWS, but I think thats mainly from people who don't know how to wash Gortex and subsequently degrade their ECWS system...
- In like new condition. All zippers work, zippers have pulls, all cord locks are there and work, cord is all there (but its not elastic like the ECWS system)
- Weight: 26oz, but not designed to be compressed for long duration.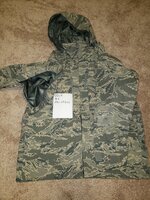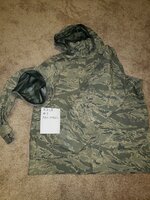 #2
and #3
- Extreme Cold Weather System Parka, in Airmen Battle Uniform (ABU) camo.
- $60 each
- Size Large Regular (I am 6ft, 185 lbs, its a bit bulky on me unless wearing with multiple layers).
- If your not familier with these systems, this is uninsulated, designed as a waterproof, breathable outer layer. For cold weather its designed to be worn with the ECWS layering system of thermals and fleece jacket. With all layers this is a far below zero system (base layers are graded on a 1-5 scale, with 1 being the lightest weight, and 5 beings the heaviest/coldest rated).
- Elbows are reinforced, armpits have zipper vents, a stowable hood, wrists are velcro adjustable, hood and neck cinch down, and there is an elastic cord around the waist and one around the bottom edge designed to be snugged up to prevent drafts from coming up the parka (access this cord from the exterior pockets). This system is designed for durability over consideration for weight or packability.
- Like new condition. All seams have good seam tape, all elastic has good stretch, all velcro is in perfect shape, all cord locks are present and working, all zippers work great and the zipper pulls are there. Of note, I usually have trouble getting the arm pit zippers fully opened or closed when wearing these parkas, your milage may vary but if you have never worn these, expect similar results. To get the armpit zippers closed just expect that you need to take the jacket off.
- I washed these with Gear Aid Revivex, Pro-cleaner (a detergent formulated for breathable/Gor-tex fabrics). Both have maybe been washed once or twice before, but its clearly not been washed more than that.
- Tested as waterproof by puddling water on the surface, in multiple areas and across seems, with zero absorption to the inside after 9hrs of sitting (the outer fabric will eventually absorb a little, but jo moisture made it through). I would classify this as like new condition of the Gor-tex layer and the surface DWR treatment.
- Weight: 33 ounces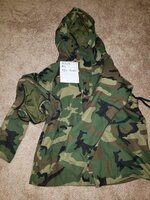 #4
Extreme Cold Weather System Parka, in woodland camo.
- $55
- Size Large Regular.
- This is slightly different than the ABU parkas above, in that it has some basic insulation attached to the gortex shell. Can send more detailed pics, but it is sewn in, in panels that could be removed with a seam ripper or left for better late season protection.
- In like new condition. This parka is obviously older than the ABU ones but has the same basic features as the ABU parkas, all seams are taped, armpit zippers, drawcord for waist, bottom of parka, hood and neck. All seam tape is present and not peeling, cords and cord locks are all present, zippers work, all zippers have zipper pulls.
- Washed with Gear Aid Revivex, Pro-cleaner, and treated it with Gear Aid Revivex Wash-In Water Repellent just to make sure the treatment was good to go. Tested it same as the above ABU parkas with same result, no moisture made it inside the jacket after 9hrs of contact. This treatment should last awhile if you follow the basic Gortex treatment (wash, rinse cycle again, tumble dry till dry, then keep going for 20min to reactivate the treatment).
- Weight: 41oz (if you removed the insulation it should be close to the 33oz of the ABU parkas)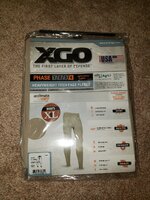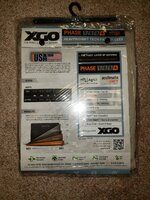 #5, #6, #7, #8, #9, #10
- XGO thermal base layers
-
#5, size: L top and bottom, in excellent condition $45.
- #6, size XL top and bottom in excellent condition $45
- #7, size L top, with size XL new in package bottoms, $50
- #8, size L Phase 4 top, with size XL Phase 5 new in package bottoms, $50
- #9, size XL new in package phase 5 bottom, $25
- #10 size M, new in package phase 4 bottom in 499 tan. $30
- Just listed the front and back of one of the new in package pants, can sent actual photos of what ever lot your interested in. And again, if your not happy with the condition, send em back and ill offer a refund minus shipping.
- All of these are made by XGO, Made in USA, 86% Polyester & 14% Spandex stretch, non fire-retardant, base layers. Slick outside, brushed fleece inside, flat seems helps keep chafing at bay.
- A great late season base layer, billed as a base layer below 40 degrees F. P
- Condition for all items not new in package is no pills/lint/balls/pulls/stains/wierd smells, these are in like new condition but have been opened/washed. Obviously, items new in package are brand new in package.
- Welcome to mix and match between what is listed.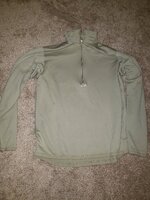 #11, #12, #13
- Size Large Tall waffle tops (phase 2 on the ECWS scale). Perfect condition, no stains, tains, rips, perfect condition of the waffle grid fleece. $15 with other item (doesn't make sense to ship by itself).
Will accept PayPal, check (with a 2 day wait to let it clear) or a Postal Money Order. What ever you feel comfortable with.
Will strikethrough numbers as they are spoken for.
Last edited: