I'm not sure how to pitch this, so I'll jsut throw out a few thoughts and hopefully the thread will shape into something useful:
Mountain hunting is not "mountain hunting period". Climate (temperature, wind, humidity, visibility) vary too much. Incline can go from slight to vertical. Groundcover can be nothing/total, groundcover can be like sandpaper, slippery as ice, warm/cold, wet/dry, soft/hard. Even the rock are different, it can be stable as anything or brittle as cornflakes.
So I believe different "mountain cultures" develops in different areas, slightly different gear, slightly different techniques etc. I also believe all of us do a fairly good job of adapting to our local conditions, we have our favorite gear for a reason, and even if we have a different perception of risk, we all wish to be
safe
and come home successful.
I would like to see a healthy exchange of opinions and information, a thread where we post "this is how I do it" and where no critical or inquiring question is perceived as an attack, but rather we explain the why and how. I know I have picked up gear tips and techniques this way and have my own "blend" of different mountain cultures.
Here's my attempt to start the thread, recent mountain goat hunt which in Europe translates to chamois. For me this is a winter hunt, elevations go from sealevel up to about 1000-1200 meters ASL (roughly 3-4000' ASL), inclination is moderate to steep (hands touching ground if you put your arm level), groundcover is anything from bare to kneedeep in snow with occational ice.
Typical scenario: Animals spotted from a vantage points. I use roads and paths to travel between vantage points before comitting to hard work.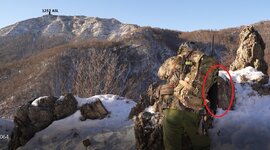 This is the route I chose on this occasion. With "3 point anchor" I feel very safe. Two legs, two arms makes 4. I only move one at a time 2 legs/1 arm or 2 arms/1 leg always anchored and I don't shift my balance before the moving leg/arm is secure in a new location. It is slow, but safe. I also calculate on falling and always look to see where I will fall. If it's anywhere I'll start tumbling, pick up speed or hit sharp rocks I go a different route. I want to be arrested by ground, trees or rocks in 1-3 meters - just so there isn't too much energy in the impact.
I almost always walk at an angle and I face the ground when turning. I don't want to tumble, start sliding, going forward with a leg arrestd (ancle/knee absorbs all energy) etc.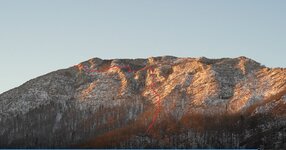 Here's some key pointers to my gear: If not for the cameras, it would have been light and fast.
Thin wool cap. Ventilates well and prevents sweat to turn into "ice helmet". With a thich cap I overheat and I get ice in it. Complemented by shell hood and extra warmt is insulation jacket with hood.
Rifle is strapped to backpack. Using half of the SLIK SLING is probable most value for money in recent years. Gives me a tight pack that's easy top climb with.
Shell mittens. Pulsewarmers and utility gloves below, I do not want them wet after a climb. Wool liners in thigh pocket. I see a lot of people use gloves, I have never had luck with that (too cold)
Alpine climbing gaiters with membrane (I use Sea to Summit Quagmire), not the soft hunting gaiters that slide everywhere. I'm punching a lot of holes in snow, and the softer gaiters let snow infiltrate from below and arrest it where it melts into the boots. Also they get pulled down from the knee and start snagging into terrain.
I have special needs for backpack/bags due film equipment. But the backpack is small with a strong carry system so I can strap on the animal. In the backpack I have
Insulation (in waterproof bag)
water, bottle or thermo flask
some food,
batteries for torch and cameras,
240L or 400L plastic bin bag for shelter (lightest bivvy bag). I see some make their own from Tyvek, I just haven't gotten around to making one. Foam pad for sitting.
Pullover rainpaints. Possibly a poncho.
Knife, surgical gloves,
ø6 to 8mm climbing rope, lenght 5 meters.
Head torch x2, about 300 lumen (one is in jacket, one is backpack). I want to see where I put my foot, I navigate via a map. A stronger light reflect a lot from the trees, which tends to blind me.
Whistle
Reflective vest
So basically the back is what I need for a "day". Not necessarily comfortable, but I don't want a simple injury to become dangerous due exposure. I calculate a trip to be max 16 hrs with a difficult route. In case of mishaps, I should be out max one night and one day before I'm spotted by rescue. So the time segment and weather forecast is an important part of my planning, I don't bring gear for "anything & infinity".
My layers are:
Woolnet weave sweather
Wool sweather, weight depending on season. Aclima or Devold: Expedition or Combat series.
Windbreaker with or without hood
In very low temperatures, I'll put on a thin vest light Arcteryx Atom
Membrane shelljacket with hood
Synthethic insulation hooded, for extended glassing, food or if I'm simply stuck. Down is more comfortable but I dare not use that on exposed trips.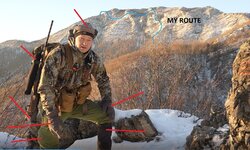 Chamois. Adult male is 30-60 kgs? (60-120 lbs). Both male and female have horns.
Success. Not the biggest trophy, but correct animal shot according to management plan. This was right around 1174m ASL (?). So it is comparable other goat hunts?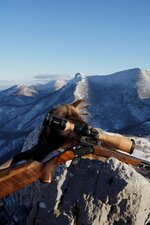 Weakest points I usually find in equipment is:
Jackets and pants does not protect waist, wrist and neck good enough. Especially when the hunter bends over on the approach.
Poor systems for rifle attachment
Difficult to carry/balance larger tripods AND have them accessible.
Backpacks with overly complex zipper/lock/web systems that expose your hands too much in the cold and arrest too much snow.
Poor suspenders, pants slide on the hips to compromise baselayers.
Last edited: