I'm going archery mule deer hunting in early November. This will be my second mule deer hunt. The first hunt was in 2019. We saw some deer and had a couple chances, but it was definitely a humbling experience. It was very different from the tree stand hunting for whitetails that I'm used to, but in a good way.
I have spent a ton of time e-scouting in the last few weeks. I have found some spots that look good to me, but I would like to know how the more experienced mule deer hunter would hunt this terrain.
These screenshots are not actual places I will be hunting, nor are they public land. They are spots that look similar to the areas I'm planning to hunt. I want to know how people on here would hunt this terrain and where they think deer would be spending their time. Obviously, there are a ton of factors to consider, and I'm not providing all the details. Generally speaking, I just want to know how others would approach these areas.
Spot 1-Badlands type terrain with many wooded draws and small water holes in the area. Terrain is very irregular, and the wooded draws are fairly thick. The open spaces are short grasses/cattle grazing.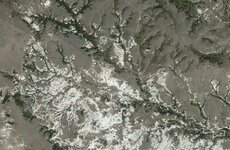 Spot 2-Hilly terrain, about 200' from the top of a ridge to the creek bottom. Grassy areas with scattered small trees.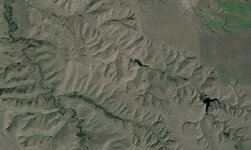 Where would you expect to find the deer in these two locations. Thanks for the help.