Joined

Nov 14, 2020
Messages

669
This is a long story, because the point of having adventures is to make stories... and I like to tell stories, and I wanted to savor the details. If you want the short version, my brother Mark shot his first buck at 60 years of age on a fairly arduous wilderness hunt. 230 yards, a decent little 3x4. If you like stories, read on.
For all of my adult life I've never lived in the same town as any of my brothers. We grew up Army brats and we were dropped like seeds all around the country. About five years ago my baby brother Mark moved to the same small town in northern NV where I live, and it's been great to have him and his family around. Two years ago I drew a NV bull elk tag and we put together a wilderness adventure. I'll write about that in a separate post. The point is he watched through a spotting scope from an adjoining ridge 3/4 of a mile off as I stalked a herd of 40 elk and took a satellite bull. He was so excited by the experience he decided he wanted to hunt, at 58 years of age. It took him two years to get a tag, but once again we headed into the NV mountains to hunt.
We spent a lot of time over the summer at the range and in non-range situations getting him comfortable with handling a rifle, acquiring a target, and getting off an accurate shot in reasonable amount of time. He did very well and by the week before the hunt he's shooting 1" groups at 100 yds. I still had to razz him about being a poor student because you know... he's my baby brother.
My oldest brother Howie flew out from PA, and we arranged for my son Dave to get a week off, so we had a party of four with Mark and Dave having buck tags. I played the role of cook, guide, and Sherpa this year. We hired an outfitter to pack us in to a drop camp in a wilderness area that I've hunted since 2012. Howie and I went in October 23, two days before the hunters arrived to set up camp. It's about a 7 mile trip from the trailhead, mostly uphill of course since big muleys don't live downhill. For the first time in many years I chose to ride instead of walk into camp. It was nice to be relatively rested for the chores of setting up tents and lean-tos, unpacking, and cutting firewood.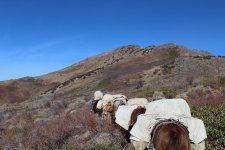 The two hunters arrived in camp late on Saturday and we set the alarm for 4:00 the next morning. We usually camp along a creek at about 8,000 feet and hike up to the ridges before dawn. When the alarm went off Mark groaned and mumbled something about being tired (for reasons I won't get into he's been working two full time jobs for the last year or so) I said "there's no law saying you have to get up." ... so we didn't.
So day 1 was kind of a relaxing bust. Weather was pretty warm and sunny and we didn't head up the hill until 11 ish. Nice hike and we didn't see anything but does until late in the afternoon. About 3 pm we spotted a buck on an adjoining ridge about 7-800 yards across a canyon. We continued up to a saddle where we could approach him. Dave went after him and Mark and I staked out the saddle. We saw a few more does in the saddle, no bucks. After about 1-1/2 hours Dave came back and said the buck was a smallish 3 pointer, bedded on a promontory, and was even further away than our first estimate. At this point Mark wanted to go after him, but I cautioned "too early in the hunt, too small, too far from camp" So we sat the saddle 'til just before dark. A front was coming in and It was getting pretty cold by the time we headed back.
Day 2 was exceptionally cold for NV. The thermometer was at 5 degrees when we got up and it took us forever to get out of camp because we had to warm our hands by the fire every ten minutes. Dave and Howie slept in. Mark and I still managed to arrive well up on the ridge just as it was getting light enough to see. We were on the main trail just emerging from an aspen grove when we stopped to glass. I checked out a creamy white spot across a draw, and it turned out to be muley ass. There was a very nice 4x4 buck quartering away and looking back over his shoulder in our direction at about 250 yds. He was already suspicious and when Mark moved for a better view, we were busted. He took a few hops, then stotted up the hill, skylined against the pale dawn sky. That got the blood pumping. He was right off the trail where it switchbacked above us so we kept going in hopes of seeing him again.
When we got up there our attention was drawn to a forky on the downhill side of the trail. We watched him for a couple minutes hoping our big buck was with him or maybe another. While Mark was glassing him, I swept my gaze above the trail again. 170 yards above and to the right there was a BIG buck, just below the crest, his rack skylined, staring, ...broadside. His head was turned toward us and the rack was tall wide and thick. Mark was still glassing and I was nearly pissing myself with excitement because he was REALLY BIIIGGG!! I was trying to get his attention and all I could come up with was "Oh my God... Oh my God... Oh my God". Finally Mark turned and saw him too. As he pulled the rifle sling from his shoulder, the big buck turned his head into profile... and morphed into a bull elk. That explained why he was so goddamned big. He trotted up the ridge like a train heading for a distant town. It was kind of a Bevis and Butthead moment, but also an adrenaline filled treat. In my defense it was still kind of dark and I only thought he was a muley for about 10 seconds. Once in a similar situation I saw a muley so big I thought he might be an elk.
We continued up the ridge, excited hopeful and encouraged by these close encounters of the deer kind. Long story short we saw no more bucks that day but jumped a few does and had a long tiring gorgeous hike.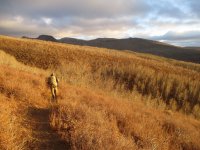 Day 3 was another late riser. Howie is just here for the fun and scenery, and has expressly stated that 4 am is for the birds. Dave is also low on motivation and high on tired factor. He and his wife own two restaurants and he's been working his ass off trying to keep them afloat the last year. After a big breakfast, about noon it is decided that the two hunters and I will bivouac at the head of the canyon, and hunt hard the following morning. Howie begs off. We pack up sleeping bags, pads, a small tent and some food and hit the trail about 2ish. It's almost 3 hours to the head of the canyon and pushing on dusk when we arrive. My job is to set up the tent while the other two get water and firewood. I'm looking for a handy size rock to pound tent stakes when I find a big arrowhead. Actually I think it's a spear point. I get all excited and cuss a little, show it to Mark and Dave. Awesome they say. Then I go back to looking for a stone hammer, and I find another one... spear point that is. Better than the first one.. this one is a nice shiny orange brown flint. I give it to my son and slip the first one in my pocket. We drop our camp chores and spend the next 20 minutes combing the ground for more arrowheads. No luck but two of them in 90 seconds seems like plenty of luck for one day. We take it as a good omen and go to bed dreaming of Stone Age hunters pursuing deer and elk with spears and clubs.
Last edited: