Joined

Jan 16, 2018
Messages

646
For a little background my oldest son is 10 years old. I have had him hunting with me from about 18 months old, wether it be time in the duck blind, pheasant hunting or riding in my back pack checking traps. He has had a love for all things outdoors from the beginning. He has harvested; ducks, pheasants, turkeys, rabbits, and squirrels.
He is also a tender/old soul. He loves hunting, loves harvesting and eating game, but hates to see any animal suffer. This has led to great conversations and even a time about a year ago where he had a college level discussion about hunting with me, and asked if I would be disappointed if he decided that he didn't want to hunt because of how he felt about animals and what it meant to kill them. After careful consideration he decided that the conservation benefits provided by hunters outweighed the individual animals lives and come to a good place for himself, and it helped him knowing we eat everything we kill, and use every part we can.
That is all to lay a little groundwork for the story of his first rifle deer season.
To begin with here in Nebraska we have a 9 day rifle season that just ended on Sunday. We practiced shooting all summer and he was accurate out to 300 yards and we didn't bother shooting farther. For 2 weeks prior to opening day, every morning when he would wake up for school he would update me with a count down to opening day, I'm not sure the child slept for 2 days leading up to the morning.
Opening morning found us in a ground blind on the edge of a canyon watching does move from feed to bed. I was asked no fewer than 15 times If he could shoot a doe, to which I responded every time "not on opening day". Things reached the boiling point when a shot rang out 400yds north on the neighbors where no one was supposed to be! This was not how he envisioned opening day and he was disappointed that deer were getting blown out as strangers loaded their buck up and made an abundance of noise. He was further disappointed when his younger sister called to say that grandpa (who she was with) just shot a great buck!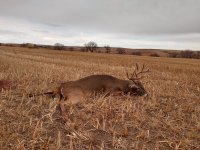 Grandpa's dark racked buck.
Just as we were giving up on the blind, I spotted a buck crusing the top of the canyon. . . Unfortunately by the time we made it out of the blind and up the hill, the buck was gone off chasing does. So we headed over the hill and quickly found a young buck standing broadside at 150yds. Buck fever hit hard and his first shot was an air ball. The buck ran and stopped at 250 quartering away. He quickly got solid on his rest and asked me to verify where to aim. I said just in front of the crease of his leg. . . Meaning his back leg because I'm an experienced moron and didn't elaborate! He shot and I heard the hit but instantly knew I had messed up, as the buck went up the ridge I knew he was hurt and so did my son. With a heavy heart w crossed to find blood, we found none so we went over the hill. We saw the buck struggle down the hill into a small draw. My son wanted me to shoot him but I didn't have a chance so we circled to get an angle and with tears in his eyes my son made another shot. We sat together and discussed what we could have done better and then went down to see his first deer, it was bitter sweet, but we went down to celebrate his first deer.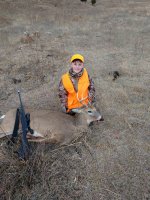 His first shot had destroyed the front shoulder, but luckily the follow up did the job. That was our opening Saturday and his first deer. He was happy and sad all at once but it will be great memories.
Since he had 2 tags I decided to take Wednesday off, and keep him home from school to hunt. Again the blind didn't produce and we were out walking looking for a buck. Within a few minutes I spotted a doe, and not 20 yards from where he missed his first shot Saturday I spotted a buck. . . And a much better buck at that.
This time the buck was bedded and quarter hard to us at 120yds. We got set up and I explained where the shot needed to be placed (couldn't circle without spooking him).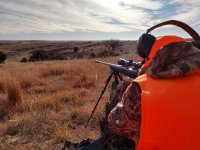 We got bipods down and a pack under the back of the rifle for extra stability. I told him to take all the time he needed while I covered the buck with my rifle as well. After what seemed like forever he asked if I was ready for backup if he missed. I said yep and he fired. This time there was no mistake, the buck tipped over in his bed, twitched once and went still. First pumping and hugging ensued!!!
As we walked up to his second deer his grin got bigger and bigger. Not only was it a clean fast kill, the buck was markedly larger than his first deer!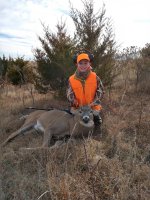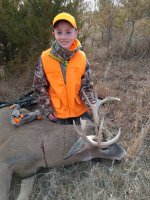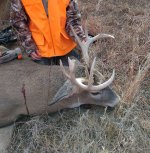 It was an amazing first deer season and I couldn't be more proud to be raising a son that thinks about everything he does and makes his own decisions for his own reasons!
Sorry for the long story but I'm a proud dad and wanted to share with my online hunting family!