Joined

Oct 14, 2020
Messages

45
It's time for a new lightweight hunting saddle. My Circle Y Pioneer with semi-QH bars & Flextree worked well with my mules, but my new hunting horses are bit too broad backed. They are 1200+ QH &1300lb+ QH ¼ draft. I was eyeing a High Horse cordura saddle with full QH bars, but I really don't know much about what is out there.... (I am a hunter, not a horseman).
The horse people I know don't hunt much. Most of their advice doesnt really translate well to the mountains. I figure the Rokslide is a good place for this particular advice.
Traits I'm looking for=
Lightweight: I am not skinny. I hunt above 10k ft. When I roll with one horse, I pack my whole ultralight camp in the saddle bag and my pack. I don't want a saddle to add 10-20 unnecessary pounds
Something to hook a britchen to: i hunt the rough stuff. My loaded saddle panyards flipped over my mule's head a few years ago. I nearly went over the top of my horse's head last year. I figure if it's on my pack saddle, it should be on my riding saddle.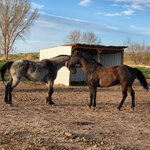 Last edited: