Joined

Oct 6, 2014
Messages

718
Location
I received my Terminus this evening, along with the custom sized waist belt that fits perfectly. Thanks Kurt!
I've only stuffed it with sleeping bags to get an idea of the volume I will have to work with.
Here are some photos of the Terminus next to the Sky 5900. The diameter of the Terminus is considerably larger than the 5900, while being slightly taller.
Going in on a 10 day solo hunt, my 5900 is pretty much maxed out on capacity. That is with a very minimal gear list as well, ie. DCF floorless shelter, quilt, Kowa 553 etc. Coming out, I can just fit a full sheep, cape and horns, utilizing the load shelf and the full capacity of the bag.
The reason I picked up the Terminus is for the simplicity of the design and the waterproof fabric. I know the seams are not sealed, but this fabric wont wet out like the Sky series does on really wet hunts. I also appreciate the added internal capacity, despite losing the external load shelf. I prefer to have most of my gear inside the pack and not have alot of things strapped to the outside. It looks like I should be able to fit everything I need inside the pack, even while on a packraft hunt, if need be on the way in.
If I were to have an animal in the pack, and have to carry the packraft gear, the raft would obviously need to be strapped outside. However that would be pushing what I could physically carry anyhow.
I weigh around 136 lbs during sheep season, so carrying 100% of my bodyweight for any length of time is just not smart. I would be double carrying until I got to the river.
Bear in mind that these are just my initial thoughts and are subject to change.
I'll update further once I get some weight in it and do some training hikes.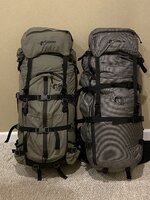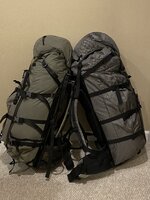 Last edited: