Joined

Mar 7, 2013
Messages

841
Location
I'm looking at purchasing my first muzzleloader and have been digging through threads to try and understand what all I need to begin. After many of sabotloaders helpful posts, Robby and Jame's helpful articles, I have some idea of what all I need but would like to make this easier for the next guy. I've built a spreadsheet that you can view/edit below.
Not everyone is looking for the same thing but my goal is a stable system. Someone has used a specific setup and it has been tested and works. If someone looked at this list and bought everything they could be ready to go tomorrow.
If anyone is willing to contribute their knowledge to the list you can add to it below using the link or send me your suggestions and I will add them. It would be nice to have a sticky on the forum with this kind of information.
I've got somethings on this list I don't know if I actually need to buy and I'm sure I've left some things off. Like cleaning supplies I'm not sure if I need something specific or a basic kit will take care of it. I've included a few links I found on cleaning.
Also if there is an all inclusive spreadsheet out there already please let me know.
Muzzleloader Build - Google Sheets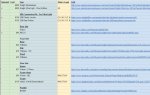 Last edited: