Joined

Mar 10, 2016
Messages

87
This is a bit of a delayed trip recap and PSA, as we have been back for well over a year now and I'm just getting to posting this. I thought this would be an opportune time to post given the current Tahr situation in New Zealand. I spoke to Robby Denning and he agreed that I should post this to try and gather some support from the Rokslide community.
If you are not familiar with what is happening in NZ, please check out some of the links below as they will explain much better than I can. Basically, the NZ government is wanting to cull so many Tahr that it would effectively eradicate them from the public land of the South Island. The NZ hunting community is fighting for a chance to work towards a sustainable management plan for Tahr that doesn't completely remove them. They can use as much support as possible at the current time. If you want to hunt NZ, or think you might in the future, check out the links below, sign the petition, and donate something if you can.
Tahr 101 - What you need to know about whats happening to our Tahr in New Zealand
Tahr Petition
Donate to NZ Tahr Foundation Legal Costs
Altitude and Trails Podcast #10 - Discussing the upcoming Tahrmageddon
Now for the trip recap!
I won't go into a ton of detail, but this was an awesome experience that is much more doable than you may think. We were on the South Island for just over two weeks in late March/early April. We got to meet some awesome people, see some amazing scenery, and do some hunting that we'll never forget. I think we're all just trying to figure out when we can get back there.
We rented an awd minivan in Christchurch, stocked up on groceries, last minute camp gear and headed toward the west coast. We had time for a couple quick hunts before we had to meet the chopper for our ride to the tops for the next week or so. JP bagged a nice chammy on one of these hunts, and we got to hear our first roars on another. We dropped the meat off at the butcher before we headed up to the tops.
Jp and Zack, with Jp's chammy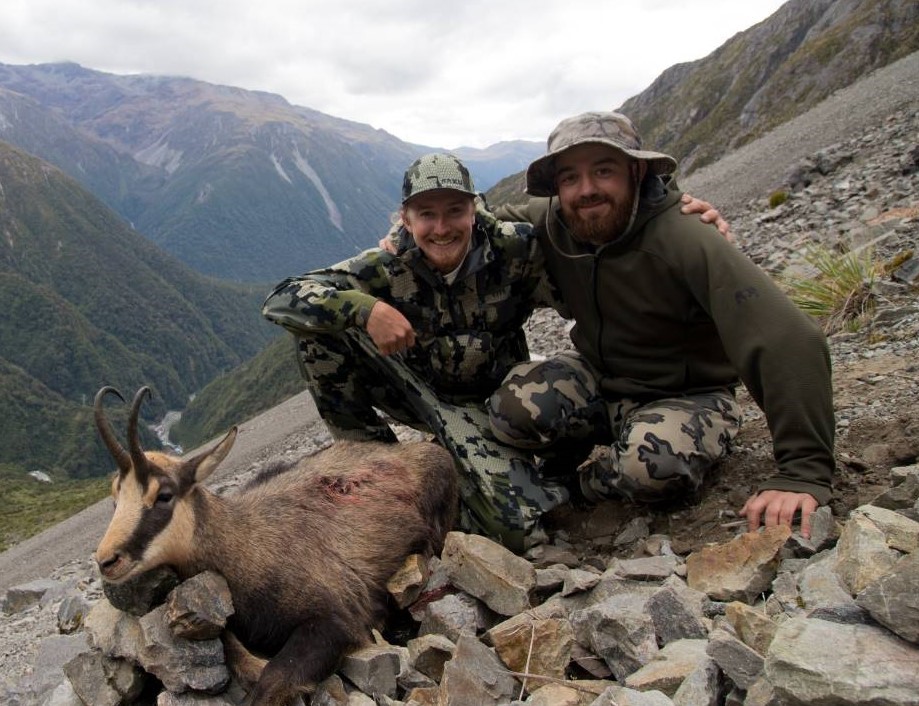 After a short chopper ride, we were all on the tops and setting up camp for the next five days. That afternoon, Zack and I headed uphill to try and spot a tahr. None of us had never hunted in terrain like this, so that was a learning experience in itself. As luck would have it, I was able to spot and shoot this young bull the first afternoon. A few days later, we were able to take a nanny and juvenile. We ate a lot of tahr while we were up in the tops. Overall, the weather was pretty decent. We got some rain, some fog, and had one night of snow and strong wind.
My Tahr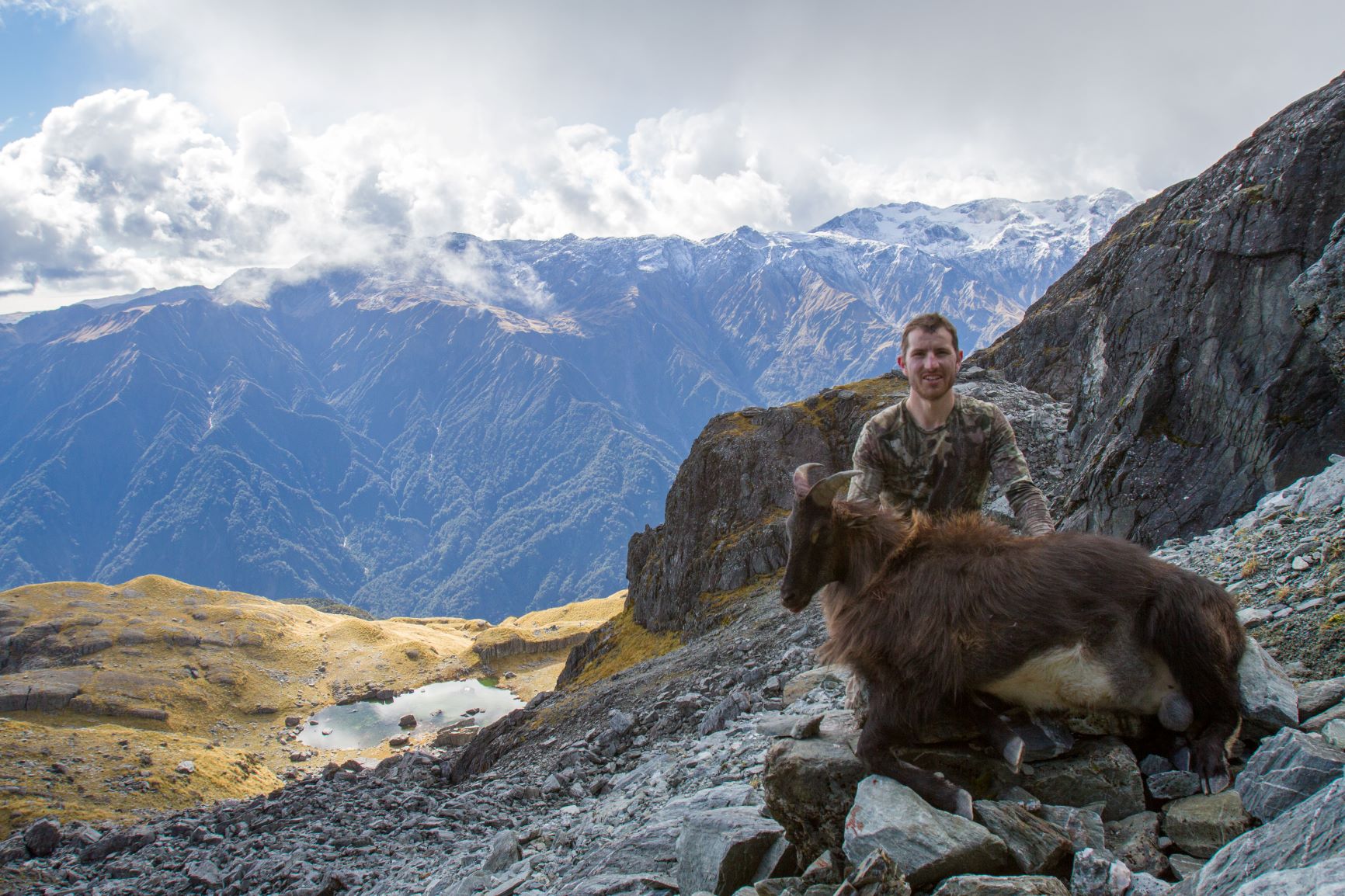 Zack, breaking down a Tahr leg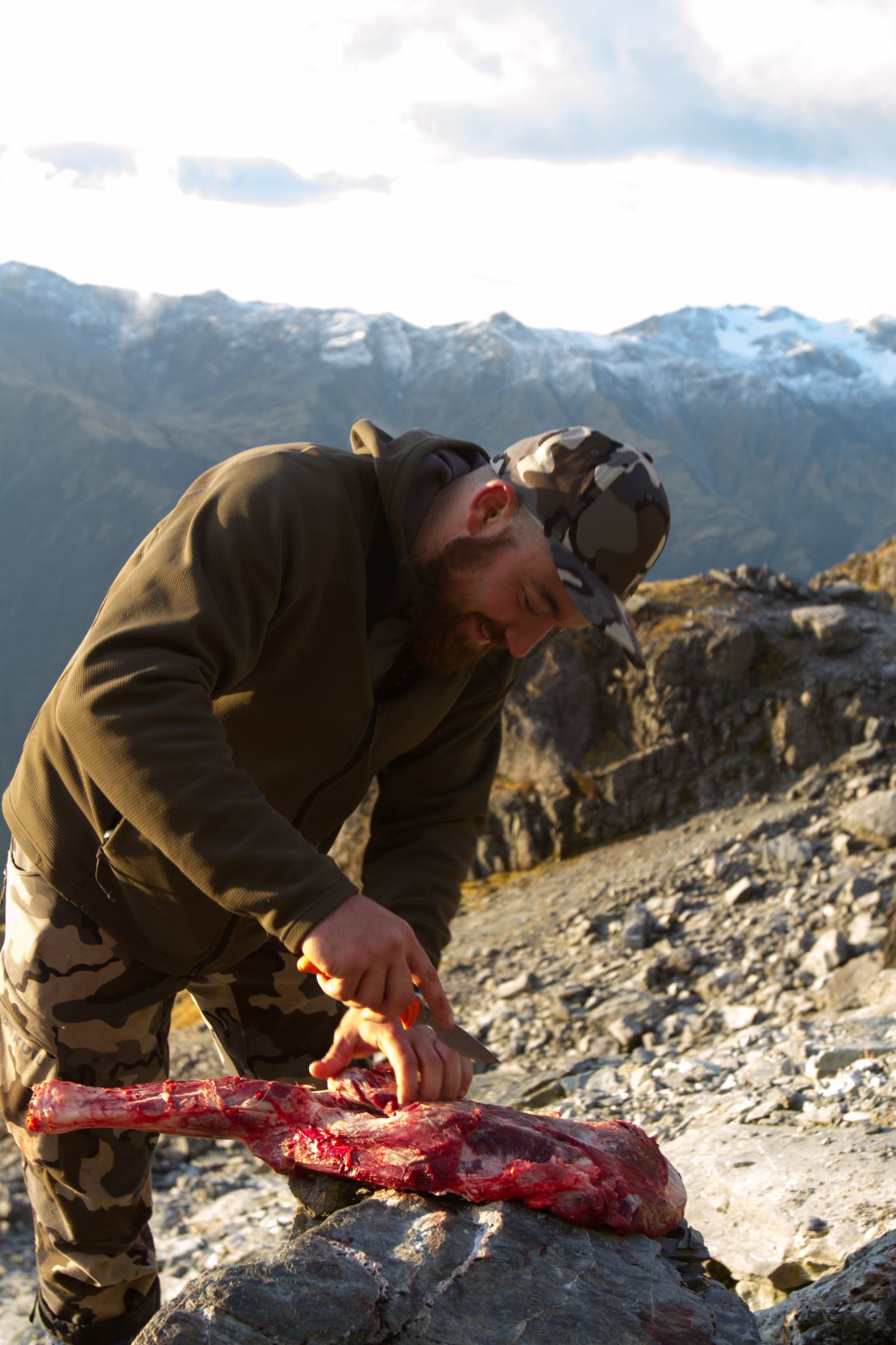 Mike taking break from hiking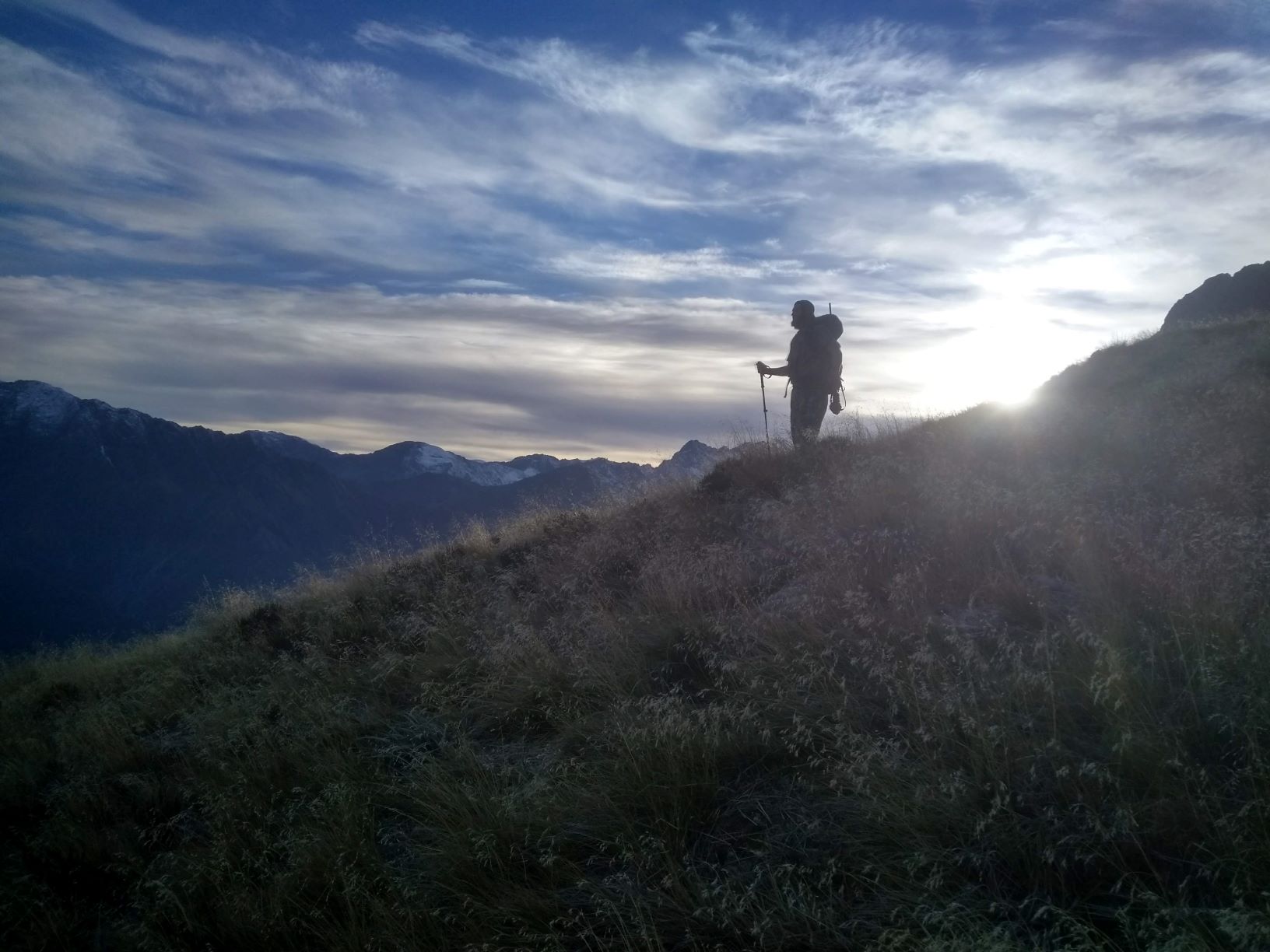 Filling up on water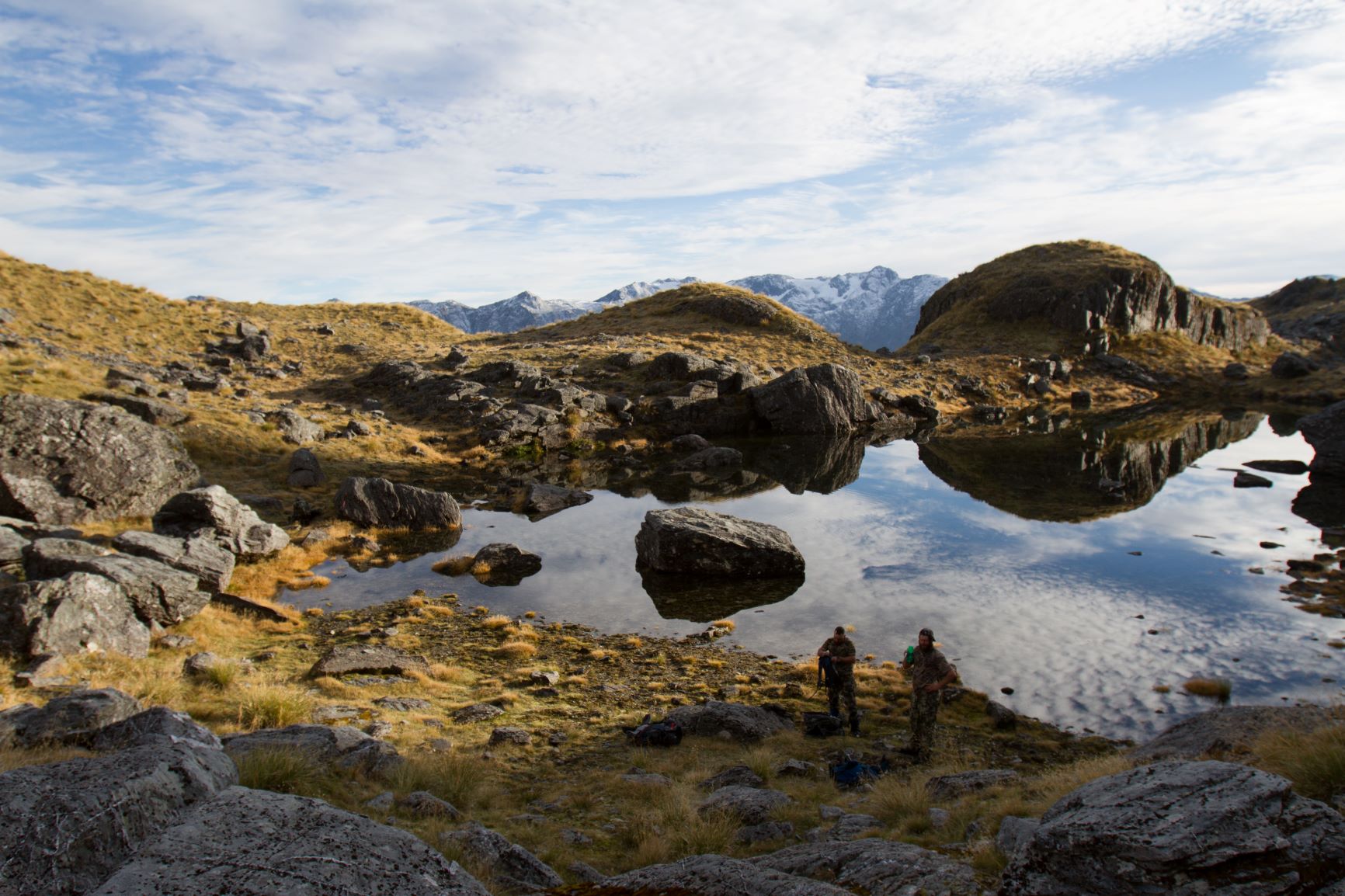 Jp's nanny tahr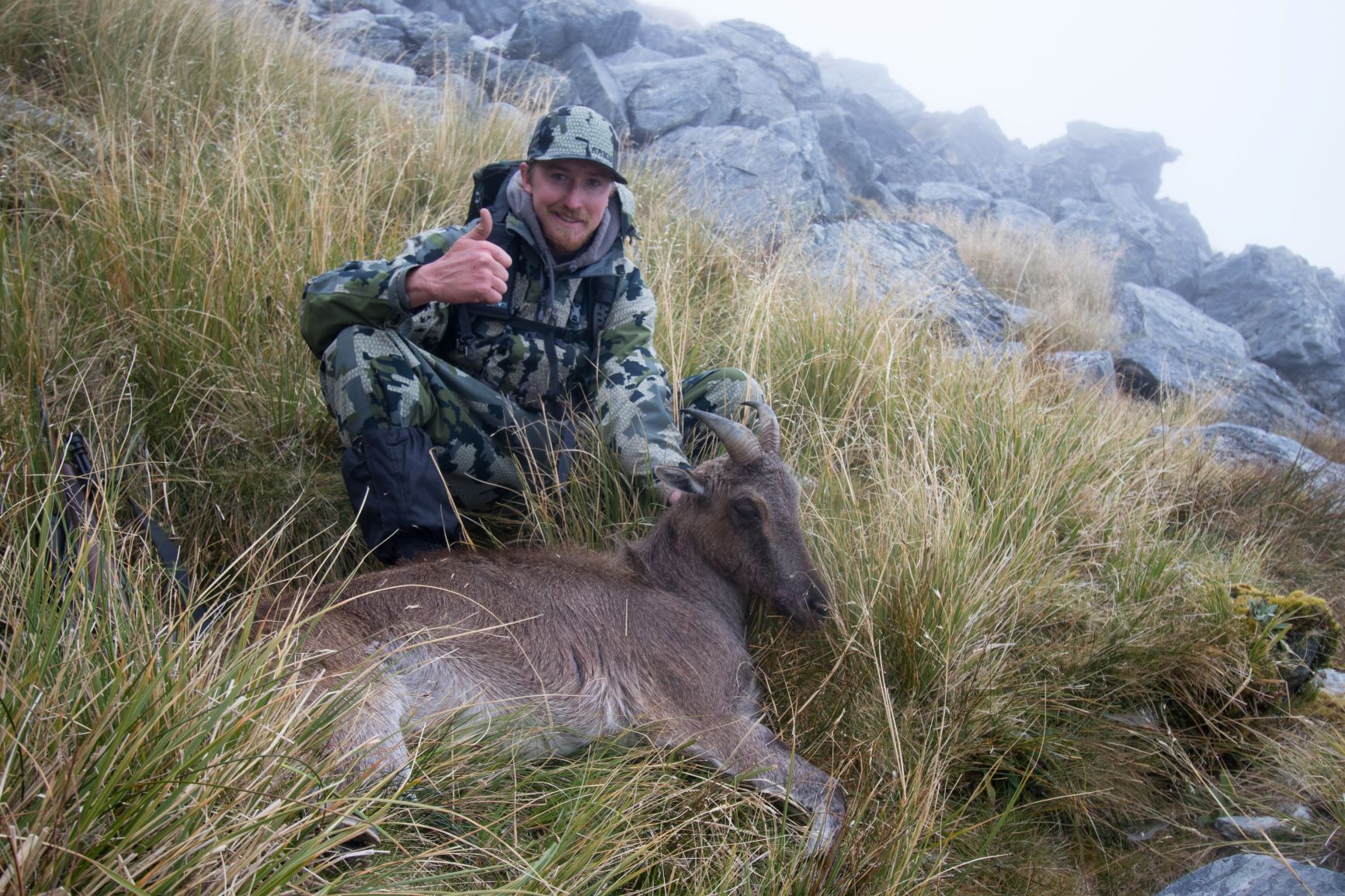 After catching our chopper ride out, we dropped the tahr meat off at the butcher and went off to search for roaring stags in the bush. We did some scouting the first evening and saw more stag sign than we had seen anywhere else prior, but didn't see any deer. Our hopes were high for the next morning, which turned out to be quite the cluster. We got in later than planned due to a wrong turn and trying to get four people/gear situated. Mike and I dropped JP and Zack at one spot, then split up ourselves. I finally go to the terrace I had been eyeing on the map around 8am, and almost instantly hear roars on the other side of the creek. After dropping down, tightroping across a log, and climbing back up, I slowly worked into the wind getting closer to the roars. I got to within 50-75 yds of one stag raking a tree, but never caught a glimpse before I heard him walk off. About half and hour later, just when the roaring had seemed to die down, I got a response from a few hundred yards away. As I slowly worked through the bush, I was startled by a roar only 50 yards away followed by the sound of the stag crashing through the brush towards me. He came into my view at about 15 yards, and stopped in a small opening about 12 yards away. I hit him high in the shoulder and he dropped on the spot. I believe that he was the same stag I had been close to earlier in the morning. I think he tried to circle downwind of me initially, but the wind had switched at the same time, so he never caught my scent. His last bit of roaring hot gotten another stag started. I radioed Mike who was hunting about a mile away, to head my way, but by the time we met up and got back in the roaring had stopped. We took some photos, butchered/caped the stag and dragged ourselves through the bush and downed trees to meet JP and Zack. They had gotten lucky as well in the form of a tasty little spiker. I took meat to the butcher that afternoon while the other three hunted. Zack roared a stag in at last light, but it was too dark to see, then had another close encounter the next day.
first meal after chasing Tahr for 5 days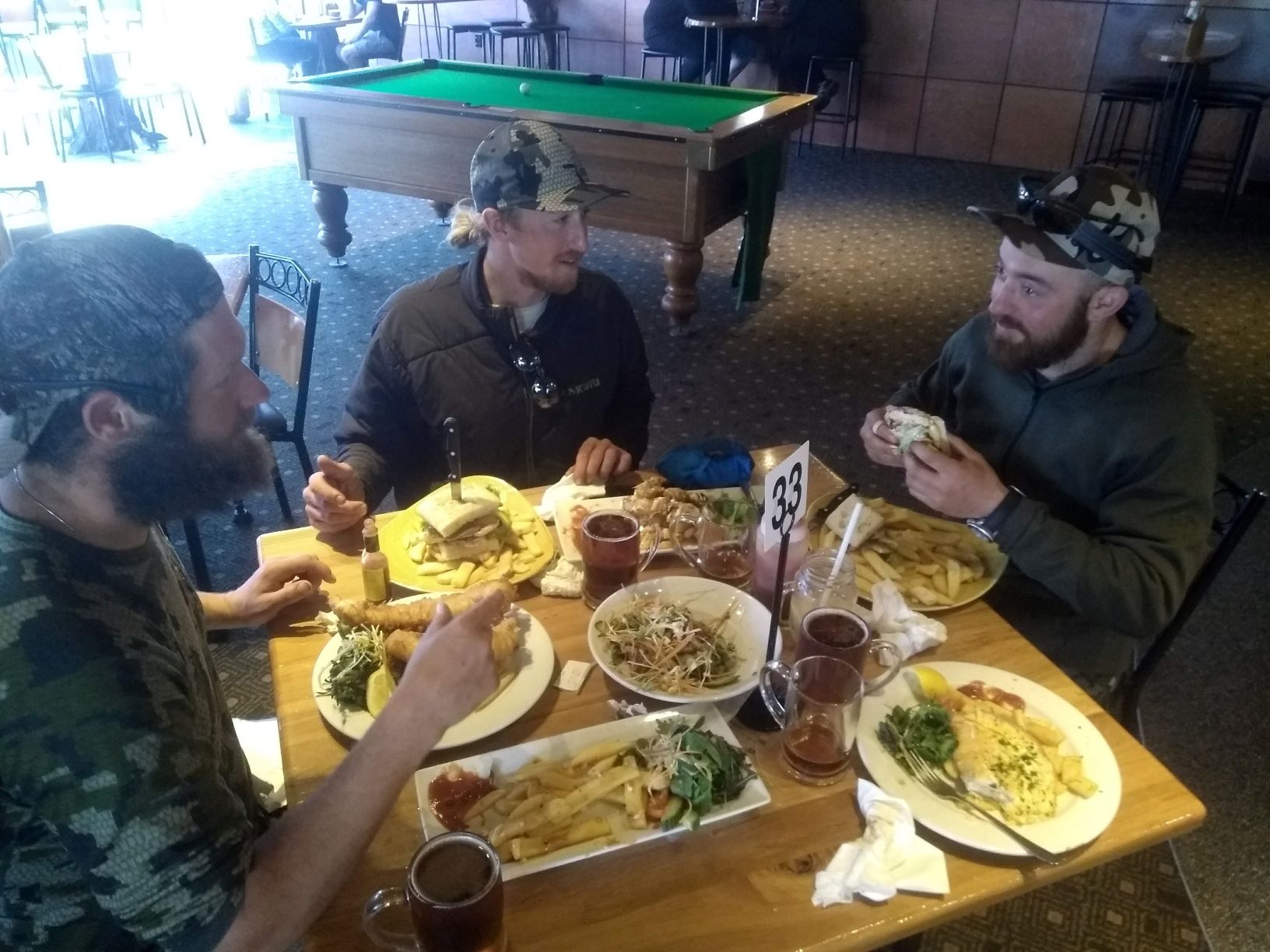 My stag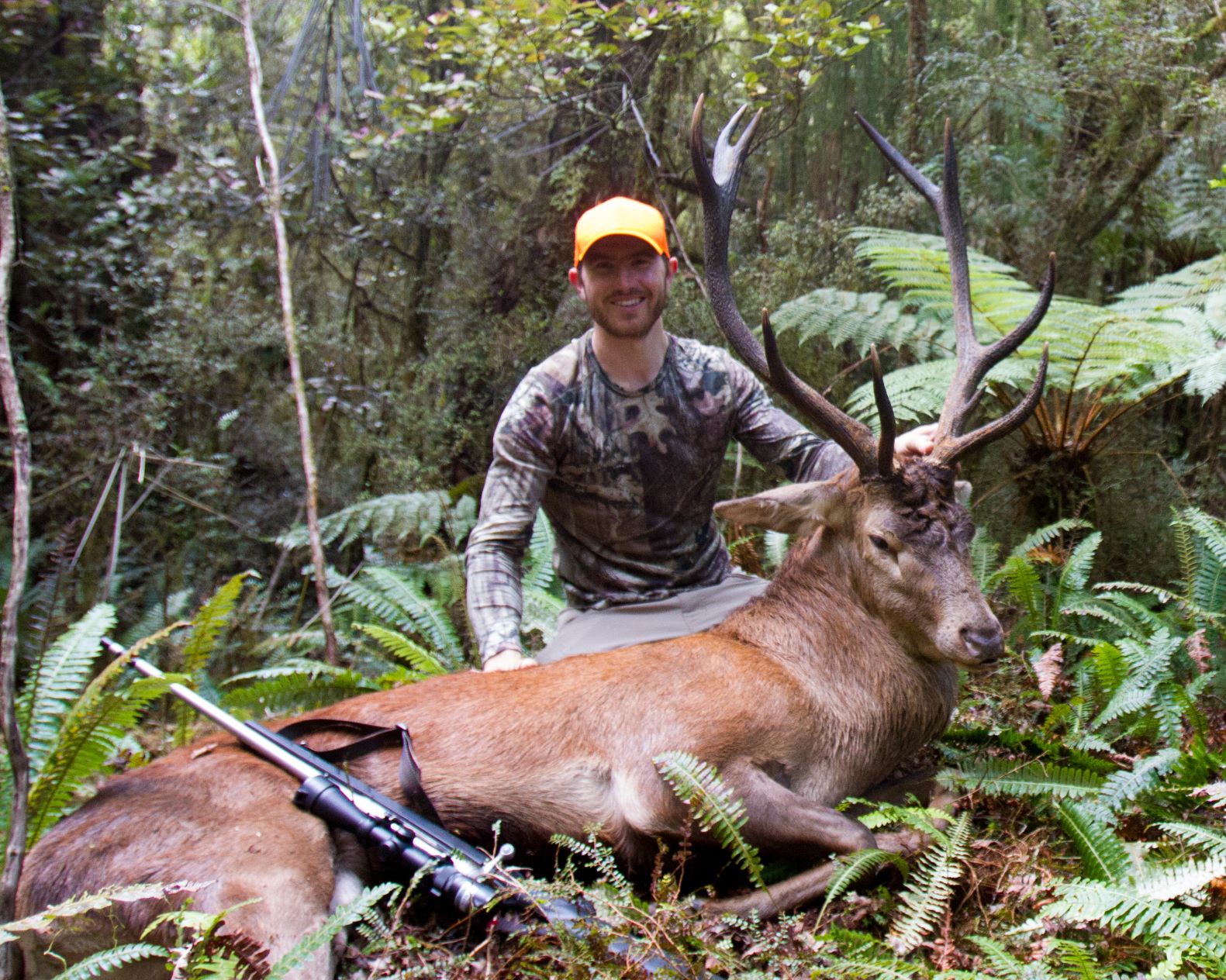 Mike and I with my stag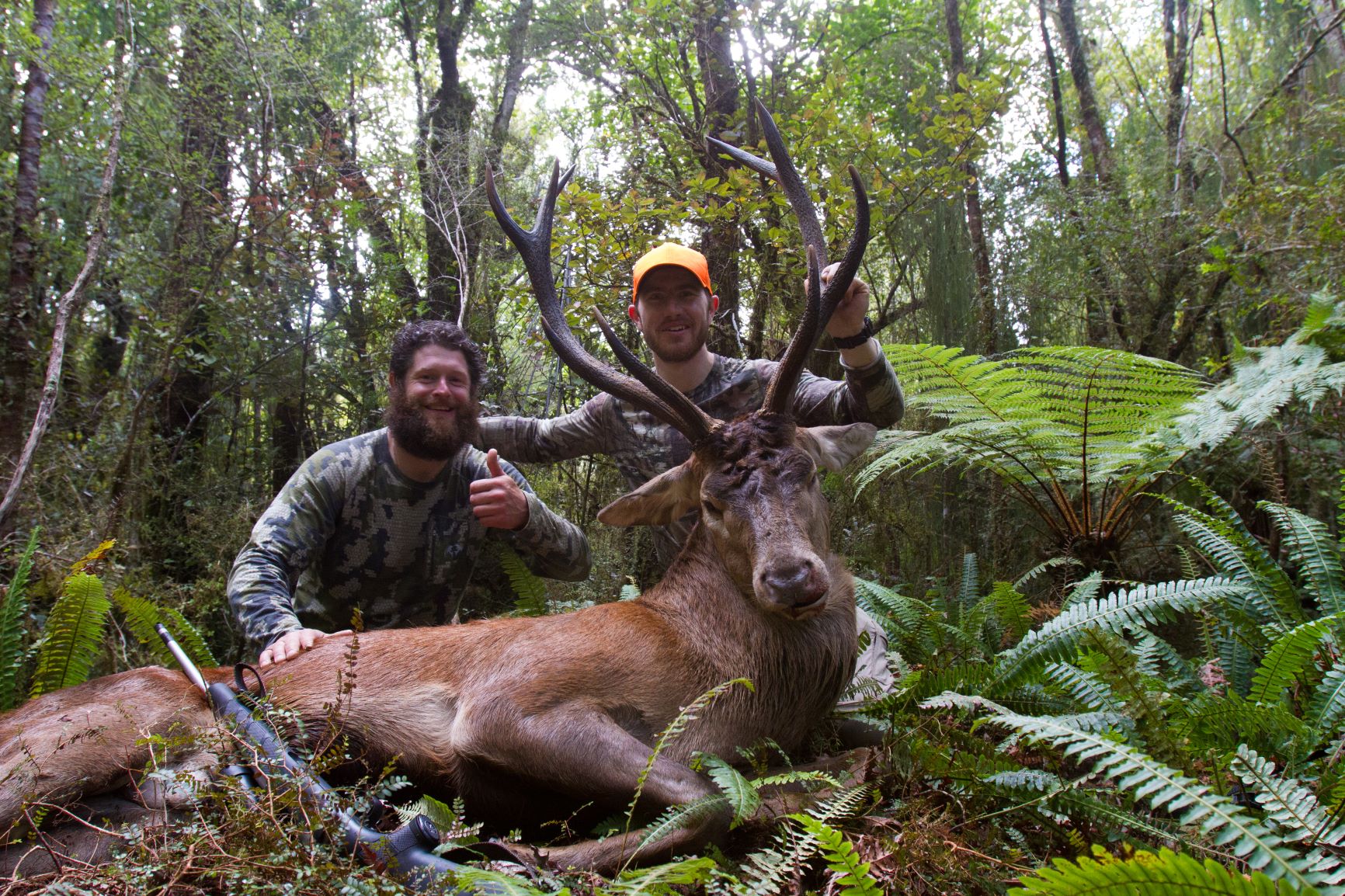 JP and Zack with the spiker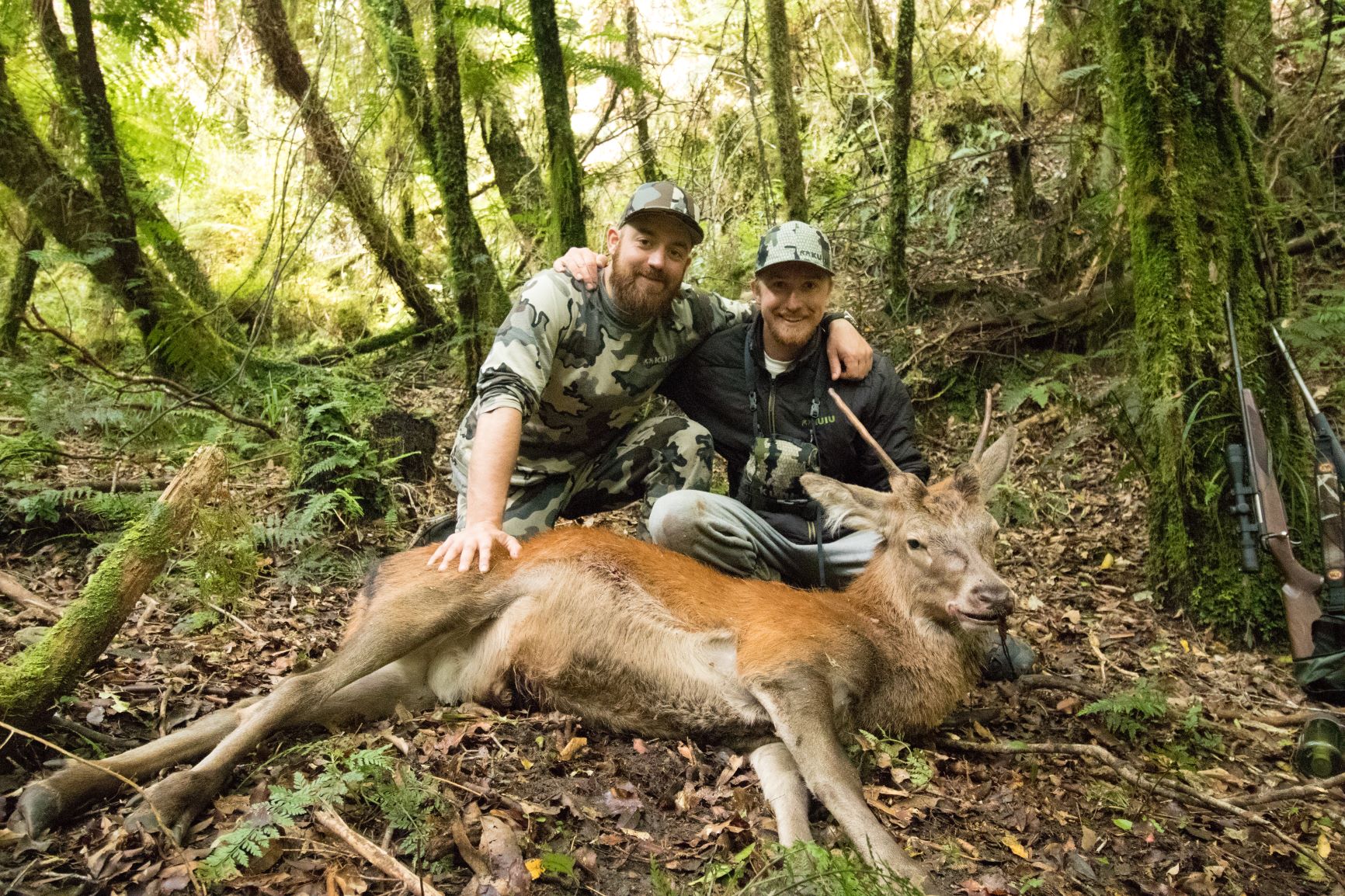 Our rental van at full capacity before heading to the airport on the way home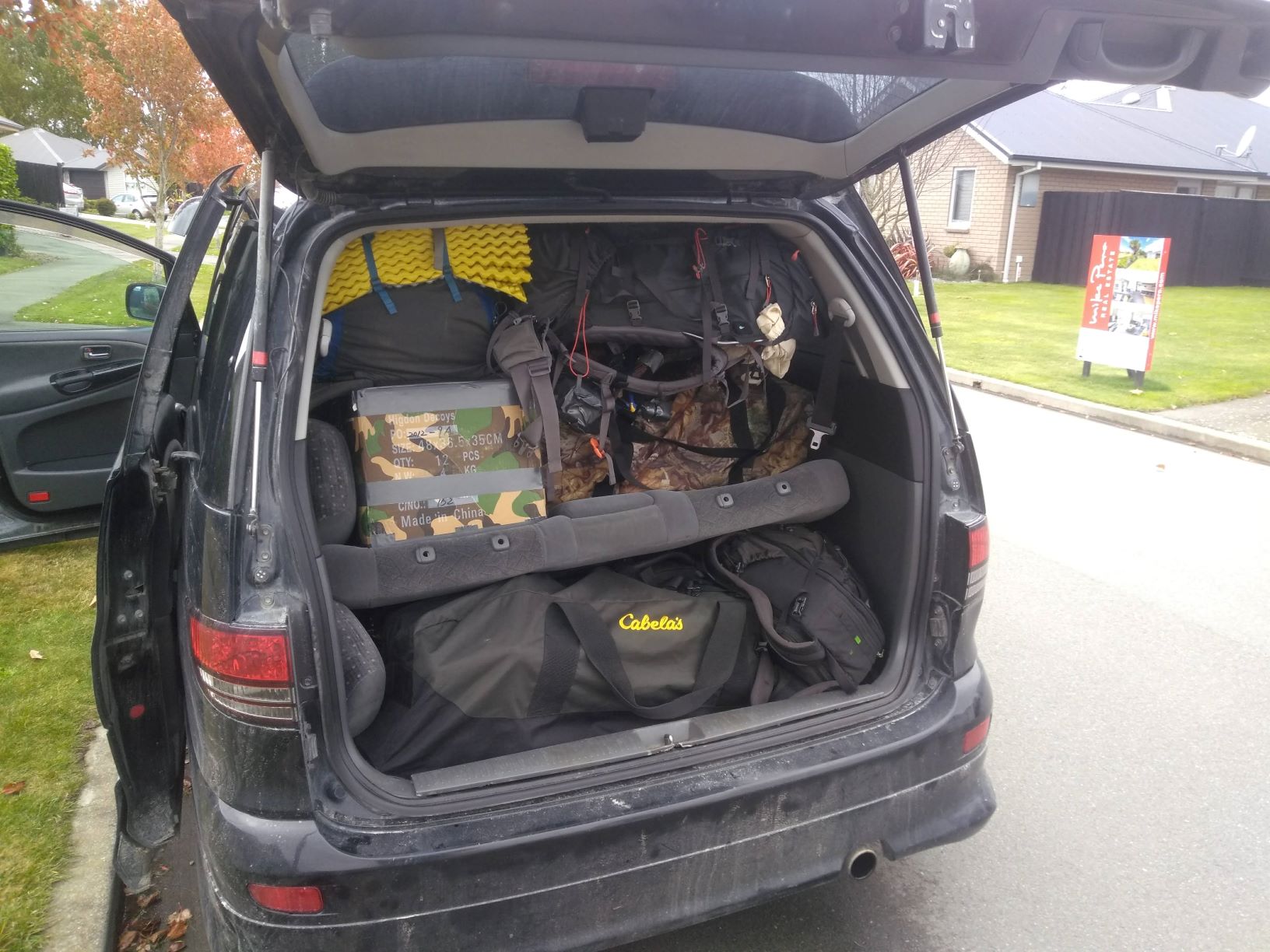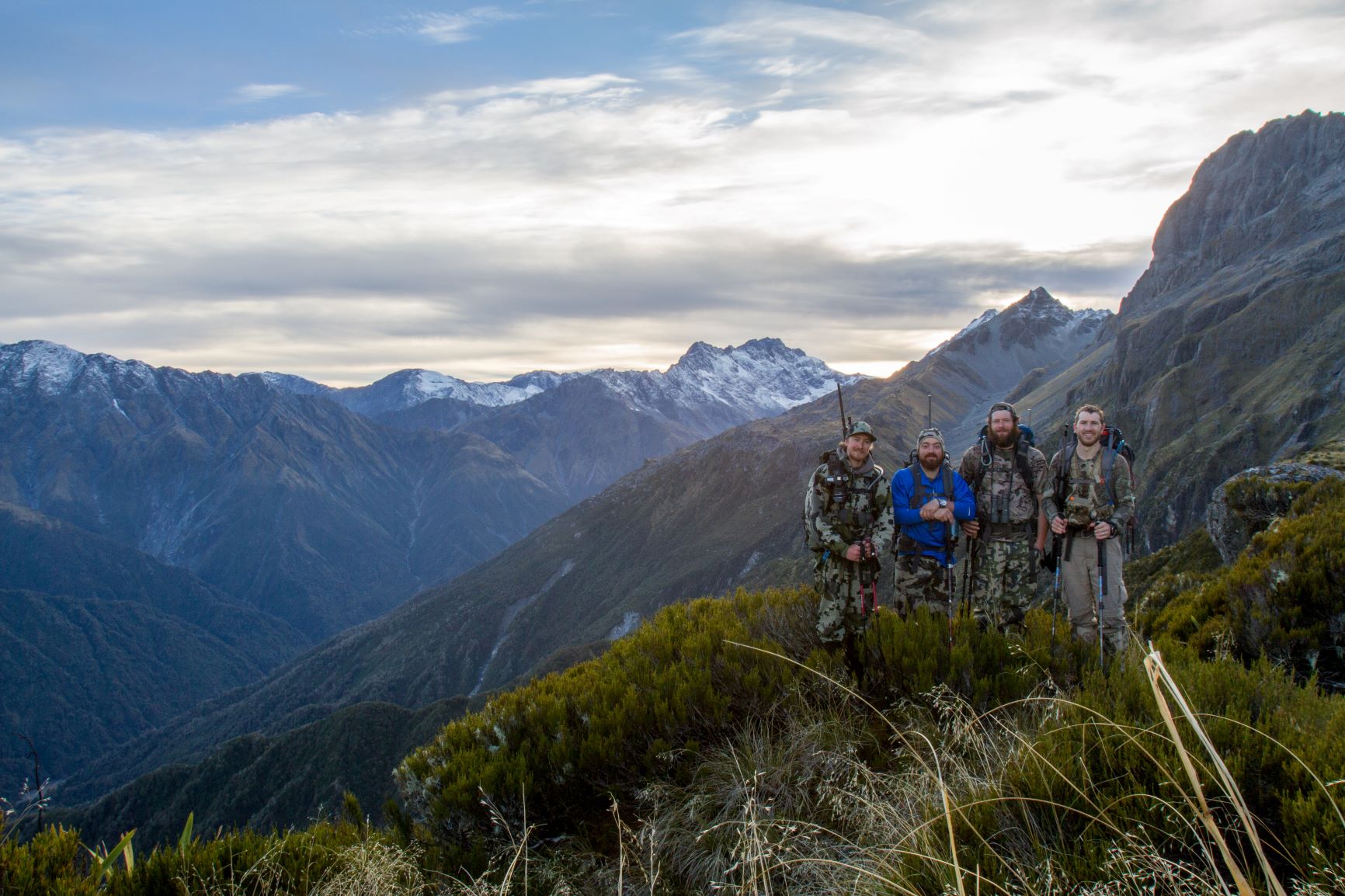 group photo
After almost 2.5 weeks on the South Island and over a day of combined flying/layovers to get home, about the only thing on our minds was when we would be back!
some final notes:
- When filling out the customs form for entry to NZ, check the "other" box, and write in "hunting trip" for the reason of entry. I checked the vacation/holiday box, as I considered this trip a vacation. This caused a slight delay in customs, while they questioned me about why I was bringing a rifle on vacation.
- I don't think we met an unhelpful person the entire time we were in NZ. Everyone was friendly and glad to offer help.
- We've all got a newfound definition of "thick" after battling through monkey scrub, and chasing bush stags.
-When it rains in NZ, it RAINS!
- Tahr stew with onions and potatoes, cooked all day in an old cast iron dutch oven(Kiwis call it a Billy) you find under an overhanging rock, just might be the tastiest meal you'll ever eat. If it was your pan we found, thanks! We cleaned it up and put it back well seasoned.
- Thomson Butchery in HariHari was wonderful to work with. They even provided us with foam coolers to fly home with. All our meat was packed frozen in foam coolers and checked in duffel bags for our flights. It all arrived back in the states frozen solid and it great shape. We were allowed to bring back 50lbs of meat each and it was super easy to get through customs.
-We cleaned/boiled skull caps and skulls, and cleaned/salted capes before leaving. We all filed forms on the USFW website declaring the meat/capes/skulls/antlers, and had no issues getting them back in the states.
Again, thanks to all who helped to make this trip possible! Send me a PM if you have any questions about pulling off a trip like this. Just know that it is very doable and absolutely worth it!