Joined

Feb 14, 2021
Messages

72
So I just opened three packs (all ordered from the same vendor, but at different times) of QAD Exodus broadheads to weigh them and start building up arrows for BH tuning. It looks like all of them have a brown discoloration where the blades are not sharpened (trailing edge) as well as where the blade enters the ferrule. The discoloration is on all three blades (and all nine heads) and is on the same side of the blade (like something in manufacturing didn't get totally polished off?). It almost looks burnt and is dark brown in color.
It does not look like there is any discoloration elsewhere, and they are very sharp.
Is this normal for QAD? Should I be concerned and get replacement blades? One theory I have is that they use a laser to cut the blades and I'm seeing burning (totally harmless) from that process.
I tried taking a picture best I could (see trailing edge of left blade).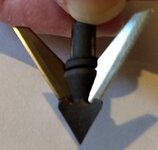 Last edited: