Joined

Mar 9, 2012
Messages

444
Location
I've been reading posts on RokSlide since it's inception, I haven't posted anything up until now, I just enjoy reading other peoples' opinions and learning all that I can. Now that my season is over I thought I would post some pictures and stories from my hunts this year. I am studying electrical engineering in college, so I am not able to get away from school for extended periods of time. I mostly just hunt weekends and miss a day or two here or there.
I had a Region H tag this year. Generally we make several scouting trips in the summer but this year we were unable to due to scouting for tougher to draw tags. As a result I didn't get into H until the bow hunt. I bow hunted several days, we (my dad, brother and I) backpacked in to one of our spots and stayed a few days. We saw a real good buck but weren't able to seal the deal. He was in a real nasty spot. He was with a smallish 3 point and we didn't see any other deer in the 3 days we were there.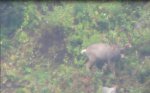 I was unable to hunt the rifle opener because I had agreed to help my wife's grandpa on an elk hunt that weekend. We didn't kill a bull but he had a great time. The next weekend we were able to leave Friday afternoon and head for Region H. After much discussion we decided to hunt a different area than the area we hunted in the bow hunt, since we hadn't seen many bucks in the first area. We also thought the buck we tried for in the bow hunt was younger deer and could benefit from another year of growth.
We hadn't been to the exact spot we planned on hunting before but had hunted the general area. We were planning on hunting from Friday night until Monday, I had to be back in school on Tuesday.
My dad and I hiked furiously Friday afternoon to try and get high before dark. We saw a small 4-point that I passed on. On Saturday morning we started working the ridge and saw a lot of deer. We saw 7 bucks together, one was a decent 25-26 inch 3 point, he was pretty willow horned so we kept hunting. We got to the top of a hill and split up to glass different areas. After about a half hour my dad came running up and told me there was a big buck down below, we ran over to where he had seen it, sure enough the buck was standing there. We could tell his antlers were extremely massive but we didn't know if he would even by 20 inches wide. I ranged him at 400 yards and dialed my scope. I asked if I should shoot and my dad said go for it, so I shot and he went down.
When we got up to him, we were pleasantly surprised, he was bigger than either of us anticipated. He has numerous extra points, and barely had any teeth left! We caped him, boned him out, put him in our backpacks and walked back to the truck. We were over 6 miles from the truck where he died.