Super Moderator
Staff member
Joined

Oct 2, 2012
Messages

2,713
Location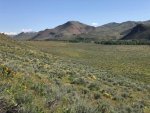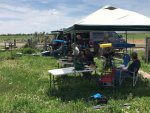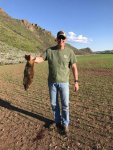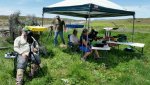 Not quite as exciting as shooting wolves but a great adventure nonetheless.
Spent the last week in central idaho on our annual rock chuck safari........this was our 17th year. Most of us are retired LEO's or getting ready to pull the plug. We have several ranches that let us hunt on their property and we can actually shoot out to 2000 yards or so although our harvest ratio past 1000 yards really blows the average shot.
It is a week of belly laughing fun, great food, friendship, varmint control and most of all, great practice for longer range hunting shots. The shots are basically anywhere from 200 yards to 2000 although most are in the 600 to 1000 yard range. We had "confirmed kills" at 790, 825, 845, and 917 yards with many more in between 300 and 700 yards. We also have a trophy cup for the longest kill shot and a trophy cup for the first shot on a 1000 yard 10 inch moa gong. If you win, you get your name and the details engraved on the cup. Whoo hoo!
Every year, the new equipment gets unveiled and this year was no exception. Amazing how much money one can spend in a year.........
Rifles were of all makes and calibers. We shot a lot of 6.5 creedmoors, 6 creedmoors, 6 mm Remington, 6 x 47 lapua, 6 br, 338 lapua improved and I was shooting my 260 ackley.
It is truly incredible on how the 6.5 creedmoor performs in factory rifles and factory ammunition. Couple of guys have the tikka and Rugers in the creedmoors and were routinely making long range shots on the alfalfa stealing rodents.
Rokslide member elkhunter777 is one of my hunting partners and he flew down from Juneau to join our group this year. This was his first foray into the long range world and he had a blast, learned a lot and made some outstanding shots with a borrowed 6.5 creedmoor. After the first day he says, "I gots to build me a rifle!"
In any case, rokslide is all about sharing so here are several photos of our trip.
Randy
Last edited: