Joined

Jan 24, 2015
Messages

2,996
I got drawn for the Skre pant in their drawing. I haven't seen a big check in the mail for my positive product review so I assume it's not coming, so I'll give my honest initial impression on these.
@skregear
let me know if that checks coming!
Fit - I'm 5' 11 and 3/4"…that's 6 feet when the ladies are asking. I weigh 180lbs and have some decent glamour muscles up top and some stick legs. No I don't skip leg day! I wear a large on top and a medium pant. I ordered a size 32 and the fit was spot on.
If you have thunder thighs, these pants are NOT for you…unless you're the guy in the gym that wears the short shorts then pulls them up when he squats so you can see those sexy thighs! The taper is good, I would call them a trim fit. For me, I could not have tailored them any better.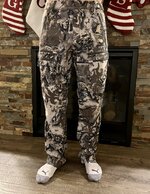 Material - there was just enough stretch in the fabric to keep from binding up as you walk up stairs/mountain. I hate the jean type pant that don't have any give, these are great! The material is quiet and would be great stalking late season in the sage. The inside waist band has the sticky "tape" that high end dress pants have that keep your shirt from coming untucked. If you're like me, when you're carrying weight in your pack, the lumbar pad loves to ride on the top of my waistband and try to push my pants down. I think the sticky strip will help keep them up! I hate belts and this could be a very nice alternative.
The interior has a fleece type material which is the insulation. Its light, you're not going to replace your puffy pants with these! You're not sitting in a tree stand in December, or a ridge top in November, but for me, I don't want that in this style of pant. This pant is the perfect COLD weather pant where you're hiking, still hunting, or sitting a ridge top watching for rutting mule deer with a set of puffy pants on hand. If I had to guess, I'd say much below 30 degrees you're going to want something additional in your layering system if you're sitting for any period of time. If you're active, these are perfect and I wouldn't want more.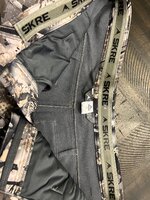 Construction - pockets galore! The materials, zippers, etc give you the warm, fuzzy feeling of quality. The zippers are similar to my Sitka zipper, with the small teeth. The material is coated with Teflon and repels water. Will it last after multiple washes? I'm not sure! The knees are reinforced and it has side vents to help cool you off! Nice feature! On my kitchen scale they weighed 22 ounces. Light? Not really, but you're going to pay for that insulation in weight.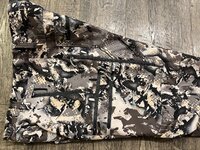 Pattern - to be honest, I'm not a big pattern guy. I usually wear solid pants and my camo never matches. Sorry Sitka Posse! That being said, this would be a great option for rocky terrain, maybe sage, or a burn. There's no greens or tans to mimick dark pine thickets or aspen. Does it matter…probably not.
What else? Hell, I don't know! Ask any questions I didn't answer!
I guess the best thing I can say for a review is…yes I would absolutely wear these and plan on taking them on a coyote hunt where it's a combo of still hunting and sitting. Next year they'll be in my gear bag for 3rd and 4th season deer and elk!