Took my solo stove on a shorter local bear hunt. Was a good test as it was 3 days of constant/near constant light rain/fog.
First impressions, I thought I was screwed and I'd never get the thing lit. I couldn't find any truly dry wood, but finally found a few pieces of dry(ish) spruce. Stove lit up perfectly with a pinch of Firestarter to help. Once going, it stayed lit and kept burning everything I fed it. I thought it would be a huge PITA to process wood down to size, but in reality, I just used smaller stuff that was easily hand broke. Just be careful, the stove burns hot and if your only using pencil size sticks, you need to keep feeding it. If you stop feeding it, you have maybe 60 seconds before it burns out. On the plus side, it keeps embers hot and every time flames went out, I was able to get it going again by just adding more wood.
It does takes a solid 8 to 10min to boil a full pot of cold water (a full 750ml pot for coffee plus a dehydrated meal), as advertised. But I was surprised that while you need to be constantly feeding it, it doesn't burn all that much. It just feels like it burns half the forest as you need to constantly add 3-5" twigs and stuff. But total wood burned was surprising less than I imagined. Don't waste time processing wood for this thing, just grab small dry branches and hand snap em.
It did cover my Ti pot with soot, but o well, I don't care. Most of it scrubs off, and its not like I'm gonna cry myself to sleep over getting my pot dirty. Note that insulated pots are probably a no go as flames will come up the side of the pot once the fire gets going.
With dry wood there isn't much to worry about it terms of ash buildup. But the damp stuff I used did build up significantly. I got about 30min of burn time before I needed to dump the stove and start again. A non issue for cooking, mainly just an issue for using it as a small fire to stay warm.
Weight is 9oz, which seems heavy, but, not bad for some applications. For a longer trip, the weight of the Stainless steel stove will be less than multiple gas cylinders. Ill just be taking my MSR and small cylinder for at least another trip as backup until I get more comfortable with this thing. If I get more comfortable with using this in more wet conditions I may try the Toaks stove that is Ti and only 5.4oz, but this solo works for me for now.
As for sparks. Keep wood below the top of the stove and you won't have sparks. If you let wood get too high or stick out, sparks will occur. Keeping the wood below the top also eliminates smoke. Also, once the fire is out, you only need 1-2min for it to be cool to the touch, it doesn't stay hot for long once the fire is out.
BL: I am very impressed and will be using this stove alot. For a group of 2 the weight saving in fuel is tremendous, just realize it comes at a cost of time to boil.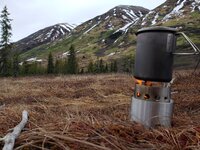 Note before someone gets on me: the ground was literally seeping with water. It had been raining for 3 days, there was no dry grass within 200miles of me. But if your worried, you could elevate your stove on a rock or something to avoid contact with the ground.