Super Moderator
Staff member
Joined

Feb 26, 2012
Messages

2,046
Location
We already have a gear storage method for the big stuff-- packs, sleeping bags, clothing and footwear all have a place in a tote, closet or on hooks in the garage. It's the small miscellaneous stuff that I have been struggling to keep organized and accessible. Our spare bedroom had become a collection point for all the stuff I couldn't figure out what to do with, to the extent that you almost couldn't see the floor and finding things was becoming a nightmare. In trying to get ready for the start of our season, I finally tackled the mess and I stumbled upon an idea that I hope some of you might find helpful.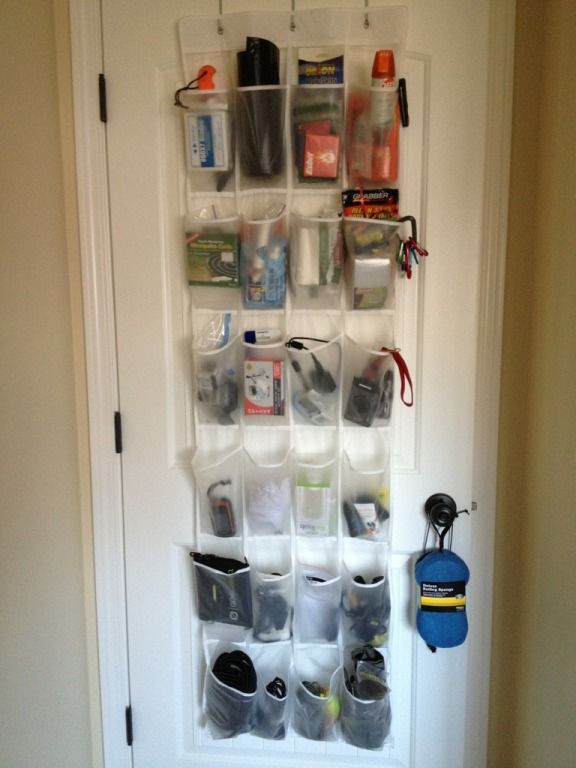 It's a behind-the-door storage hanger designed for shoes, and made from clear plastic. I picked it up in the home storage/organization section at our local box store.
With the door open you don't even know its there, but it keeps all the little stuff organized and out of the way until we need it. I am sure the contents will change over time, but right now it's got the following small stuff sorted into individual pouches to make finding and packing things easier:
lighters/matches
para cord/shockcord
extra pack straps and buckles
spare havalon blades
Carabiners
Cameras/chargers/extra batteries
GPS
Headlamps
Solar charger
Contractor bags
Camping TP
Bug dope/mosquito coils
Travel packs of wet wipes/soap sheets/chapsticks/sunscreen
Would probably work for just about anything small and not too heavy...