Selling my Stone Glacier bags and accessories. Everything is in perfect working condition...just decided to go with a different brand.
the 3300 has only seen 2 training hikes, no hunting. Everything else hasn't even been out of the garage.
Prices are OBO
Will do package deals if you want to buy multiple things.
Evo 3300 w/Krux frame, medium belt, and camp pocket SOLD
$500
Evo 6900 bag w/lid only
$300
Large stash pocket - foliage SOLD
$20
Spotting scope pocket SOLD
$30
Accessory bag SOLD
$60
Hydro sleeve - SOLD
$20
L evo belt
$70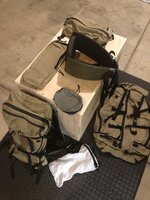 Last edited: