Well, it's been two weeks since I've returned from my first ever elk hunt. This hunt was 10 years in planning, which started immediately after my first western hunt in 2010. That first hunt in 2010 I got my butt whooped by the mountains, which quite honestly I was not prepared for. Even though I got whooped, I knew I'd someday return to the same area with an elk tag.
Fast forward 10 years. This time around I had several western hunts under my belt, along with some mountain experience. In addition, I had a great partner, who is a co worker and friend, with the same enthusiasm for adventure. With the truck packed we headed out west. First stop was a leftover antelope unit which we've hunted in the past. After three days of tough hunting my partner was able to fill his tag on a nice representative antelope. Once the lope was butchered we loaded up and headed west to the elk unit.
We got to the unit 2 days early for some scouting. The first day of scouting we hiked to the top of the highest peak in our hunt area and glassed for an afternoon. On the way up an observation was made that the area was a complete tinderbox. No water to be seen anywhere. In addition, we didn't really see any elk sign. Anyways, during that afternoon we glassed 5 separate basins, all of which had no elk.
The next day was wasted due to truck repairs, but we talked over a game plan. We both agreed that if we could find water, we'd find elk. With the repairs done we made it back into the mountains by dark. With camp set and dinner cooking, we saw an elk sky-lined right after dark. This wasn't just any elk, it was a true giant. After seeing him we immediately know we were in the right area.
Morning came and we hiked up the mountain to where we last saw the elk the even before. With the sun up we saw nothing. We slowly worked up along the ridge glassing from different locations. Still nothing. Frustrated I crested the ridge and glassed east into the sun. There, about 2 miles away and across a canyon I saw an elk. It was quickly apparent it was a bull and a big one. I called over my buddy. We watched over the elk for about 30 minutes. It moved about 500 yards closer and bam, we saw another bull elk. We watched a bit longer and both bulls moved into dark timber.
While sitting there we came up with a game plan for the afternoon. After putting the elk to bed we dropped down to camp for some lunch. With a little food in our stomaches we began our hike. The hike was brutal, a true hellish climb. After getting up we found a glass of spot in the shade which allowed us to see 4-5 ridge lines. While sitting there, about 70 yards down hill we spotted a big wallow. Immediately we knew we were in the right spot. About an hour into the sit I spotted an elk about 1 mile away feeding just outside the tree line. We quickly identified it as a nice bull, which warranted a closer look. We packed our stuff and began the journey.
Along the way we dropped into several valleys that stunk of elk and were filled with rubs and had water. The smell and sights got us excited. In about 45 minutes we crested the hill and into sight of where the bull was feeding. He was gone! Immediately we were second guessing ourselves. Did we spook him, did he smell us? We tried calling to no avail. Damn. Defeated, we retreated into a bit of cover. With sound mind we agreed there was no way we spooked the elk. The decision was made to stay put. Being that we were within shooting range already, the decision was to stay in cover and only pop over the hill every 10 minutes for a quick look.
We did this for 3 hours without another sighting. With the sun fading and shadows getting longer we crested the hill and plopped down next to a tiny shrub pine. We took the time to range find the ridge and glass. About 10-15 minutes into the sit, bam, there was a bull. Out of no where stood a bull feeding 300 yards away. I dropped prone and got him in my scope. Looking through the scope I could see more antlers cresting the hill. Soon, I was looking a three bulls! Holy cow! It was apparent one was quite a bit bigger than the rest. When the big bull turned broadside I pulled the trigger.
With the shot I heard a thump and the bull arched its back. I quickly racked another round and shot. With the second shot the bulls antlers whipped back and the bull dropped! Wow, what a rush! We high fived for a bit before reality set in. Oh man, we're in grizzly country and it's getting dark! The fun was over.
We hiked over to the downed elk as quickly as possible. Upon walking up to him we were in awe. It felt as though we were looking at a dead beef cow. We took photos quickly and began to assess the situation. Up until that point I never really thought about how to gut an elk, or what went into packing it off the mountain. We knew we didn't have enough time to completely quarter him, so we decided to gut him and take the loins and straps out. The hike down the mountain was not fun! Covered in blood in the dark in grizzly country just didn't seem like a smart idea, where there we were.
The next day we arrived to an elk that was not claimed by any predators. It took 8 hours to get all the meat off the mountain. We hiked with heavy and quite frankly dangerous packs down what my partner would call a cliff. A fall would have resulted in serious, if not fatal injury. Back at the truck we took a few more photos and cracked a beer. With coolers full of meat and the truck packed, we turned east and headed home.
Looking back the hunt, though short, was the most mentally and physically exhausting I've ever been on. While packing the elk out I vowed to never hunt elk again. By the time we were halfway home the next elk hunt was being planned! This hunt was the definition of type 2 fun. It was mostly miserable, with excitement sprinkled in, but fun to think and talk about now.
To conclude, I am beyond lucky to have family support and good friends who share the same passion for hunting as I do.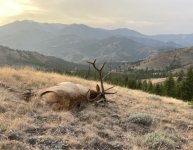 Last edited: