Joined

Apr 9, 2012
Messages

1,725
Location
After seeing the incredible feats of moose recovery on this site (see thread "Who's Tougher"
http://www.rokslide.com/forums/showthread.php?3405-Who-s-Tougher&highlight=tougher
) I came to the realization that I'm just a big wimp. Of course being a wimp isn't going to stop me from moose hunting, so I have come up with other ways of getting it done.
I know there probably aren't any wimps on this site, but thought I would but together this step by step guide to moose hunting the easy way, just in case anybody is interested in "alternative" methods.
Pictures are from yesterday.
STEP 1
HUNT IN THE WINTER!
Seriously. Who wants to hunt in the fall? All that daylight means you have to beat through the brush for 15 hrs a day, and don't get much sleep. Yesterday, I got up in the morning, ate breakfast, made myself a cup of coffee, fixed the wiring on my trailer, swung by the office to pick up my GPS, stopped for gas and groceries, then drove an hour and a half outside of town and STILL was at the trailhead before daylight. A much more reasonable schedule I say. The official length of the day here (Fairbanks, AK) is about 5 hrs, so that helps
STEP 2
SHOOT A SMALL MOOSE
Bull moose are HUGE! Why would anybody shoot one of those? Way too much work! A cow moose is about 2/3 the size, and much more reasonable to handle. Especially when hunting solo like I was. Every tried to handle a dead moose by yourself? You need all the help you can get.
My advise to other moose hunting wimps is cheat every way you can, and that includes shooting the smallest moose you can find.
STEP 3
LIGHTEN IT UP
Removing the guts is worth about 100 lbs, and makes them much easier to deal with. Unfortunately, when it's cold it became critical to keep the meat from freezing, which usually means you have to leave the hide on as insulation. Backwards from what most of you are used to I'm sure, but it does save having to skin them in the field. Yesterday was cold enough that the hide stayed on.
Of course, then the question is what to do with a whole moose when you are on a solo hunt, 6 miles from the truck, and darkness is coming at 3:30 pm? That leads us to...
STEP 4
WALK OUT...
...to your ski-doo you thoughtfully staged a little closer. Winter solo hunts are no time for heroics.
STEP 5
HEAD FOR HOME
Of course, even that can be a little tricky. Just because I got the moose back to the truck, doesn't mean I can lift an entire moose (even a smaller cow moose) into the bed of the truck with my shrimpy arms. To overcome my generally lack of manliness, I use mechanical advantage. Before going hunting, I had located a snow ramp and of course I always carry a come-a-long, rope, pulleys, etc with me. The moose stays on the the sled and the whole thing gets winched onto the trailer. Note the rope running to the truck rack.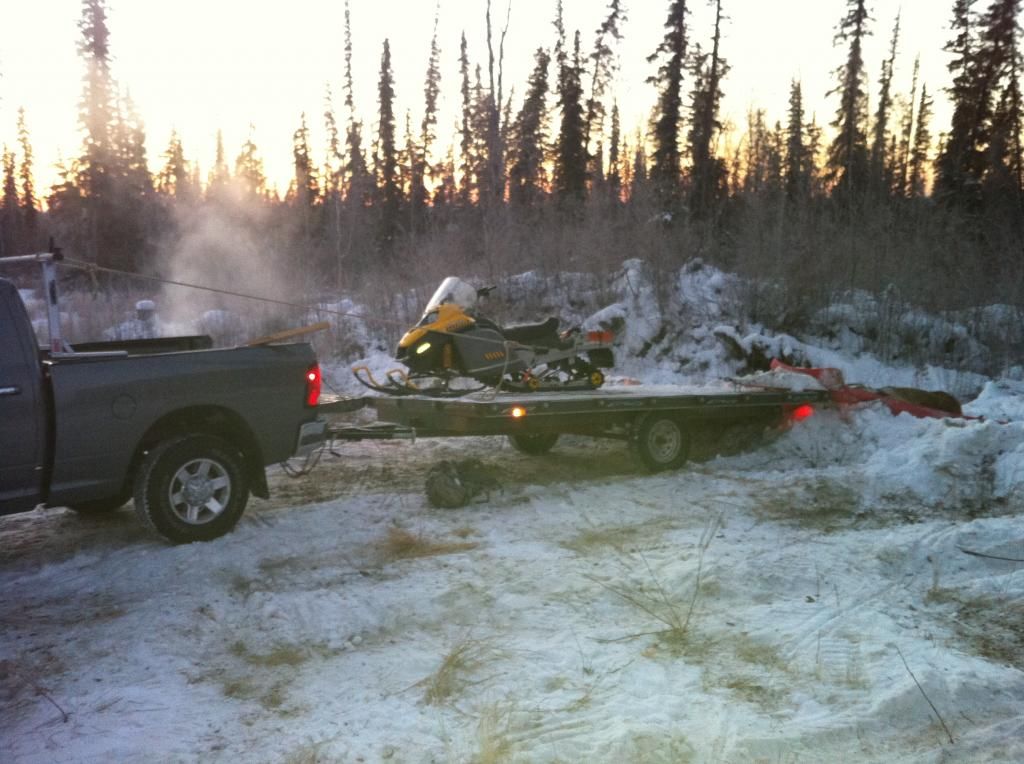 STEP 6
SKIN and HANG IT
It really helps if you can find half a dozen young men to help you with this chore.... really takes most of the work out of it. Since I'm actively avoiding work when dealing with a moose, I managed to find this bunch of guys whose wife's/girlfriends where making them watch "Princess Bride" after a dinner party on Sunday night. Apparently skinning moose sounded like more fun, and it was hanging in short order. I supervised.
And that friends, is the "other" way of getting a moose. Less hernia. More frostbite.
Yk